A medium length summer paddle on the Middle Suwannee River: Fort Macomb Ramp to Ivey Memorial Park June 10, 2017, past springs, shoals, and Branford. This one will probably take about 5 hours paddling, or 6 hours including shuttle. With lunch, swim stops, and bon-bons, of course.
Bring the usual personal flotation device, boat paddles, food, drinking water, warm clothes, and first aid kit.
When: 9AM Saturday 10 June 2017
Put In: Ft. Macomb Ramp, river mile 86.6
From Mayo, travel east on US 27 to CR 410; turn left on CR 410; follow to boat ramp.
Take Out: Ivey Memorial Park Ramp, river mile 76.0
Boat ramp is located in Branford on the south side of US 27 at the Bridge in Ivey Memorial Park.
29.9538379,-82.9303607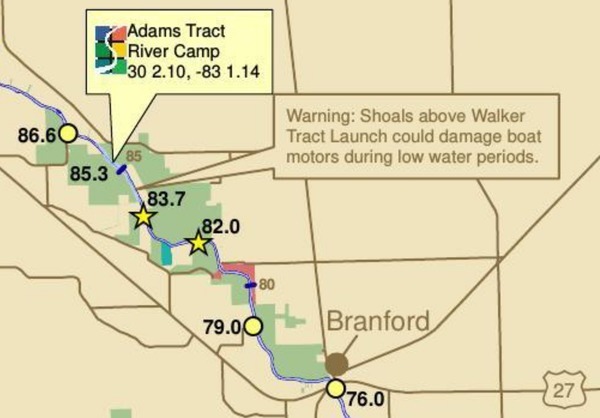 This map detail and all landing directions are from the Suwannee River Wilderness Trail map of Boat Ramps & Canoe Launches.
Duration: 4 hours
Free: This outing is Free! And we recommend you support the work of WWALS by becoming a WWALS member today!
Shuttle Distance: 7.6 miles one way
Shuttle duration: 12 minutes one way
Paddle Distance: 10.6 miles
Paddle Duration: 5 hours
Gage: Branford, FL, which on April 4, 2017 was at 10.38 feet, with flood at 25 feet and empty at about 8 feet.
Host and Contact: Phil Hubbard
Backup: in case of high or low water there's another WWALS outing the same month; stay tuned for details Sullivan Launch to Madison Blue Spring on the Withlacoochee River, June 24, 2017.
For more outings and events as they are posted, see the WWALS calendar.
-jsq, John S. Quarterman, Suwannee RIVERKEEPER®
You can join this fun and work by becoming a WWALS member today!
Short Link: