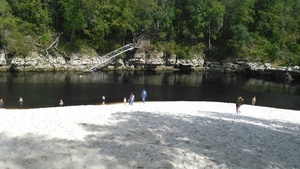 Very dry, and this was a week ago Sunday, with a bit more than 23 feet on the Nobles Ferry USGS gage. Surprisingly, the water's not much lower now according to that gage.
Somebody asked us at Suwannee River Roots Revival: why is the Suwannee River so low? He was from the Atlantic coast of Florida, where they just had hurricanes, and didn't realize: none of that rain fell upstream inland in Florida and Georgia up to the Okefenokee Swamp.
-jsq
You can join this fun and work by becoming a WWALS member today!
Continue reading