Update 2016-11-14: GWC Dirty Dozen Press Conference at US 84 Bridge with tour of Sabal Trail HDD 2016-11-16
Update 2016-11-13:Sabal Trail still leaking drilling mud into the Withlacoochee River at US 84 in GA 2016-11-12
FOR IMMEDIATE RELEASE
Hahira, GA, November 11th 2016 — Sabal Trail leaked drilling mud up from their HDD pilot hole into the Withlacoochee River.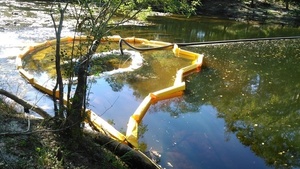 They knew this before WWALS asked two weeks ago what is that yellow thing in the river? They did not tell WWALS or the public that this thing they testified could not happen did happen. The evidence is in writing from Sabal Trail's contractor to the Georgia Environmental Protection Division.
This wasn't even the actual horizontal directional drilling (HDD) borehole: it was just the smaller pilot hole. What will happen to the Withlacoochee River (or nearby water wells) with the main borehole? What will happen to the Ochlockonee River west of Moultrie, GA? What will happen to the Santa Fe River, where Sabal Trail is drilling now, or the Suwannee River, where it will drill soon, both Outstanding Waters of Florida, supposed to have extra measures of environmental protection? What about the Tallapoosa, Chattahoochee, or the other Withlacoochee (south) River?
"Why should we accept any risk to our waters, or eminent domain to take our lands, for an unnecessary pipeline, now that Continue reading →