Update 2016-11-22:
FOR IMMEDIATE RELEASE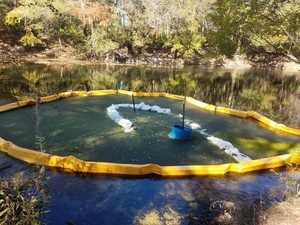 Hahira GA, November 14th 2016 (updated with directions and detail Nov 15th) — WWALS is holding an in-person press conference at the US 84 Withlacoochee River bridge to hear and participate in the announcement Wednesday morning of the Georgia Water Coalition (GWC) Dirty Dozen 2016: a dozen of the worst threats to Georgia's waters. WWALS will then offer a hike up the riverside to the Sabal Trail pipeline crossing location, where Sabal Trail leaked drilling mud leak up into the river.
Please arrive by 9:30 to be ready for the GWC teleconference at 10AM. On the phone call, details of the Dirty Dozen will be announced, with WWALS members assisting for one of them, and another also directly relevant to WWALS watersheds.
After the phone call, people from Florida and Georgia will have an opportunity to speak, because the Withlacoochee flows downstream into Florida, where Sabal Trail also plans to drill under the Suwannee River, as well as the Santa Fe, where 14 people got arrested recently protecting, and the other Withlacoochee (south) River. Let's see a little cross-state-line solidarity against this unnecessary, destructive, and hazardous fracked methane pipeline boondoggle. Call your local press before you come, and bring signs.
When: 9:30 AM Wednesday November 16th 2016
Where: US 84 bridge, east side, between Quitman and Valdosta, GA, 30.793747, -83.450167
It's in the median of a busy highway, so be careful.
What: Press Conference for Georgia Water Coalition Dirty Dozen, with hike up the river.
It's a rough hike, so come prepared with sturdy shoes and clothes you don't mind getting dirty.
Or just participate at the bridge. Bring signs if you've got them, or make them on the spot.
This is a completely peaceful nonviolent first-amendment press conference.
Event: facebook
Directions: from Live Oak or Gainesville, FL or farther south, or from Albany, Tifton, or Macon, GA or farther north, take I-75 to exit 16 in Georgia, go west on US 84 (US 221, GA 38) 8.4 miles, and park in the median at the bridge.
From Moultrie, Thomasville, GA or farther west, go to Quitman and take US 84 east 8.3 miles across the bridge and make a U-turn; park in the median at the bridge.
From Waycross, GA or farther east, go to Valdosta and take US 84 west 8.4 miles to the bridge; park in the median.
From Jacksonville, FL, take I-10 W to I-75 N, take I-75 to exit 16 in Georgia, go west on US 84 (US 221, GA 38) 8.4 miles, and park in the median at the bridge.
From Tallahassee, FL, take I-10 E to St Margaret's Church Rd in Jefferson County 39 min (33.3 mi)
Follow Ashville Hwy to US-221 N 15 min (14.2 mi)
Drive east on to US-84 E in Lowndes County 26 min (22.3 mi)
Cross the bridge and make a U-turn; park in the median at the bridge.
About WWALS Watershed Coalition:
WWALS Watershed Coalition, Inc. (WWALS) is the WATERKEEPER® Alliance Affiliate for the upper Suwannee River. Our rivers flow from Georgia through Florida, so we have many members in both states (and beyond).
WWALS advocates for conservation and stewardship of the Withlacoochee, Willacoochee, Alapaha, Little, and Upper Suwannee River watersheds in south Georgia and north Florida through education, awareness, environmental monitoring, and citizen activities.
WWALS has been fighting the Sabal Trail pipeline since it was announced in 2013, including a four-month legal case in Florida in 2015. WWALS welcomes the rapidly expanding opposition to that boondoggle and the many old and new protectors of all our water and property rights.
Contact:
John S. Quarterman, President
WWALS Watershed Coalition, Inc.,
229-242-0102
850-290-2350
wwalswatershed@gmail.com
www.wwals.net
PO Box 88, Hahira, GA 31632
Addresses for Sabal Trail Permit Violations
Here are some organizations you can complain to.
===
-jsq
You can join this fun and work by becoming a WWALS member today!
Short Link: