"Demonstrators gathered to protest the Sabal Trail pipeline and participate in the "Dirty Dozen" waterways conference call."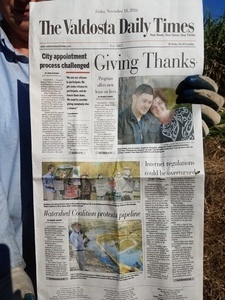 That was on the front page of the newspaper of record of the biggest city in the Suwannee RIver Basin. There's a petition for Georgians to sign, lots of protests in Florida to assist with, and you can help us all watch Sabal Trail to catch their next violation.
Online last night, Derrek Vaughn, Valdosta Daily Times, 17 November 2016, WWALS Watershed Coalition hold demonstration,
WWALS Watershed Coalition sponsored the demonstration.

Members and demonstrators met in the median of Highway 84 at the Withlacoochee River Bridge to listen to the Georgia Water Coalition's "Dirty Dozen 2016" conference call.

The "Dirty Dozen" list is an attempt to "put a spotlight on ongoing pollution problems, pending threats to Georgia's water as well as state and federal policies and failures that ultimately harm — or could harm — Georgia property owners, downstream communities, fish and wildlife, hunters and anglers, and boaters and swimmers,' according to organizers.

The 2016 list includes the Floridan aquifer which supplies water for South Georgia and North Florida. The Watershed Coalition believes the aquifer is threatened by the controversial Sabal Trail pipeline being constructed through southwest Georgia.
Here's that
GWC Dirty Dozen 2016
entry,
Chattahoochee, Flint, Withlacoochee Rivers and Floridan Aquifer: Gas pipeline company, federal agency run roughshod over state, local residents property rights
, with this What Must Be Done:
Whether the Sabal Trail pipeline is built or not, eminent domain reform is needed at the federal level. Georgia legislators should introduce and adopt a resolution urging Georgia's congressional delegation to reform the process by which the Federal Energy Regulatory Commission issues licenses for gas pipelines to provide greater protections for landowners. The fate of Georgians' property and their water and land resources should not be left to the whims of out-of-state power utilities and gas line operators.
Follow the link for more detail, and here is a petition to Georgia legislators that you can sign, Protect Private Property Rights and Water from Gas Pipelines. (There are also more petitions for other GWC DD items.)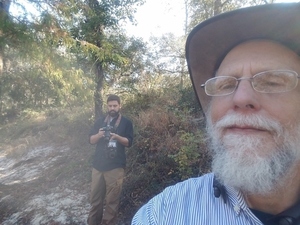 Derrek Vaughn, Valdosta Daily Times,
at the mud leak site on the Withlacoochee River
about 2000 feet upstream (north) of the US 84 bridge
The VDT story concludes:
A Sabal Trail spokesperson said equipment was installed, "a drum and vacuum system to remove the drilling mud and turbidity curtains around a small area to contain the limits of the drilling mud."
Which doesn't address the main point that this never should have happened, according to Sabal Trail under oath in a hearing in Jasper, Florida last year, and nobody knows where else leaks may have gone underground or down into the Floridan Aquifer containing the drinking water for all of Florida, south Georgia, and south Alabama.
I invited Sabal Trail to come to the Wednesday WWALS news conference. I spoke directly to two Sabal Trail employees at the same spot where you see the VDT reporter in the picture above, and I left a telephone message for Andrea Grover, whom they said was Sabal Trail's media contact. She never called back. Maybe Sabal Trail didn't want to hear any followup questions.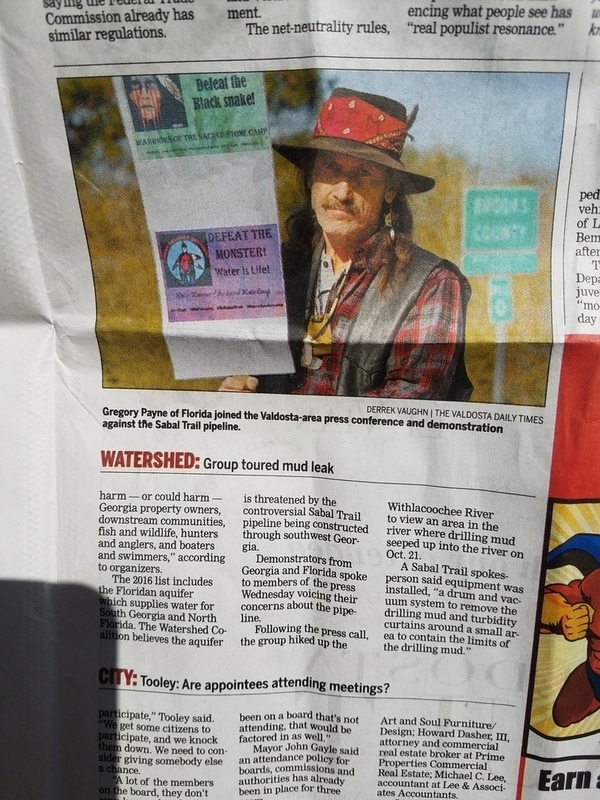 Gregory Payne of Sacred Water Camp, Suwannee County, FL
at the US 84 Withlacoochee River bridge, Brooks-Lowndes County, GA
Gregory Payne and Debra Johnson, co-founders of the Sacred Water Camp on the Suwannee River in Suwannee County, Florida, are pictured in the VDT story. They and others are watching the Suwannee River and the Santa Fe River and the other Withlacoochee (South) River, and now on a daily basis WWALS is watching the Withlacoochee River in Georgia to see what else Sabal Trail gets wrong while it drills hell-for-leather trying to catch up to its already-slipped May 2017 in-service date. Most of the others at the US 84 bridge Wednesday (see previous post for names are also watching Sabal Trail, from Tallahassee and Gainesville and beyond. Practically daily now there are peaceful nonviolent protests throughout Florida; see the Protect Florida Against Sabal Trail facebook page, which attempts to keep track of all the events protecting Florida's land and water against the invading pipeline.
Georgians, please don't forget to sign the petition.
If you see anything that could be a violation, contact WWALS or report it yourself.
-jsq
You can join this fun and work by becoming a WWALS member today!
Short Link: