People and news media turned out from Florida and Georgia at the Withlacoochee River US 84 bridge in cross-state-line solidarity about the Sabal Trail pipeline and its recent drilling mud leak. They heard the Georgia Water Coalition announce that Sabal Trail is, for the third year running, on the Dirty Dozen 2016.
Ashlyn Becton, WALB, 16 November 2016, Environmentalist raise awareness about Sabal Trail Pipeline,
Folks from North Florida and South Georgia held a protest at the Withlacoochee River Wednesday and listened to a news conference announcing the Georgia Water Coalition's Dirty Dozen.

The report highlights the worst offenses and greatest threats to Georgia's bodies of water.
And the Sabal Trail fracked methane pipeline is on the GWC Dirty Dozen 2016, as Chattahoochee, Flint, Withlacoochee Rivers and Floridan Aquifer: Gas pipeline company, federal agency run roughshod over state, local residents property rights, with this What Must Be Done:
Whether the Sabal Trail pipeline is built or not, eminent domain reform is needed at the federal level. Georgia legislators should introduce and adopt a resolution urging Georgia's congressional delegation to reform the process by which the Federal Energy Regulatory Commission issues licenses for gas pipelines to provide greater protections for landowners. The fate of Georgians' property and their water and land resources should not be left to the whims of out-of-state power utilities and gas line operators.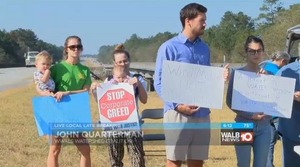 Special thanks to the two mothers with babes in arms who came to defend our waters from this pipeline. Here is a petition to Georgia legislators that you can sign, Protect Private Property Rights and Water from Gas Pipelines. (There are also more petitions for other GWC DD items.)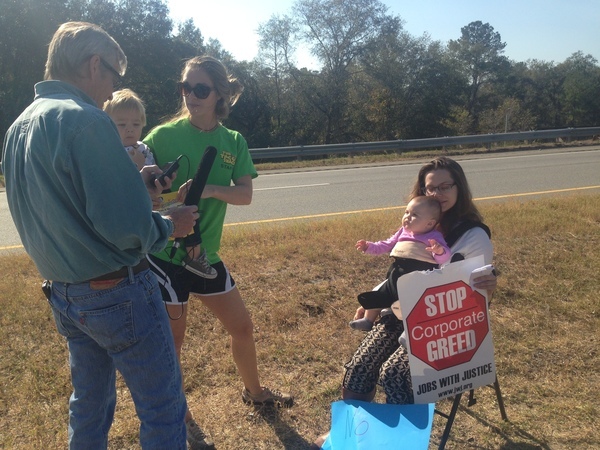 Thanks to all the folks who came up from Florida: Blake Fleming and Brenda Wagner of ReThink Energy Florida from Tallahassee, Debra Johnson of SpectraBusters from Wellborn, Gregory Payne of Sacred Water Camp from Live Oak, Merrillee Malwitz-Jipson of Sierra Club from Fort White, and Alaina Marshall from Gainesville and Orlando for Progress. Thanks to the WWALS crew, Gretchen and Amy, and to Tom Hochshild for the loan of the speaker.
Thanks to the news media: WALB TV Thomasville, GA, WUSF radio Tallahassee, FL, Valdosta Daily Times of Valdosta, GA, Georgia Boston Rhynes of Getto Free Press on YouTube of Valdosta GA, and others there yesterday and in previous days.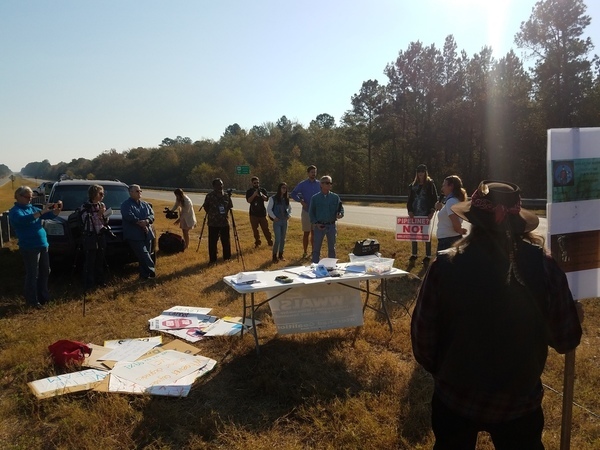 And of course thanks to Georgia Water Coalition and especially to Flint Riverkeeper Gordon Rogers and the Chattahoochee Riverkeeper for getting Sabal Trail back in the DD again after WWALS requested it for the third year running.
Back to WALB:
The 3.2-billion dollar Sabal Trial pipeline will pass through nine south Georgia counties, and water coalition members are not happy about it.

"There is no excuse for this pipeline and it is massively destructive," said John Quarterman.

Quarterman is the president of the WWALS Watershed Coalition out of Hahira.

That group has fought the pipeline since it was announced in 2013, including a 4-month legal challenge.

"Sabal Trail told us in a legal case in Florida that we would never, it couldn't happen that drilling would cause things to bubble up in the area. It happened right over there just 2,000 feet up stream," said Quarterman.
That was WWALS v Sabal Trail & FDEP, and WWALS has videos, transcripts, motions, rulings, etc. all available online.
WALB updated its story today, apparently with this response from Sabal Trail.
WALB asked Sabal Trail for a response to the protest. A spokesperson released a statement, saying:

"Our safety programs are designed to prevent pipeline failures, detect anomalies, perform repairs and often exceed regulatory requirements. Once the facilities are placed in service, we will implement operations procedures designed to monitor the pipeline 24 hours a day, 7 days a week, and we maintain the facilities per applicable federal and state regulations."
Yeah, tell that to the Pennsylvania landowner Spectra's pipeline sent to the hospital with third-degree burns after it incinerated his house last spring. Susan Phillips, StateImpact Pennsylvania, 4 May 2016, PA Pipeline explosion: Evidence of corrosion found,
A 15-mile long section of Spectra Energy's Texas Eastern Transmission line, which exploded last week in Salem Township, Westmoreland County, will remain shut down until the company takes a number of corrective actions. Federal regulators issued a corrective action order to the company on Wednesday. The Pipeline Hazardous Materials Safety Administration (PHMSA), a division of the U.S. Department of Transportation, says the cause of the explosion is unknown and an investigation is continuing.

But the order also says the preliminary investigation shows evidence of corrosion on the pipeline, which "indicates a possible flaw in the coating material" used in weld joints at the time of construction in 1981. A statement by Spectra Energy says the pipe will be examined by an independent metallurgist.
Spectra has a three-decade rap sheet of pipelines corroding, leaking, and exploding. Why should we believe them now, after something else they said wouldn't happen did happen?
Especially after FPL, whose ratepayers are stuck with the $3 billion bill for this pipeline boondoggle, admitted in its 2016 Ten Year Plan that Florida needs no new electricity until 2024 at the earliest, which takes away FPL's 2013 excuse for this pipeline.
We're watching, Sabal Trail.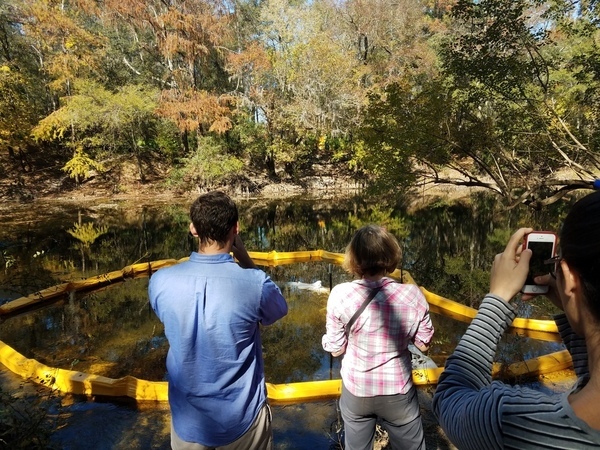 If you see anything that could be a violation, contact WWALS or report it yourself.
US 84 Quitman Gauge 1.67′ (85.17′ NAVD88).
-jsq
You can join this fun and work by becoming a WWALS member today!
Short Link: