FERC reform as an initiative was one result of this year's meeting, this time where Georgia Water Coalition usually meets, of the Riverkeepers and other Waterkeeper members and affiliates from Georgia, Florida, Alabama, and beyond as far as Oklahoma and Pennsylvania.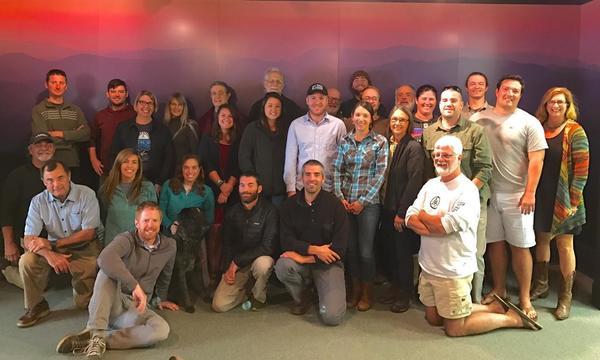 Front row by himself: Pete Harrison (Waterkeeper Alliance attorney).
Kneeling: Rick Frey (St Marys), Dan Tonsmeire (Apalachicola), Laura Jackson (Mobile), Rachael Thompson (Satilla), Dale Caldwell (Chattahoochee), Kemp Burdette (Cape Fear), Gordon Rogers (Flint)
Standing: Jason Ulseth (Chattahoochee), Bill Strangler (Congaree), Casi Callaway (Mobile), Susan Wendel (Altamaha) Earl Hatley (Grand), Elena Fodera Richards (Savannah), Emily Markesteyn (Ogeechee), John S. Quarterman (WWALS), Bart Mihailovich (Waterkeeper), Bruce Bodson (Galveston), Krissy Kasserman (Youghiogheny, wearing the blue and gray plaid shirt) Henry Jacobs (Chattachoochee, wearing the beanie cap leaning against the wall), Jacob Oblander (Lower Savannah River Alliance Affiliate, right behind Krissy), Michael Mullen (Choctawhatchee, right next to Jacob), Rebecca Jim (Tar Creek, right next to Krissy), Tonya Bonitatibus (Savannah), Matt Starr (Upper Neuse, right behind Gordon), Cade Kistler (Mobile, against wall), Sam Perkins (Catawba), Lisa Rinaman (St Johns).
Not pictured: Kaitlin Warren, Seth Clark, and Jen Hilburn (Altamaha), Rachel Sliverstein (Miami), Kelly Cox (Miami), Neil Armingeon (Matanzas), Gretchen Quarterman (WWALS), Anna Alsobrook (French Broad), Bill D'Antuono and Harrison Langley (Collier), Misha Mitchell (Atchaflaya), Myra Crawford (Cahaba), John Paul (Caloosahatchee), Kevin Jeselnik (Chattahoochee), Frank Chitwood (Coosa), Hartwell Carson (French Broad), Rob Walters (Three Rivers).
That group picture was taken late after many people had left, and some never arrived, due to hurricane or other reasons. Some of the missing are below in pictures Gretchen took, including one of Altamaha Riverkeeper Jen Hilburn, in whose extensive watersheds we met. And of course FERC reform wasn't the only initiative: trash, biological contamination, CAFOs, and others are on the agenda.
Bart Mihailovich, Waterkeeper Alliance, 3 November 2016, 2016 Gulf and South Atlantic Regional Retreat Recap, Continue reading →