That magic word "jobs" sucked up water from one of north Florida's most famous springs: Madison Blue Spring, very familiar to many people from south Georgia. Will it do the same about a pipeline?
Joseph Trento wrote for DC Bureau 20 July 2009, Nestlé: Draining America Bottle By Bottle: How Nestlé Got Millions and Millions of Dollars From a $230 Permit. (that link no longer found; but see Ivan Penn, St. Petersburg Times, ORLANDO SENTINEL, 30 March 2008, Bottler takes millions of gallons of water for $230)
Nestlé, like other large corporations, believes residents see dollar signs when they hear a large corporation is coming to their town. They often use local residents as straw men to keep the cost of expansion cheaper, all the while extracting tax and water pumping concessions by promising good paying jobs.
It's a long story, but here's the beginning of it:
The Swiss incursion of Nestlé into the State of Florida began with a covert operation in 1989. Perrier Group of America, under a new identity as Nestlé Waters North America and owned by Nestlé S.A of Switzerland, began by buying a family-owned business in Crystal Springs, Florida, called Zephyrhills. The Florida spring water now bottled by the Swiss continues to be sold as the Zephyrhills brand. That deal set a pattern for Nestlé . Despite all local objections, the Southwest Florida Water Management District, locally known as Swiftmud, a branch of the Florida Department of Environmental Protection (DEP), granted a permit to the Swiss-American group.

The public was locked out of the natural springs as a recreation site, raising a populist protest. Environmental watchdog organizations, including Save Our Springs and Friends and Citizens of Crystal Springs, opposed taking water from the spring, while the city of Tampa objected to withdrawals from its drinking water source.

After their first Florida success, Nestlé executives turned their attention to Madison's precious Blue Springs. How the water that feeds this state park got into the hands of a huge Swiss conglomerate just as Florida faced a record drought and was in a fight with Georgia over a water shortage is the story of Florida politics, powerful lobbying and the smell of new money in a small town.

After Nestlé identified the spring as one they wanted to license, the company took a multipronged approach. They used their powerful lobby at the state and local level to carefully target water rights owners, bureaucrats, politicians, and prominent people. Nestlé , like other mega-corporations, can be ruthless about cutting off relations with influential local people once they are no longer needed. Tommy Greene, the local newspaper publisher in Madison, and an influential businessman, said, "I was hired and supposed to help them with the local government here and in Tallahassee, but as soon as they got what they wanted from Jeb Bush's administration, Nestlé cut me off."
Fast-forward past the spring ending up owned by the state; see Madison Blue Spring State park.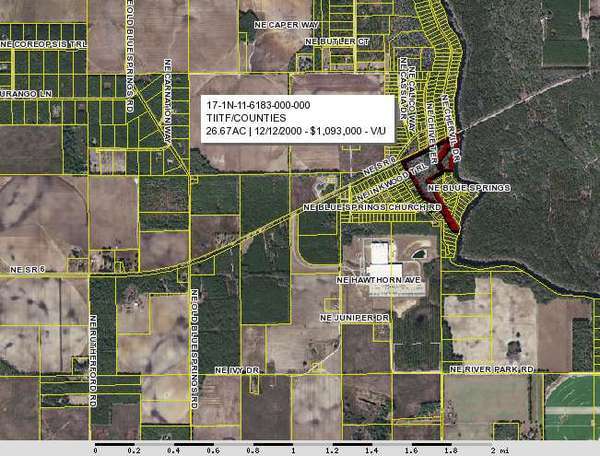 The state gave Nestlé a permit, which it uses on its much larger lands nearby: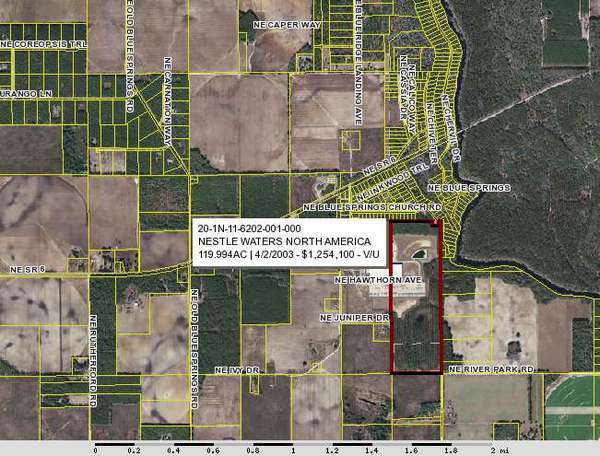 That's not even all of Nestlé's land; it owns several other parcels for several times as much total acreage. This particular parcel as you can see has part of a large building on it, yet it's listed as "Timberland" by the Madison County Property Appraiser. Why does a foreign company get so many breaks to suck up local Floridan Aquifer water?
Onwards to the drought times of the 21st century:
In a memo obtained by the St. Petersburg Times dated Nov. 15, 2002, "the water management district staff recommended reducing the amount of water Nestlé could draw under the permit it would obtain from 1.47-million gallons a day to 400,000 a day." The spring's flow had been reduced from 55-million gallons day to just 34 million gallons a day. The St. Petersburg Times reported: " ˜The current drought has reduced the flow of Madison Blue Springs to record lows,' Jon Dinges, director of resource management, wrote to the water management district's governing board. "The drought has become severe since the permit was issued, thus requiring a reduction of the (average daily withdrawal) to ensure resource protection."

But in January 2003 when it came before the regulators — all appointed by Jeb Bush — they refused to follow water staff recommendations after Nestlé threatened to reduce the size of the plant it would build in Madison if their water allotment was reduced from the Bruic allotment.

Enterprise Florida, the governor's politically appointed business development agency supported Nestlé's argument at the meeting. "We have been working with representatives of the company for about two months, in trying to secure 300 jobs that will be present at this facility upon build out," Bridget Merrill of Enterprise Florida told the board. "It is with certainty that the company has to proceed."
Just like Spectra Energy's Andrea Grover says the Sabal Trail fracked methane pipeline is "moving on". That would cross the Withlacoochee River only a few miles south of Madison Blue Spring.
Jennifer Tanner at the Valdosta Daily Times wrote, "Blue Spring Park in North Florida is a place frequented by Valdostans of many ages. A half-hour drive south is worth the hours of fun to be found in the cool water of the spring and the warm sun that shines through the trees." But Tommy Greene admits that the Blue Springs, since it became a state park in 2005, is not the same deep blue pool it was when he was a young man swimming there. "It's down by at least twenty feet."

Some south Georgia residents are not complaining —with good reason. Many of the 200 jobs provided by the company (fewer than half the number originally promised in Madison and Lee, Florida) went to people from Valdosta, boosting their per capita income and local economy.
Here's more from that VDT article by Jennifer Tanner 8 April 2008, Nestle expands; looks for more employees,
The spring is used for more than just outdoor entertainment — it is the primary source of water used to make Nestle brand Deer Park natural spring water.

Deer Park is sold in the southeastern regions of the United States. It, along with Zephryhills, Nestle Pure Life and Nestle Pure Life Splash, are all bottled at the Nestle Waters plant located on 202 contiguous acres of land in Madison County, Fla. Nestle owns more than 800 total acres in the area with bore holes to gather water from the spring. Water for Zephryhills is tankered in from other locations.
So those are the brands. Here's the direct Valdosta connection:
Established in January of 2004, the plant recently went through an extensive expansion to increase storage space by 140,000 square feet, making the warehouse a total of 219,000 square feet. It will also start a fifth production line, which will begin operation in approximately two weeks.

The expansion will positively affect the Valdosta area. Not only will more production add more supply for the Valdosta area, it will add more employment opportunities. There is already a strong concentration of employees from Lowndes County. New openings will add more jobs, increase per capita income and strengthen the economy.
Everybody's for a strong local economy, but what should we sell to get it? The water that everything around here lives on?
Maybe we shouldn't all sell out so easily for a pipeline that doesn't even deliver any local jobs. See the WWALS op-ed about the pipelne and OSFR v. FPL: head to head in the Gainesville Sun.
And you can come see some other springs and float by the proposed pipeline path on the Withlacoochee River and the Suwannee River Sunday September 21st, in the WWALS September Outing.
Another Florida county chose not to sell its water; see Jefferson County, FL stopped Nestle; counties can stop Sabal Trail.
-jsq
Short Link: