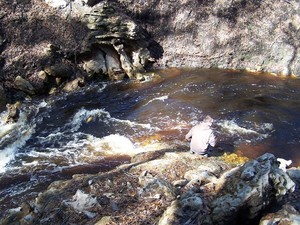 Update 24 October 2014: Map, directions, and how to join WWALS.
Come see where the Alapaha River goes underground, near Jennings, in Hamilton County, Florida, 2PM, Sunday, October 26th, 2014. This is a walking outing; no boats required.
Directions to the parking area: Take I-75 south to State Road 6 in Florida. Go east (left) to US 41. Go north (left) about one mile. Turn right on NW 76th Terrace and go a mile. Turn right on NW 25th Lane and go about a mile.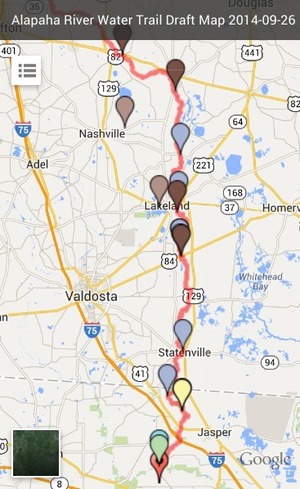 Turn left at the Jennings Bluff Tract sign and go .9 mile. It dead ends at the parking area. That road is gravel and dirt and kinda bumpy. The parking area can probably hold ten vehicles at least.
The location for the Sink on the draft Alapaha River Water Trail map apparently is not quite right yet, so we'll get a more accurate reading when we're there. For more about the Alapaha Sink and the Alapaha Rise, see underground.
Samuel Taylor Coleridge reported from a dream in 1797:
Where Alph, the sacred river, ran
Through caverns measureless to man
Down to a sunless sea.

So twice five miles of fertile ground
With walls and towers were girdled round:
And there were gardens bright with sinuous rills,
Where blossomed many an incense-bearing tree;
And here were forests ancient as the hills,
Enfolding sunny spots of greenery.
Deanna Mericle reported wide awake 29 Sep 2014:
We visited the sink today and it is flowing nicely. Just as a heads up, the hike to the sink does have some steep parts, especially if you go the scenic route, which I recommend. The area around the sink itself is kind of steep with slick mud/clay. So wear good shoes for hiking. There were only a few Mosquitos. The area is beautiful and worth the effort.
Here are pictures from an earlier visit.
At the sink, we will have a meeting of the Alapaha River Water Trail Committee; all can listen, if they like.
Short Link: