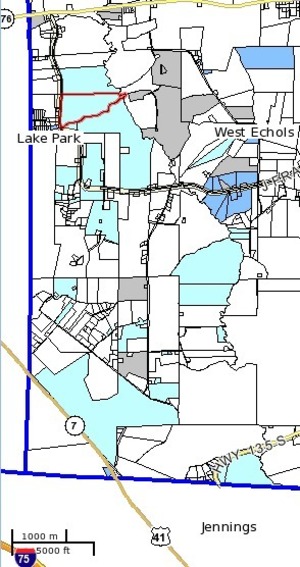 Update 2015-01-11: People seem confused as to what Bill Gates is doing. However, since he announced in 2012 he was going to "fix" agriculture in conjunction with Monsanto and Syngenta, and he's buying up hundreds and thousands of contiguous acres at a time, it seems pretty clear he's promoting corporate pesticided GMO agriculture.
Update 2015-01-13: More Gates purchases in more counties.
Add Echols County and Lowndes County, Georgia, including much of Lake Park, and Hamilton and Madison Counties, Florida, in addition to what Amber Vann wrote in the VDT and other papers today 22 October 2014, Bill Gates gobbling up Florida farmland
LIVE OAK, Fla. — The investment company that manages the wealth of the world's richest man, Bill Gates, has been acquiring gobs of farmland in north Florida the past two years, real estate records show.

Lakeland Sands Florida, a subsidiary of Cascade Investments LLC, which oversees the Gates fortune, recently bought more than 4,500 acres in Suwanee County near McAlpin, an unincorporated community just south of here.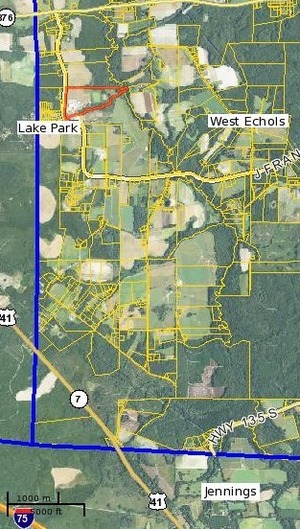 Meanwhile, Bill Gates owns Cascade Investment LLC, which owns Los Arboles LLC, which changed its name to Cottonwood Ag Management LLC, which bought land in Echols County on the Alapahoochee River, a year after Bill Gates said he was going to fix agriculture in conjunction with Monsanto and Syngenta.
Cottonwood Ag Management LLC does not own any land in Lowndes, Hamilton, or Madison Counties. But Lakeland Sands does: see later blog posts.
Most of the southwest Echols County acreage in light blue (sales in the last couple of years) on the first map above by the Tax Assessor shows C/O COTTONWOOD AG Management. That's the Alapahoochee River winding through from north to south on its way to join the Alapaha River near Jennings, FL, after which the Alapaha River joins the Suwannee River at the border with Suwannee County, Florida.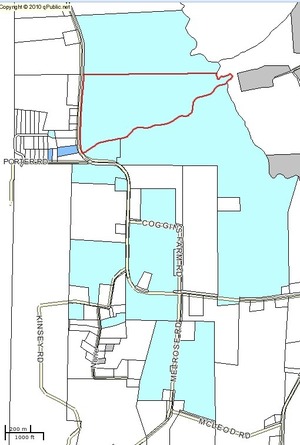 Let's pick a parcel and zoom in, on Parcel 007 016. It's a March 2013 sale, with current owner Coggins Produce Georgia LLC, but C/O Cottonwood Ag Management, 5501 Lakewood Drive, Kirkland, WA 98033.
The big blue parcels on either side of it are owned by Lakeland Sands LLC, and the one to the north, Parcel 007 017 also shows C/O Cottonwood Ag Management. Each of has several (100+ acre) large plots in SW Echols County. And several of them back up onto the west side of the Alapahoochee River, which puts them squarely in WWALS watersheds.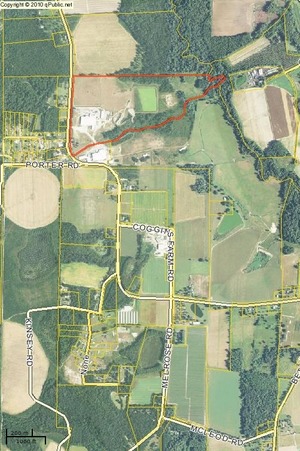 Plus another 144 acres in Parcel 028 002 owned by Lakeland Sands on the Alapaha River just outside of Statenville.
Here's how I followed the chain of LLC's up to Bill Gates. A job posting: Senior Ag Asset Manager ~ BGI ~ Kirkland,Washington USA 03.25.2014 · Posted in Other / Misc Jobs,
Cottonwood Ag, a privately-owned Agricultural Asset Management Company, a subs idiary of a highly-regarded, multi-billion dollar private investment company, is seeking an exceptional candidate for a Senior Asset Manager position, reporting to the Head of Agriculture. The company manages an agribusiness portfolio both domestically and internationally that encompasses approximately 250k acreas across multiple states with growing ..
That's right, 250,000 acres across multiple states. Why?
Matthew Herper wrote for Forbes 24 Jan 2012 Bill Gates' Next Target: Revolutionize Farming,
America's richest man says that it is a terrible irony that most of the billion people, 15% of the world population, who live in extreme poverty and must worry about where they will get their next meal are suffering on farms. He says that the world needs to repeat the "Green Revolution" of the 1960s and 1970s, when new farming technologies, including new seed varieties of rice, wheat, and corn, increased the amount of food available and decreased its price.
It's not clear to me the world really has a food shortage. It has a food distribution problem, which has a lot to do with massive amounts of U.S. midwest corn fields being grown for fuel rather than food, with Saudis and Chinese buying up farmland in Africa and displacing the locals, and with Monsanto-style pesticided agriculture replacing lots of small farmers with mega-farms dependent on massive amounts of petrochemical pesticides.
"The world faces a clear choice," he writes. "If we invest relatively modest amounts, many more poor farmers will be able to feed their families. If we don't, one in seven people will continue living needlessly on the edge of starvation."
That looks like a false dichotomy when actual studies show more profit and just as much food is produced by fewer pestices and more crop rotation with animals for manure.
Back to the Forbes story:
That's staggering considering that only $3 billion is spent on agricultural research on the seven most important crops, Gates says, including $1.5 billion from countries, $1.2 billion from private companies such as Monsanto and Syngenta, and $300 million by an agency called the Consultative Group on International Agricultural Research.
So Gates' new project appears to be about promoting a few big agrochemical companies.
But what's the connection of Cottonwood to Bill Gates? The Bill and Melinda Gates Foundation makes no mention of Cottonwood. Interestingly, google maps knows no such street as Lakewood Drive in Kirkland, WA. However, Kirkland is immediately west of Redmond, home base of Microsoft.
Ah, it's because it's really Lakeview Drive, according to Manta:
Cottonwood Ag Management LLC
932 N Wright Street # 152
Naperville, IL 60563 – View Map
Phone: (630) 219-3605
Web: www.cottonwoodag.com

Cottonwood Ag Management LLC
A privately held company in Naperville, IL….

More Details for Cottonwood Ag Management LLC

Categorized under Management Services. Our records show it was established in 2011 and incorporated in Illinois. Current estimates show this company has an annual revenue of 89000 and employs a staff of approximately 2.
The Illinois Secretary of State Corporation search finds:
Entity Name LOS ARBOLES MANAGEMENT, LLC File Number 02886812
Status ACTIVE On 08/26/2014
Entity Type LLC Type of LLC Foreign
File Date 10/28/2009 Jurisdiction WA
Agent Name NATIONAL REGISTERED AGENTS INC Agent Change Date 10/28/ 2009
Agent Street Address 200 WEST ADAMS STREET Principal Office 5501 LAKEVIEW DRIVE, KIRKLAND, WA 98033
Agent City CHICAGO Management Type MGR View
Agent Zip 60606 Duration PERPETUAL
Annual Report Filing Date 08/26/2014 For Year 2014
Assumed Name ACTIVE – COTTONWOOD AG MANAGEMENT
Series Name NOT AUTHORIZED TO ESTABLISH SERIES
Same address as Manta showed, and note LOS ARBOLES MANAGEMENT, LLC has an "Assumed Name" of COTTONWOOD AG MANAGEMENT.
Washington State Secretary of State Corporation Search finds:
COTTONWOOD AG MANAGEMENT, LLC
UBI Number 602816922
Category LLC
Active/Inactive Active
State of Incorporation WA
WA Filing Date 03/26/2008
Expiration Date 03/31/2015
Inactive Date
Duration Perpetual
Registered Agent Information
Agent Name NATIONAL REGISTERED AGENTS INC
Address 505 UNION AVE SE STE120
City OLYMPIA
State WA
ZIP 98501
That Los Arboles is the clue, followed in a comment by "Nick" on the story Shira Ovide wrote for WSJ Blogs 7 July 2011, Explaining Warren Buffett's $1.5 Billion Gift to Bill Gates,
"They share an office with BGI (Bill Gates Investments—his "family office"/personal money mangers) and Los Arboles (his real estate and alternative asset manager, which is a subsidiary of BGI)."
The wikipedia article about Michael Larson claimes Los Arboles is a subsidiary of Cascade Investment, of which Michael Larson is the chief investment officer, and that Cascade (informally known as Bill Gates Investments, or BGI) is the main investment fund for Bill Gates and for The Bill and Melinda Gates Foundation.
This wikipedia article about Cascade Investment says Gates is Chairman of Cascade Investment and Larson is Manager and CIO.
No, I'm not depending on Wikipedia. Those links are also attested in what Andy Serwer and Jeanne Lee wrote for Fortune Magazine 15 March 1999, One Family's Finances: How Bill Gates Invests His Money Like a lot of people, he's got stocks, bonds, and a money manager. But there are differences. For one thing, his personal portfolio is the size of a large mutual fund.
Here's a Jamie Cobb on LinkedIn who worked first for Cascade and then for Los Arboles (August 2008 to April 2012).
So the chain of LLC ownership is clear, from Bill Gates down to Cottonwood Ag Management and Lakeland Sands LLC.
They posted this on LinkedIn at the end of August 2014,
HR Manager
Job description

Cottonwood Ag Management, a privately held Agricultural Asset Management Company, is searching for an HR Manager to join its ag mgt team to support the growth of the agricultural asset portfolio consisting of production farmland and production/processing facilities across the U.S. This position will oversee t he human resources programs and support the farming and processing operations in the Georgia market.Cottonwood Ag Management—Savannah, Georgia Area

About this company

Cottonwood Ag Management is a national investment manager of agricultural real estate, direct farming and processing operations, overseeing nearly 220,000 acres of prime domestic farmland in major agricultural regions, including California, the Midwest, Southeast, and the Louisiana Delta region.
There's a lot more detail in that job posting about what any applicant would be proposing to do.
More about other nearby counties in later blog posts.
-jsq
Short Link: