Help check the Alapaha River for deadfalls! Expert paddlers wanted; inquire within.
Update 2015-01-17: Some pictures and videos by John S. Quarterman and an outing summary by Bret Wagenhorst.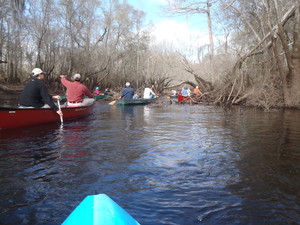 Meet at the Alapaha River boat ramp at the Hwy 82 bridge just east of the town of Alapaha at 09:30 AM. Boats and gear will be unloaded and some vehicles will be driven to the take out near the Gaskins Forestry Education Center south of Alapaha to allow the shuttle. One vehicle will then bring the drivers back to the put in and the trip will hopefully get started down river at about 10:00-10:15. Facebook event.
This event is FREE! All we ask is that you are a current member of WWALS Watershed Coalition. If not, its easy to join online today at /donations/. You do not have to be a member to come on this outing. If you like the experience, we recommend that you join to support the efforts of WWALS.
The trip may take 4 hours, but it may shorter or longer depending Continue reading →