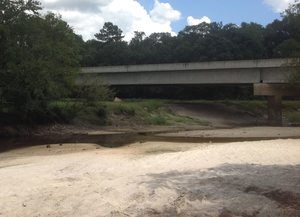 4PM Saturday March 14th at GA 135 in Berrien County near Willacoochee: paddle upstream on the Alapaha River and float back. The river will be higher than pictured here. All are welcome, boats are available! facebook event.
This is immediately following the WWALS Alapaha River Water Trail Conference being held at the Gaskins Forestry Education Center near Alapaha, GA from 1-4 p.m. Come see the high school student logo contest winners for the Water Trail, and then paddle on the Trail!
This event is FREE! All we ask is that you are a current member of WWALS Watershed Coalition. If not, it's easy to join online today at /donations/. You do not have to be a member to come on this outing. If you like the experience, we recommend that you join to support the efforts of WWALS.
We will drive about 10 miles from the conference site to the put in at the Hwy 135 bridge and paddle upstream about 30-45 minutes and then return to the start. This trip is appropriate for novice paddlers, but will require some physical exertion since the first portion is against the current. Participants must bring their own boats and life jackets. There will be a limited number of spaces in boats for those who don't have boats (contact Bret Wagenhorst at 229-392-5513 if you need a space). All participants must know how to swim or tread water.
This outing continues our exploration of the Alapaha River Water Trail.
Backup plan if water rises: Rays Millpond, 875 Rays Mill Pond Road, Ray City, GA 31645. Rays Millpond is actually on Cat Creek, which is a tributary of the Withlacoochee River, not the Alapaha, but it's still in WWALS' watersheds.
-jsq
Short Link: