There is potential for "a high impact basin-wide flood event this spring should heavier than normal rainfall occur" in the Withlacoochee Basin.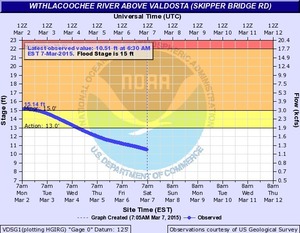 National Weather Service Tallahasee, FL 240 PM EST THU MAR 5 2015, Spring Flood Potential Outlook for Southeast Alabama, Southwest and South Central Georgia, and the Florida Panhandle and Big Bend,
Above normal potential for river flooding this Spring,
Existing Conditions.
In the Withlacoochee, Suwannee Basin…

As with the Ochlockonee River basin, rainfall over the last few months has been well above normal in the Withlacoochee Basin and upper portion of the Suwannee Basin. Rainfall amounts over the last five months have been 3 to 5 inches above normal. Rainfall amounts near normal have occurred in the Middle and Lower Suwannee over the previous six months. Flows within the upper portion of the Withlacoochee Basin remain well above normal and on March 1st were near flood stage in Southern Georgia.

Flows across the Middle and Lower Suwannee are also running above normal for this time of year, though flood stages have not been met in this portion of the basin within the last six months. In the lower portion of the basin, swampy areas and small lakes are nearly full.
Here is a 90-day graph from USGS of river levels in feet at the three Georgia Withlacoochee River gauges which shows river levels higher than median much of the time since mid-December: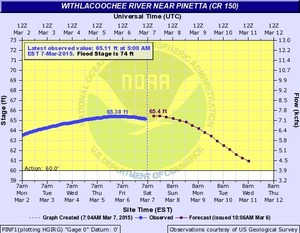 Today (two days after the NWS post) the Withlacoochee has already passed its peak several days ago, except downriver at Madison and Lee in Florida. Current Withlacoochee River gauge readings are available via this WWALS compilation of charts or this NWS compilation, which is the source of the rest of the river gauge charts used in this post. The gauge map below is from NWS for Southeast River Forecast Center.
…Long Term Precipitation Outlook…

The one month precipitation outlook for March indicates a greater than 40 percent chance of above normal precipitation. This is supported by numerical model forecasts which suggests the more energetic pattern experienced in late February will continue into much of the month of March. The longer range precipitation outlook features near normal precipitation for the months of April and May.

The potential for heavy rainfall typically decreases after early April as the region transitions into more of a drier pattern as influences from frontal systems diminish.

…Spring Flood Outlook Summary…

Taking into account long term ensemble probabilities for precipitation, recent rainfall, and current stream flows, there is an above normal potential for river flooding across the region this spring. This risk is maximized across the eastern half of our region, which includes portions of the ACF, Ochlockonee, and Withlacoochee Basins. In these specific basins, there is potential for a high impact basin-wide flood event this spring should heavier than normal rainfall occur, as storage capacity in the headwater portion of these basins is especially low.

Should normal to above normal Spring rainfall amounts materialize, the continued wet conditions will keep an increased flood risk for our area rivers moving into hurricane season in June.

&&
$$
Godsey
-jsq
Short Link: