This coming Friday, June 5th, eight area chambers of commerce, the Southeastern Credit Union, and the Valdosta Daily Times (VDT) are sponsoring a workshop on nonprofit boards, 8:30 AM to noon, at the Country Inn & Suites, 1308 St Augustine Rd, Valdosta, GA 31601.
VDT, 28 May 2015, Chambers host training for nonprofits,
VALDOSTA — There are almost 400 nonprofit organizations in the South Georgia area, each with a board of directors, many of them with limited experience in the position and hungry to know more.

"Board members are the people responsible for their organizations' legal governance and financial accountability," said Bob Harris, a Tallahassee, Fla.-based attorney with more than 30 years of experience in training nonprofit executives and board members.

Local chambers are bringing Harris' seminar, "Building the Best Board," to South Georgia, 8:30 a.m., June 5, Country Inn & Suites.

"Communities are stronger because of the work of nonprofit boards of directors," Harris said. "The seminar will offer practical advice to be sure the organization's mission is being achieved, the board is performing at high capacity and executive directors have the tools they need for strategy and sustainability."…

"In many ways, nonprofit agencies and organizations are the backbone of a community," said VDT Editor Jim Zachary. "Having qualified, engaged and dynamic leaders to steer those organizations is critical. South Georgia is blessed with talented and passionate individuals who are committed to community service. The 'Building the Best Board' workshop will help incubate an environment to recruit, inspire and equip the brightest and best leaders."

The cost is $25 per person, or $20 per person for two or more from the same organization. Prior registration is required by either visiting ValdostaChamber.com, or calling 247-8100, Ext. 100.
Valdosta-Lowndes County Chamber of Commerce – Event Information, Building the Best Board.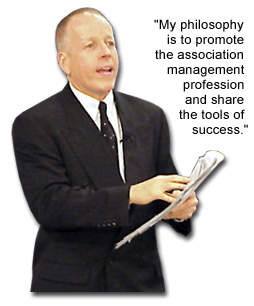 I'm not sure which Bob Harris is the presenter. There's Robert L. Harris, the Tallahassee attorney (pictured above), and there's Robert C. Harris who runs the Nonprofit Center Promoting the Association Management Profession (pictured to the right). The latter bills himself as having 30+ years of experience doing this, so maybe him. Here's a Robert C. Harris Board Roles & Goals document from 2010.
I guess we'll find out which Bob Harris Friday. See you there.
-jsq
Short Link: