Hot off the presses, a card, brochure, and map all in one for the Alapaha River Water Trail!
If you want some copies, send email to wwalswatershed at gmail.com and we'll arrange to get them to you. Here's WWALS board member Chris Mericle displaying the new brochure next to the WWALS banner: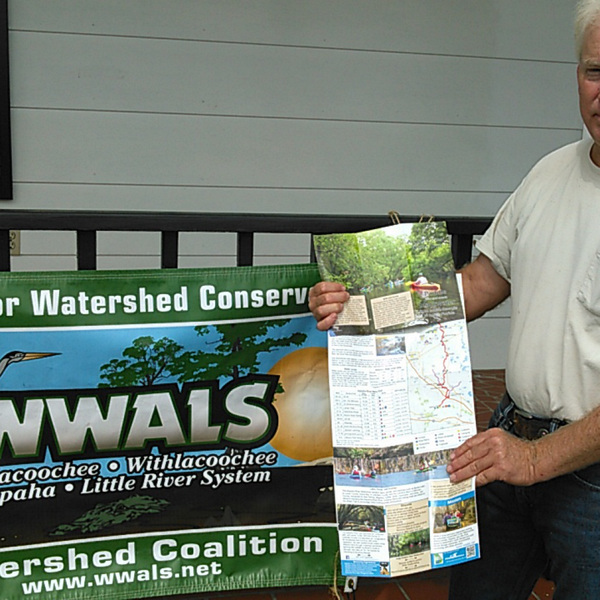 Cover
On the right is what the cover looks like.
Chris is taking copies to the Hamilton County, FL Tourist Development Authority and to Suwannee River Water Management District. Copies have already gone to the Valdosta-Lowndes County Tourism Authority and the Valdosta-Lowndes Chamber of Commerce.
All the other sponsors of the ARWT are already on the delivery list.
Thanks to Donna Delaney for doing the layout and arranging the printing.
The actual printed brochures are higher resolution and snappier than the pictures here, and they're printed on water-resistant and floatable paper.
Folded out
Unfold the z-fold and you see this picture of the Alapaha River with the Trail Description and how it's Wild and Scenic.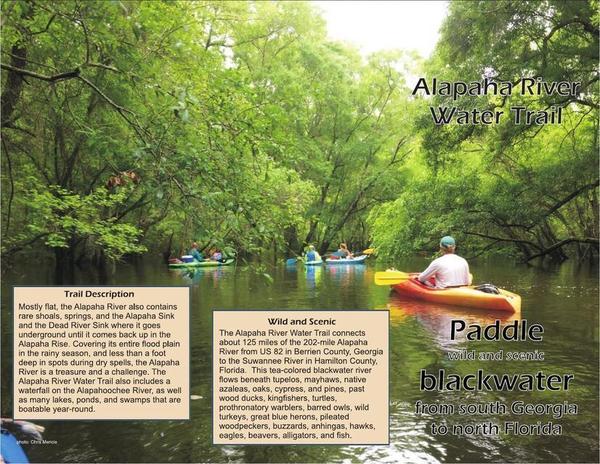 Lake side
Turn it over and there's a picture of Banks Lake across the top, with boxes for Lakes, Ponds, and Swamps, Etiquette, Safety, Sponsors, WWALS' Mission, and more.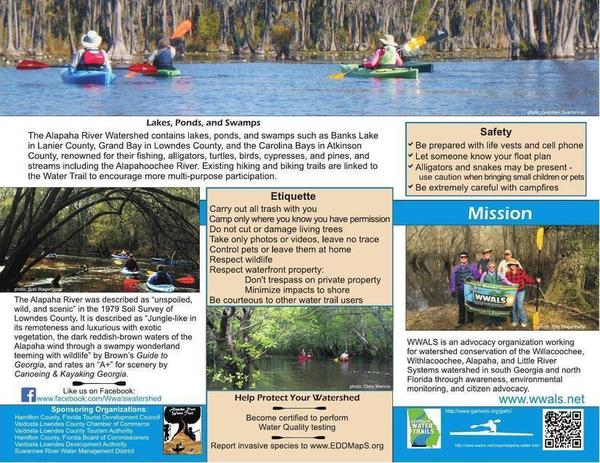 Map side
Unfold it one more time, and inside there's a map with legend, Sinks or Siphons, Water Levels, and Float Plan.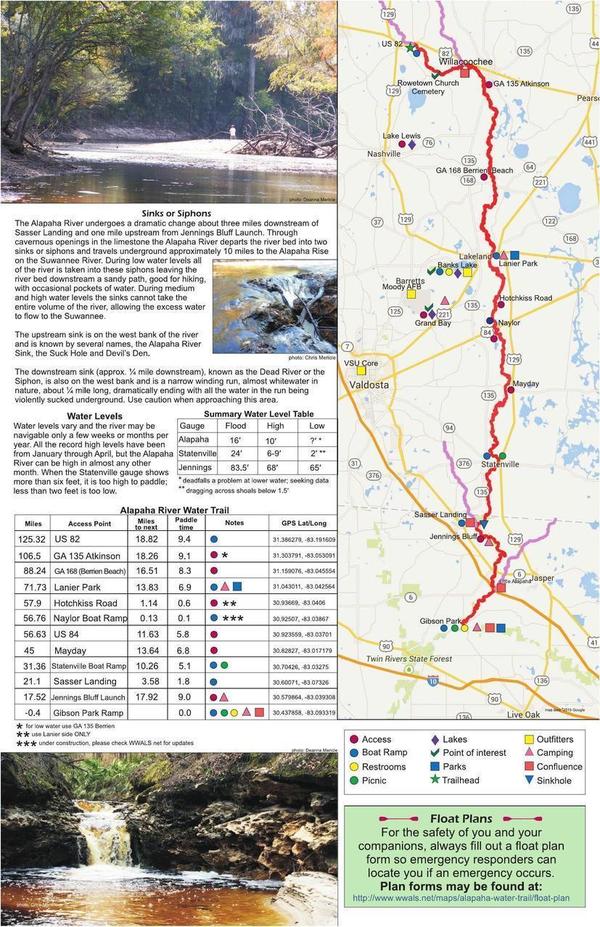 Online
There's more on all those subjects online through the Alapaha River Water Trail web page. Follow the link or point your phone at the QR code.
And don't forget the online interactive map which lets you zoom and pan to far more points along the ARWT.
There's still more to do on the ARWT, especially signage at each access point.
If you want to help, send email to wwalswatershed at gmail.com.
Or come along on some of the monthly WWALS outings; see the calendar. The next one is June 14th 2015 from Sasser Landing to Jennings Bluff, plus a brief hike up the Dead River to the Dead River Sink.
That outing and most others are FREE! All we ask is that you are a current member of WWALS Watershed Coalition. If not, it's easy to join online today at /donations/. You do not have to be a member to come on this outing. If you like the experience, we recommend that you join to support the efforts of WWALS.
And coming soon, the Withlacoochee River Water Trail! If you'd like to help with that, send email to wwalswatershed at gmail.com.
There's lots of other stuff to do, too; see Committees.
Meanwhile, please enjoy this card-map-brochure, and the Alapaha River Water Trail.
-jsq
Short Link: