Justice Scalia never said the EPA emissions rule was struck down, rather the Supreme Court sent it back to a lower court to get a cost analysis from EPA.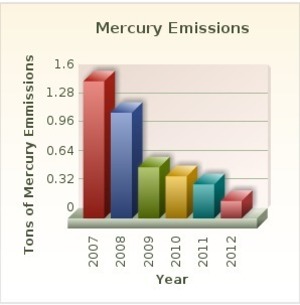 Meanwhile, many of the emissions controls are already in place on coal plants (including Plant Scherer), other coal plants have closed or are closing, and investors are abandoning coal in droves. So what Scalia wants may or may not be impossible for EPA to deliver, but EPA actually already has helped sink dirty coal. Meanwhile, Georgia Power finally is helping the sun rise on Georgia. So the prognosis is good for less mercury in the Alapaha River.
Emily Atkin, ThinkProgress Climate, 29 June 2015, What Everyone Is Getting Wrong About The Supreme Court's Mercury Pollution Ruling,
What the Supreme Court did do was put the regulation — which limits toxic heavy metal pollution like mercury from coal and oil-fired plants — in jeopardy. In a 5-4 decision led by Justice Antonin Scalia, the court said the EPA acted unlawfully when it failed to consider how much the regulation would cost the power industry before deciding to craft the rule.

However, that doesn't mean the rule is gone. In fact, it's still in place at this very moment. Right now, power plants are still required to limit their emissions of mercury, arsenic, chromium, and other toxins. A spokesperson for the EPA confirmed this to ThinkProgress.

What the Supreme Court's ruling does is send the current mercury rule to the D.C. Circuit court for further consideration. The D.C. Circuit could very well invalidate the rule. But it could also uphold it, if the court finds more harm than good would be done by repealing it, or if the agency can offer a reasonable explanation of why costs weren't included early on in the administrative record.
Georgia Power claims Plant Scherer already has emission control technology in place or in progress: Plant Scherer Information Sheet, Georgia Power,
…we are in the midst of a more than $5 billion environmental construction program, including building scrubbers, selective catalytic reduction systems (SCRs), baghouses, and using other technology to build and reduce emissions at our fossil-fuel power plants. Plant Scherer has added multiple environmental controls, including scrubbers, SCRs, and baghouses on all four units. These investments equip the units with the latest environmental controls to reduce emissions of sulfur dioxide, nitrogen oxides, and mercury.
Of course, Georgia Power is also replacing coal plants with natural gas plants, which require pipelines, which use eminent domain to gouge environmentally destructive and hazardous rights of way through local property and pipes under our rivers. Also, natural gas is methane, which leaks, and, according to the EPA, is 25 times worse than carbon dioxide as a greenhouse gas.
Much better, Georgia Power is going into rooftop solar financing 1 July 2015.
And that's what's going to sink coal, even more than the EPA rule. Not just Georgia Power, but when the biggest part of Southern Company, the second largest U.S. electric utility, finally decides "If somebody wants to buy distributed generation, I want to sell it to 'em," as SO CEO Tom Fanning has made his mantra since last month's SO Stockholder meeting where I heard him say something similar, things are changing.
The sun is rising on Georgia and the U.S., leaving coal in the shade. And that's good news for the Alapaha River and WWALS watersheds.
-jsq
Short Link: