It's the annual WWALS Adopt-A-Stream cleanup, this time at GA 135 on the Atkinson County side of the Alapaha River, plus if there's time, the Berrien County side.
When: 9AM Saturday September 26th 2015
Where: GA 135, Atkinson County side.
From Willacoochee, GA: 2.8 miles south on GA 135
From Nashville, GA: 15.8 miles east on GA 76 and then north on GA 135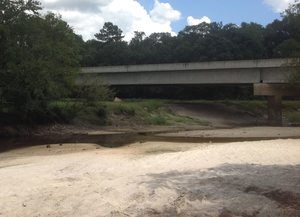 Responsible Party: Bret Wagenhorst
What: Bring gloves and your own trash bags (although we'll have some).
What not: No boats needed; this outing is walking and picking up trash.
This outing is Free! But we encourage you to join WWALS today to support our fun outings and important work: /donations/. See our newsletters, and the press Releases and news.
-jsq
Short Link: