Update 2015-08-14: Now plus Five Holes caves at Suwannee River State Park!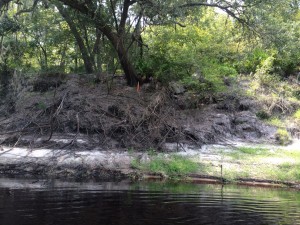 This flag marks where Sabal Trail plans to drill under the Suwannee River, pictured today by Chris Mericle, who also pictured a number spraypainted on a tree and remarked:
I know it is a small thing but, it is this lack of respect for nature that we will be forced to endure if this pipeline is permitted.
With FL DEP proposing to issue a permit for Sabal Trail, let's go investigate, and have some fun at the same time.
First we'll look at the Alapaha Rise, which is where some of the water that disappears from the Alapaha River at its sinks comes back up out of the Floridan Aquifer. To get to the Rise we paddle upstream on the Suwannee River, then Continue reading →