Federal disclosure laws require revealing some information Florida's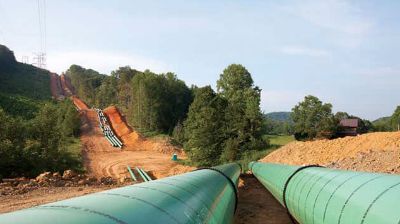 blind trust law supposedly hides, and there are other cracks in that state law that let a reporter see some of what's in Florida Governor Rick Scott's blind trust, including last year that he owned stock in Spectra Energy and its subsidiary DCP Midstream Partners LP, as well as in Williams Co. and a flock of other pipeline and fossil fuel companies.
Dan Christensen, FloridaBulldog.org, 19 August 2015, You don't need X-ray vision to see through Gov. Rick Scott's blind trust,
There are at least two reasons why: disclosure requirements in federal securities law that can undercut blind trust secrecy, and weak conflict-of-interest rules in Florida that don't require public officers like the governor to disclose assets they own or control when held in their spouse's name.

For example, on June 25 Scott and the trustees of his blind trust told the U.S. Securities and Exchange Commission that Scott had sold 122,653 shares of Argan (NYSE:AGX) earlier that month for $4.87 million. Argan is a publicly traded holding company whose Gemma Power Systems subsidiary builds and operates power plants in Florida and elsewhere.

The report filed by Scott and his trustees at New York-based Hollow Brook Wealth Management also disclosed that the governor continued to own 4.2 percent of Argan — or 606,124 shares — worth nearly $23.7 million at Tuesday's closing stock price of $39.06.

The public report says, "No other person is known to have the right to receive or the power to direct the receipt of dividends from, or the proceeds from the sale of, the shares of common stock that are the subject of this filing."
There's a lot more detail in that story. And this is relevant to WWALS because:
Gov. Scott also has made public information about the contents of his blind trust.

In June 2014, while qualifying to run for re-election, Scott closed his original blind trust, made public a list of his blind trust assets, then immediately put those assets back into a new blind trust.

The maneuver presented a snapshot of Scott's stock holdings as of Dec. 31, 2013. Among other things, it revealed Scott was heavily invested in energy companies, including those that control the two existing natural gas pipelines serving Florida.
Here's that list.
The relevant part was mostly already published in a previous Florida Bulldog story also picked up by the Miami Herald and retold by Christensen again in this story today:
Also disclosed was Scott's $108,000 investment in Spectra Energy and its affiliate DCP Midstream Partners.

Spectra is currently seeking regulatory approval to build the $3 billion Sabal Trail Transmission, an approximately 500-mile pipeline to run from Alabama and Georgia into North Florida and south to Orange County. The underground pipeline would supply fuel to the state's new gas-fired power plants.

The Florida Public Service Commission, whose five members were appointed by Scott, unanimously approved Sabal Trail in the fall of 2013, before Scott's stake in Spectra was publicly known.

Last month, the Florida Department of Environmental Protection said it intended to award a key environmental permit and easement for the controversial Sabal Trail project that's majority-owned by Spectra Energy.
And WWALS filed a petition against that permit to try to prevent Sabal Trail drilling under the Suwannee River and elsewhere in the fragile karst limestone that contains our drinking water Floridan Aquifer. More on that in a later post.
-jsq
You can join this fun and work by becoming a WWALS member today!
Short Link: