We'll float down the Suwannee River to this spot Sunday afternoon: come join us!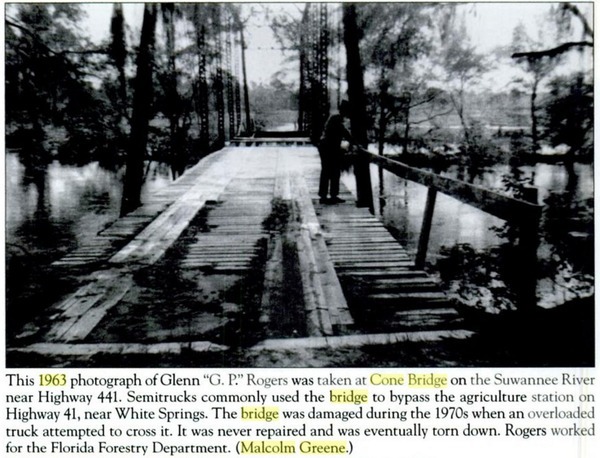 Picture from Hamilton County, by Marsanne Petty, on page 12; found by Chris Mericle.
They don't build them like this anymore. It's hard to even find any left standing like this.
The legend reads:
"This 1963 photograph of Glenn "G.P." Rogers was taken at Cone Bridge on the Suwannee River near Highway 441. Semitrucks commonly used the bridge to bypass the agriculture station on Highway 41, near White Springs. The bridge was damaged during the 1970s when an overloaded truck attempted to cross it. It was never repaired and was eventually torwn down. Rogers worked for the Florida Forestry Department. (Malcolm Greene.)"
Follow this link for details on the Sunday outing from FL 6 to Cone Bridge.
-jsq
You can join this fun and work by becoming a WWALS member today!
Short Link: