As Commissioner Marshall said, "it's been a long time coming", but Tuesday the Lowndes County Commission approved $24,000 to buy 4.35 acres from Acree Investments for a boat ramp on the Alapaha River just north of US 84. Details are on the LAKE blog.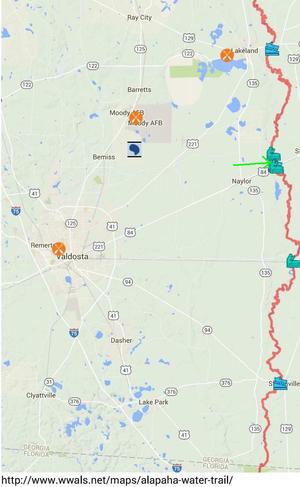 Come celebrate with us 10AM tomorrow Saturday 12 December 2015 at Grand Bay, which is also on the Alapaha River Water Trail.
Commissioners told Gretchen as she was thanking each of them afterwards that they used the WWALS Alapaha River Water Trail map to determine there was no other boat ramp on the Alapaha River in Lowndes County, the closest being east of Lakeland and west of Statenville.
Of course there are other boat ramps in Lowndes County, but they are on the Withlacoochee and Little River Water Trail.
Thanks to Dr. Acree for agreeing to sell for a reasonable price, and to the Lowndes County Commissioners for agreeing to buy this land for the Alapaha River boat ramp and park in February 2013.
-jsq
Short Link: