Yesterday I asked members of the Southern Georgia Regional Commission (SGRC) to pass resolutions supporting the Okefenokee Swamp and the Suwannee and St. Marys Rivers against a proposed titanium strip mine. SGRC's members include 18 counties, which is almost all the Georgia Suwannee River Basin counties, and 45 municipalities. Some of them have already passed such resolutions: Valdosta, Waycross and Ware County, Homeland, Kingsland, and St. Marys.
Update 2023-09-12: and Clinch County.
Update 2023-08-07: and Echols County.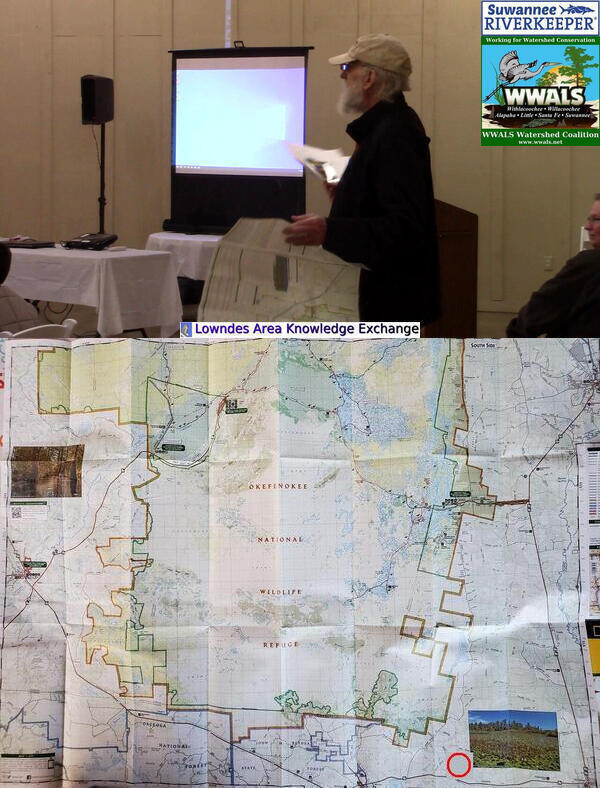 Suwannee Riverkeeper; Okefenokee Swamp, mine site
You can ask your local city or county government to pass a similar resolution. The previous resolutions are on the WWALS website.
You can also ask GA-EPD for a moratorium on mining permits, or to deny the permits, or at the very least to examine them very thoroughly and produce the equivalent of the Environmental Impact Statement that the Army Corps should have been working on.
https://wwals.net/?p=55092
You can also use Protect Georgia form to end a message to your Georgia statehouse delegation.
Floridians, this mine site is upstream from Florida, and you can also use these forms.
Thanks to SGRC Council Chair Joyce Evans and Assistant Director Chris Strom for inviting me to come speak to SGRC.
See also Continue reading →