Yesterday I asked members of the Southern Georgia Regional Commission (SGRC) to pass resolutions supporting the Okefenokee Swamp and the Suwannee and St. Marys Rivers against a proposed titanium strip mine. SGRC's members include 18 counties, which is almost all the Georgia Suwannee River Basin counties, and 45 municipalities. Some of them have already passed such resolutions: Valdosta, Waycross and Ware County, Homeland, Kingsland, and St. Marys.
Update 2023-09-12: and Clinch County.
Update 2023-08-07: and Echols County.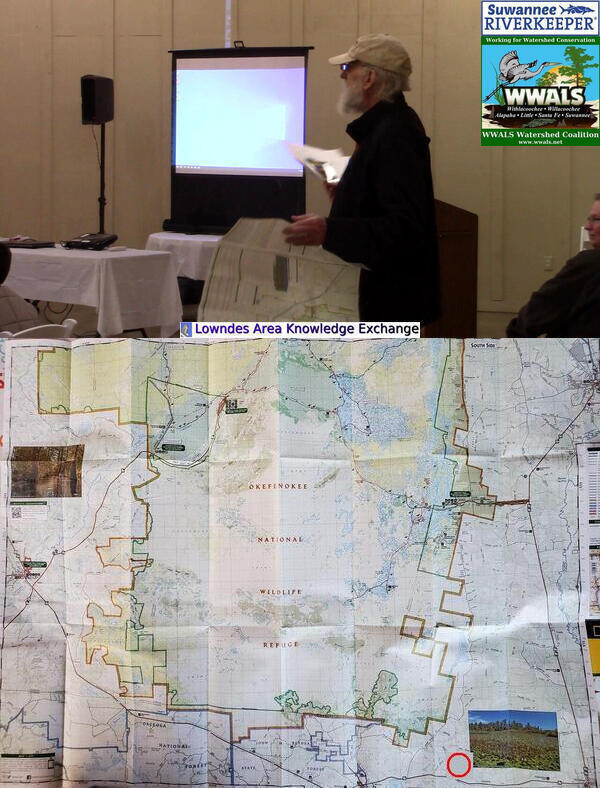 Suwannee Riverkeeper; Okefenokee Swamp, mine site
You can ask your local city or county government to pass a similar resolution. The previous resolutions are on the WWALS website.
You can also ask GA-EPD for a moratorium on mining permits, or to deny the permits, or at the very least to examine them very thoroughly and produce the equivalent of the Environmental Impact Statement that the Army Corps should have been working on.
https://wwals.net/?p=55092
You can also use Protect Georgia form to end a message to your Georgia statehouse delegation.
Floridians, this mine site is upstream from Florida, and you can also use these forms.
Thanks to SGRC Council Chair Joyce Evans and Assistant Director Chris Strom for inviting me to come speak to SGRC.
See also the LAKE videos of (most of) yesterday's Southern Georgia Regional Commission (SGRC) Council meeting yesterday in Pearson, Georgia.
Resolutions for Okefenokee Swamp against titanium mine –Suwannee Riverkeeper


Video by John S. Quarterman for Lowndes Area Knowledge Exchange (LAKE).

I mentioned our camping last weekend at Griffis Fish Camp, with a paddle down the Suwannee River and into the Okefenokee Swamp to Billys Island, drew people from Brunswick, Tallahassee, Sanford, Florida (three hours away), and Atlanta (four hours away). Such is the draw of the Swamp, which is justly world-famous for its diverse ecology.

Update 2021-12-11: Actually, instead of Atlanta, Nashville, Tennessee, ten hours away. Great blue herons, turtles, alligators, ogeechee limes, cedars, oaks, and pines: that's why the Swamp attracts 600,000 visitors a year and supports 750 jobs.

I noted that these same Alabama coal miners, as Twin Pines Minerals, LLC (TPM), is still under a Consent Order in Florida for letting wastewater escape during Hurricane Irma, for not taking water samples, and not doing reports.

I mentioned the fish kill, railroad tires burned, etc., by the biomass plants in north Georgia promoted by the president of TPM.

I pointed out that GA-EPD had a week ago asked TPM how it was going to line its retention ponds. Liners as in to keep waste out of the Floridan Aquifer from which we all drink in south Georgia, for human consumption, for agriculture, and for industry.

I concluded that I don't think white paint is worth risking all that and the Suwannee and St. Marys Rivers, which both originate in the Okefenokee Swamp.

This is the map I referred to: National Geographic map of the Okefenokee Swamp. First I showed the south part, for Stephen C. Foster State Park and Griffis Fish Camp on GA 177, and the proposed mine site between Moniac and St. Georgia on GA 94.

Then I used the north side to point at Okefenokee Swamp Park near Waycross, which is concerned that if the miners reduce water levels boating will become more difficult.
The Georgia governor's representative left with a full stack of the resolutions passed so far.

Jody Redding, Field Representative, GA Governor
-jsq, John S. Quarterman, Suwannee RIVERKEEPER®
You can join this fun and work by becoming a WWALS member today!
Short Link: