If a small city gas pipeline leak shuts down major roads, imagine what the much larger Sabal Trail pipeline could do.
North Valdosta Road is US 41, and the section between Country Club Road and Val Del that was shut down is there it crosses the Withlacoochee River: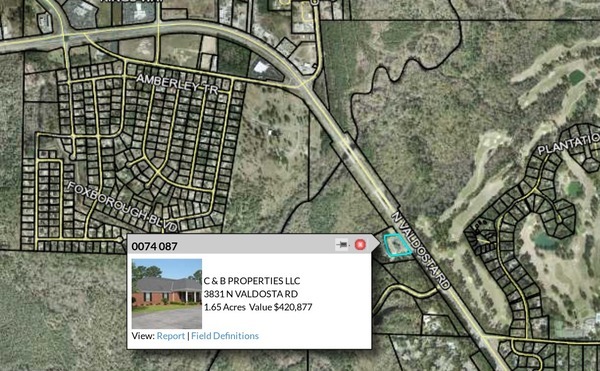 Map from Lowndes County Property Appraiser.
I can't find this notice anywhere on the city's website or the Valdosta Police website, so here it is from the VDT:
Valdosta Daily Times, 27 April 2017, City issues gas leak caution,
Update, 10:54 a.m.: The gas has been shut down and the road has reopened, according to VPD Lieutenant Adam Bembry.

VALDOSTA — Valdosta residents are being asked by police to avoid an area north of town due to a gas leak.

A gas line was struck behind Music Funeral Home by a construction crew and gas is actively escaping from the line, according to the Valdosta Police Department.

Valdosta Police Department, EMS and Valdosta Fire Department was on the scene and the gas company is en route.

North Valdosta Road has been shut down between Country Club and Val Del Road, according to VPD Lieutenant Adam Bembry.

People are encouraged to avoid the area until further notice.
-jsq, John S. Quarterman, Suwannee RIVERKEEPER®
You can join this fun and work by becoming a WWALS member today!
Short Link: