Let's connect the dots from Sabal Trail to LNG export through Jacksonville. To cut to the chase: Crowley Maritime's Carib Energy is already exporting LNG from Jacksonville, and is authorized to get LNG from both Floridian Natural Gas (FLiNG) in Martin County at the end of the Transco → Sabal Trail → FSC pipeline chain, and from Florida Gas Transportation (FGT)'s Jacksonville Expansion Project from Sabal Trail in Suwannee County to Jacksonville.
Working backwards, look at Jaxport's own website, Corporate, Major Growth Projects, Liquifed Natural Gas:
EXPORT OPPORTUNITIES

Crowley-owned Carib Energy has already begun small scale exports of LNG to Puerto Rico and has plans for expansion to a number of countries in the Caribbean and Latin America.
That JAXport page links to Crowley Maritime's LNG Overview web page, which brags:
Carib Energy is the first company to have received a small-scale, 25-year export license from the U.S. Department of Energy (DOE) for LNG transportation from the U.S. into Free Trade Agreement (FTA) countries, and a small-scale, 20-year LNG export license from the DOE from the U.S. into Non-Free Trade Agreement (NFTA) countries. Download a copy of our licenses at the bottom of the page.
And at the bottom of that Crowley page:
Carib Energy Free Trade Agreement (FTA) License (PDF)
[DOE/FE ORDER NO. 2993, July 27, 2011]
Carib Energy Non-Free Trade Agreement (NFTA) License (PDF)
[DOE/FE ORDER No. 3487, September 10, 2014]
So where is Crowley getting the LNG? According to Carib's NFTA license, from Floridian LNG (FLiNG), conveniently located in Martin County right at the end of the Transco → Sabal Trail → FSC pipeline chain.
But FLiNG isn't built yet (according to local report a few days ago), so where is Crowley geting its methane now?
Look up a bit on that same Jaxport web page:
LNG LIQUEFACTION FACILITIES

Eagle LNG is building a liquefaction plant in West Jacksonville able to produce 200,000 gallons a day. This plant will serve Crowley Maritime. Eagle is also building an LNG production and storage facility near the Blount Island Terminal and a holding facility at Talleyrand Marine Terminal.
According to Eagle LNG's website:
The proposed facility will receive natural gas transported by a local utility through existing and expanded pipelines located adjacent to the Jacksonville project site.
Eagle LNG provides a timeline for FERC authorization, which turns out to be FERC Docket CP17-41, which includes Eagle LNG's "RESPONSES TO FERC COMMENTS ON RESOURCE REPORT 1 & 11 FROM AUGUST 2015, JACKSONVILLE PROJECT" (see PDF, which has this map on page 6: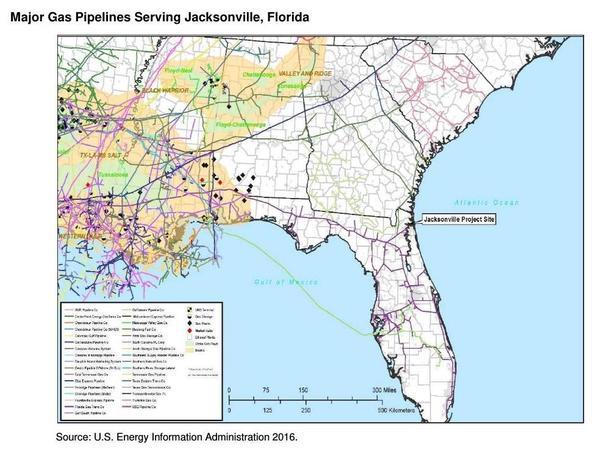 Even though FERC had already made them go back and add a legend to that map, the legend is barely legible. Hint: the one pipeline the map shows going to the Jacksonville project site is the purple label second from bottom left, which reads Florida Gas Trans Co., usually known as Florida Gas Transmission or FGT. The map also shows a Southern Natural Gas pipeline going to the general vicinity of Jacksonville.
If Eagle LNG had wanted to include an easy-to-read map, they could have used this one from the Florida PSC:
FERC didn't finish processing CP17-41 before they lost a quorum in March, but Eagle LNG already got LNG export authorization from DoE Office of Fossil Energy (FE, the same agency that authorized Carib Energy LNG exports) 21 July 2016, which says:
"According to Eagle LNG, the Facility will receive natural gas transported by a local gas distribution utility (Peoples Gas, a TECO Energy Company) through existing pipeline facilities located adjacent to the Jacksonville Project site."
And it says:
"Eagle LNG states that two interstate pipelines—owned by Florida Gas Transmission Company, LLC and Southern Natural Gas Company, LLC, respectively —currently deliver natural gas to Jacksonville and the Peoples Gas system. Eagle LNG states that this interstate pipeline supply will provide the Jacksonville Project with access to both onshore and offshore natural gas resources, from multiple fields. Eagle LNG further states that these interstate pipelines will provide the Jacksonville Project with indirect access to additional sources of natural gas supply, including sources located in the mid-continent region and in the Appalachian region, such as the prolific Marcellus and Utica shales."
The Marcellus shale, source of Sabal Trail's fracked methane, do tell!
John Burr, Jacksonville, Business Journal, 10 March 2014, TECO Peoples Gas looks to expand natural gas pipeline to Jacksonville,
TECO Peoples Gas, the largest supplier of natural gas to Florida, plans to extend its natural gas pipeline within Northeast Florida and increase the size of the pipeline to transmit more gas to the area, a spokeswoman said.
More about that here, including mention by EPA and in Sabal Trail's draft RR10 2014, which remarks that:
In the future, TECO plans to access gas from the fields in West Virginia and Pennsylvania.
Which is, once again, the Marcellus Shale, source of Sabal Trail's fracked methane.
On 31 March 2015, Kinder Morgan subsidiary FGT filed with FERC for its Jacksonville Expansion Project (JEP), saying:
Florida Gas Transmission Company, LLC ("FGT") hereby submits for filing this Section 7(c) request for Authorization for a Certificate of Public Convenience and Necessity to construct, own, and operate facilities consisting of approximately 3.0 miles of 30-inch mainline looping, one new 5,000 horsepower compressor unit at Compressor Station 16, re-wheeling of an existing turbine compressor unit, approximately 5.7 miles of 20-inch looping on the Jacksonville Lateral, and appurtenant/auxiliary facilities, all located in Suwannee, Columbia, Bradford, and Clay Counties, Florida, to support the Peoples Gas System, a division of Tampa Electric Company ("PGS") service expansion utilizing existing volumes pursuant to FGT's rate Schedule FTS-3.
Peoples Gas System of Tampa Electric Company is TECO. So KMI's FGT is doing TECO's expansion, as JEP.
In case there was any doubt Sabal Trail fracked methane would go to Jaxport, see Accession Number 20150331-5692, "Florida Gas Transmission Company, LLC submits its its Certificate Application re the Jacksonville Expansion Project, under CP15-144," second document, Exhibit I, Market Data, Precedent Agreement, pages 8 and 9:
In the event Sabal Trail Transmission LLC ("Sabal") requests and constructs an interconnection with Transporter relating to the Sabal Trail Transmission, LLC project, Transporter shall provide access to such delivery point to Shipper, in accordance with the Commission's open access policies as reflected in Section 21 of the GT&C of Transporter's Tariff in the quantity identified in Attachment 1, Section II as "Service Effective with In-Service Date of Sabal Trail Transmission LLCI" The provision of the Sahel interconnection is conditioned upon all open access and other Tariff requirements and upon all approvals, including appropriate certificate authorization by FERC, and shall be effectuated in the future by either an amendment to the exhibits to the Initial Service agreement or Expansion Service (depending on the completion date of the interconnect) or separate agreement. The parties understand that Sabal, as requester of the interconnect, will be responsible for the cost of the interconnection and the installation thereof and that neither Transporter nor Shipper will have responsibility for these costs.
Sabal Trail applied to FDEP and was later granted a permit for an M&R (metering and regulation) station in Suwannee County to connect to FGT, exactly at the origin of JEP. This M&R station has been in Sabal Trail's submission to FERC since the beginning of the FERC permitting process.
Here is where the KMI-FGT-TECO JEP is in Suwannee County, on Parcel Number 19-05S-15E-0110100.0020, just north of Drawdy Road between CR 49 and FL 247, at 30.031196, -82.852614, where Sabal Trail turns south and crosses FGT, as you can plainly see on this google map:
That's about 10 miles from Ichetucknee Springs State Park or the Santa Fe River.
Meanwhile, TECO has been bought by Canadian based, Emera Inc., which has joint ventures with Spectra Energy of Sabal Trail.
Anyway, now we can add a bit more to this map from Housley Carr, Oil & Gas Financial Journal, 17 january 1014, MIAMI 2017 — MARCELLUS GAS HEADING TO FLORIDA,
The Cove Point and Elba Island pipelines both go to FERC docket LNG export operations. And it turns out so does Sabal Trail: Eagle LNG in Jacksonville, plus Crowley Maritime's Carib Energy.
Note the date on that article about Marcellus gas to Miami: 17 January 2014, which is before Sabal Trail even entered the FERC pre-filing process. Only two months later TECO announced it planned to expand its gas delivery to Jacksonville. It sure looks like this LNG export through Jacksonville was planned all along before Sabal Trail even started permitting.
This is all without getting into the other LNG export operations in Martin County and points south, or Strom Inc.'s LNG operation authorized by FE in Crystal River at the end of Sabal Trail's Citrus County Pipeline.
This Jacksonville connection via FLiNG and JEP is plenty to demonstrate at least some of Sabal Trail's fracked methane is intended for export.
-jsq, John S. Quarterman, Suwannee RIVERKEEPER®
You can join this fun and work by becoming a WWALS member today!
Short Link: