FOR IMMEDIATE RELEASE
Dunnellon, Florida, July 27, 2017 — Following up member reports of a very strong smell of natural gas on Florida 200 next to the site of Sabal Trail's planned Dunnellon Compressor Station, which apparently was leaking, Suwannee Riverkeeper John S. Quarterman and several WWALS members took pictures of the site and related locations from the ground and from the air. Today Suwannee Riverkeeper sent nineteen questions to the agencies that permitted the Sabal Trail natural gas pipeline, all of whom assured us that pipeline would be safe, even though it appears it developed a leak less than a week after saying it had gone into service. These questions range from what did Sabal Trail report to the agencies to who asked for the smell to be put into the gas to what were the local counties and cities or the public told?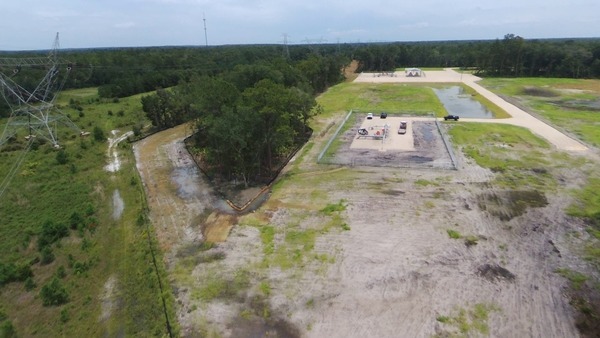 While this apparent leak was in Florida, the lack of information about it and about Sabal Trail's activities at this site raises even larger questions as to what else is Sabal Trail doing in Georgia or Alabama that has not been reported even to the permitting agencies, and are there any other leaks?
Sabal Trail is just one of a spiderweb of interstate natural gas pipelines being permitted, constructed, or in service, including Williams Transco's Atlantic Sunrise, feeding Williams' Transco pipeline, which in turn feeds Sabal Trail. Sabal Trail itself was built and is operated by Spectra Energy, the pipeline company behind a plethora of other projects, including Atlantic Bridge, PennEast, and South Texas Expansion Project. Spectra was recently bought by Enbridge, which also recently bought into the infamous Dakota Access Pipeline (DAPL), intertwining oil and gas projects. The so-called natural gas projects are mostly at least in part to deliver fracked gas from the Marcellus Shale or other such shale fields to liquid natural gas (LNG) export, such as the half dozen LNG projects in Florida, right where the Sabal Trail pipeline chain goes.
Suwannee Riverkeeper John S. Quarterman noted, "Let's not forget there is no need for this pipeline, nor for any other new natural gas pipeline, now that solar power has won the economic race. Years ago I used Sabal Trail's own numbers to demonstrate that half that pipeline's right of way acreage could generate just as much electricity through solar panels. Since then the price of solar power continues to go down, and in 2016 more new U.S. electricity came from solar power than any other source, with no need for any pipeline, no eminent domain, no drilling under rivers, and no need for drilling, cooling, or testing water. The people of Florida last year twice voted for solar power. No more pipelines. Let the sun rise on Florida and the rest of the country and the world."
The 19 questions are in the attached PDF file, which have also been filed with the Federal Energy Regulatory Commission (FERC) as Accession Number 20170727-5104, "Questions from WWALS Watershed Coalition, Inc. about Leak at Sabal Trail Dunnellon Compressor Station Site under CP15-17." https://elibrary.ferc.gov/idmws/file_list.asp?document_id=14590897
About WWALS Watershed Coalition, Inc. (WWALS)
WWALS has opposed Sabal Trail since 2013. WWALS advocates for conservation and stewardship of the Withlacoochee, Willacoochee, Alapaha, Little, and Suwannee River watersheds in south Georgia and north Florida through education, awareness, environmental monitoring, and citizen activities. John S. Quarterman is the Suwannee Riverkeeper®, which is a staff position and a project of WWALS Watershed Coalition (WWALS) as the Member of the Waterkeeper® Alliance for the Suwannee River basin.
Contact:
WWALS Watershed Coalition
P.O. Box 88 Hahira, GA 31632
wwalswatershed@gmail.com
850-290-2350
John S. Quarterman, Suwannee Riverkeeper
contact@suwanneeriverkeeper.org
229-242-0102
===
You can join this fun and work by becoming a WWALS member today!
Short Link: