Yes, it's a WMA on both sides of the Alapaha River, and it will open for hunting this year. It's also one of seven or eight, all also Dr. Acree's land. They will each have names, which are currently unknown, but will pop up in the next few days on the DNR website.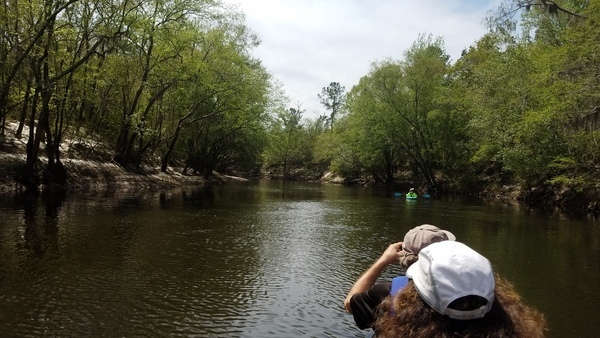 Photo: John S. Quarterman, 2 April 2017, in Alapaha River, Hotchkiss Road to US 84 2017-04-02
This WMA information is from someone who's been on site and knows the details, David Cartwright, a technician at the GA-DNR Wildlife Resources Division in Fitzgerald. He says all these tracts are in the Voluntary Public Access (VPA) program, which DNR's website explains as:
Georgia's Wildlife Resources Division received a grant that gives us a great opportunity to partner with private landowners. We can now offer substantial lease dollars in exchange for well-managed outdoor recreation access for the public. Whether you own 10 acres or 5,000 acres, we are interested in talking with you about leasing land for public access to hunting, fishing, or wildlife viewing. So far, we have created a wide variety of hunting opportunities for dove, waterfowl, deer, small game and turkey.
Each VPA tract has its own specific access requirements, so exactly which type of hunting on the Alapaha River is not yet known.
In the last two years we have partnered in 19 contracts for several thousand acres of public access. One contract was a donation for a ladies-only hunt and the other 18 contracts awarded, most of which were for dove fields, averaged over $7,600 each per year.
This particular VPA WMA is posted in Lanier County from the river up to the dirt road, Hotchkiss Road.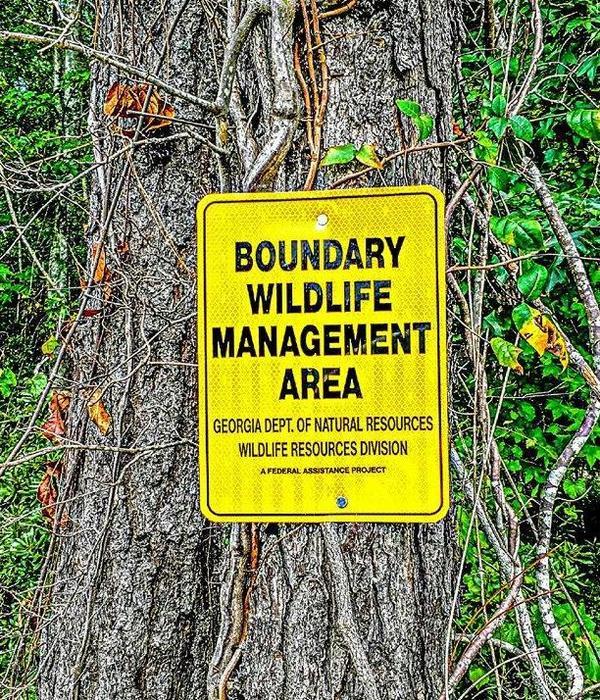 Photo: Chris Graham, in WMA Signs in Lanier County, Alapaha River
There will be a kiosk put up and you will sign in before going in. The kiosk will probably be located at the main entrance to the property off US 84.
On the Lowndes County side there were some discrepencies in the property line when the property was purchased there was no survey done, and the boundary trees can not be found, so DNR has called in a surveyor, who should survey it in the next couple of days.
The VPA contract is for two years, the landowner can terminate, and, as you can see from the VPA writeup above, the landowner does get paid.
There are seven or eight such properties that have come up in the last few months. All are Dr. Acree's properties, several around Adel, and one back towards Homerville on US 84 about 100 acres.
The VPA program is in conjunction with the federal goverment. Specifically, federal funds come from the Federal Aid in Wildlife Restoration Act of 1937, (16 U.S.C. 669-669i; 50 Stat. 917), usually known as the Pittman-Robertson Act, after its sponsors, Nevada Senator Key Pittman and Virginia Congressman Absalom Willis Robertson. It was signed by Franklin D. Roosevelt on September 2, 1937 and became effective on July 1, 1938, and amended several times since, most recently in 2015.
According to the U.S. Fish and Wildlife Service (FWS),
…provides Federal aid to States for management and restoration of wildlife. Funds from an 11 percent excise tax on sporting arms and ammunition [Internal Revenue Code of 1954, sec. 4161(b)] are appropriated to the Secretary of the Interior and apportioned to States on a formula basis for paying up to 75 percent of the cost approved projects. Project activities include acquisition and improvement of wildlife habitat, introduction of wildlife into suitable habitat, research into wildlife problems, surveys and inventories of wildlife problems, acquisition and development of access facilities for public use, and hunter education programs, including construction and operation of public target ranges.

Public Law 91-503, approved October 23, 1970, (84 Stat. 1097) added provisions for the deposit of the 10 percent tax on pistols and revolvers, one-half of which may be used by the States for hunter safety programs. This amendment also provided for development of comprehensive fish and wildlife management plans as an optional means for participating in the program, and changed the maximum limit from $10,000 to one-half percent for Puerto Rico and to one-sixth percent for the Virgin Islands and Guam.

On October 25, 1972, the Act was further amended by P.L. 92-558 (86 Stat. 1172) to add provisions for the deposit of the 11-percent excise tax on bows, arrows, and their parts and accessories for use in wildlife projects or hunter safety programs.
FWS lists several further amendments, for example to include crossbows.
According to the Georgia Hunter's Ed Course,
…One-half of the excise tax on handguns and archery equipment is used for hunter education and target ranges. These funds are collected from the manufacturers and are distributed each year to the states and territorial areas by the Department of the Interior.
Dan Chapman, AJC, 12 July 2016, How gun sales benefit wildlife,
The U.S. Fish and Wildlife Service dispenses the money based on the size of a state and the number of hunting licenses. (A similar program is geared toward recreational fishermen.) For every $3 the federal government hands out, the states are required to chip in $1. They must also promise not to divert the money to other programs.

In return, they're given much leeway in how the money is spent as long as it's for "restoration, conservation, management and enhancement of native wildlife and their habitats." Some of the money is used to teach firearms safety or to build shooting ranges, including one at Georgia Southern University. Hunters aren't the only ones who can take advantage of Pittman-Robertson.

"It really benefits all Americans in providing abundant fish and wildlife, clean air and water, outdoor recreational opportunities and an improved quality of life," said Christy Vigfusson, who runs the Fish and Wildlife Service's restoration program. "It lets you have a connection with nature and get a better sense of who we are in the natural world."

The program, since its inception, has raised $9.9 billion. Nearly 6 million acres have been acquired, leased or placed under perpetual conservation easement, Vigfusson said.

Georgia has received more than $221 million, according to the state's Department of Natural Resources, which helps "manage" over 1 million acres of wildlife management area land for hunting. Roughly 100,000 acres of land across the state has been added to the WMA system in the past decade.
And some of that federal money returned to the state of Georgia from the Pittman-Robertson Act goes to fund these new VPA WMAs.
These VPA WMAs do not involve much maintenance; they're basically land access. The idea is to provide more outdoors activities for the public.
The big thing the last several years has been dove hunting.
Where on the DNR website these WMAs will be listed is not totally clear. The likely possibilities include georgiawildlife.com/AllWMAs, with nice pictures, and georgiawildlife.com/wma, which is all text with some descriptions. Both pages list WMAs by name, and we don't know the new names yet. The text page does often mention a location, but there's nothing listed with keywords Lanier, Lowndes, Naylor, Valdosta, or Lakeland.
Once again this new WMA on the Alapaha River is not the much larger Alapaha River WMA on US 319 in Irwin County between Tifton and Ocilla.
More about the new VPA WMA in Lanier and Lowndes Counties on the Alapaha River as we know more. Meanwhile, for tax assessor maps, see WMA Signs in Lanier County, Alapaha River.
-jsq, John S. Quarterman, Suwannee RIVERKEEPER®
You can join this fun and work by becoming a WWALS member today!
Short Link: