I-10 is closed in Florida, Georgia has declared a state of emergency, overpasses are closed, and a train derailed in Valdosta. Since nobody is used to it, this very unusual snow storm Grayson in south Georgia and north Florida is actually a big problem. Good thing we don't have an outing scheduled for today, since the Suwannee Riverkeeper vessel is iced up.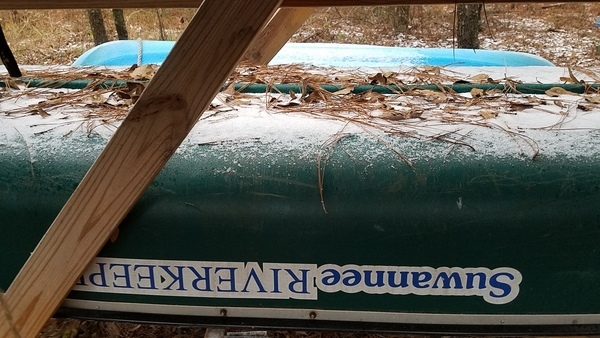 Viewed from Gainesville, the storm stops at the state line, nevermind what the maps show:

Glenn Richards FOX 35, facebook, 2018-01-02, "SNOW is likely for north Florida tomorrow morning! Hazardous travel north of Gainesville with icy roads!! #Fox35 #FloridaSnow"
Here's a more sober and more official Florida view, which actually names places across the state line:

Map: Jeff Huffman, FloridaStorms.org, 2018-01-03, Rare Winter Storm to Hit North Florida Wednesday.
Ice accumulation up to 1/10″ possible east of Tallahassee, near and northwest of Gainesville and Jacksonville
Sleet and snow accumulation up to 1″ possible from Tallahassee to Valdosta to Fernandina Beach
ONLY rain expected near and south of a line from Cedar Key to Gainesville to Jacksonville, possibly ending as a few flurries with no accumulation
So that's snow in south Georgia and in northern Hamilton and Madison Counties, Florida, frozen rain down the Suwannee River almost to the Gulf, and rain at the coast.
Meanwhile, the Georgia governor yesterday at 5:30 PM issued an Executive Order:
That a State of Emergency exists in the following counties: Appling, Atkinson, Bacon, Brantley, Bryan, Bulloch, Camden, Candler, Coffee, Charlton, Chatham, Clinch, Echols, Effingham, Evans, Glynn, Jeff Davis, Lanier, Lowndes, Liberty, Long, McIntosh, Pierce, Screven, Tattnall, Toombs, Ware and Wayne.
Those counties include almost all the Suwannee River Basin in Georgia. This map from Atlanta goes a bit beyond those counties to the west and north. Not surprising that Atlanta doesn't quite know where things are south of the gnat line.

Map: Fox 5 Atlanta, 2018-01-03.
Ah, the storm has a name, it has closed I-10, and it extends way up the Atlantic coast. Sean Breslin, Weather.com, 2018-01-03, Winter Storm Grayson Closes Stretch of I-10 in North Florida,
A 49-mile stretch of Interstate 10 from Tallahassee eastward was closed Wednesday morning as slick conditions made travel on the roadway very risky, according to the Florida Department of Transportation. The closure affected exits 209 to 258.
Desiree Carver, Valdosta Today, 2018-01-03, VPD: Road and Overpass Closures,
Update, 9:45 a.m.

All overpasses in the Valdosta CIty Limits will be closed again due to ice. Many surface roads have been completely covered in snow and ice.

Stay off the roads as road conditions are not expected to improve soon.
WWALS Board Member Phil Hubbard may have been the first to post a picture of this, which happened in Valdosta near his house: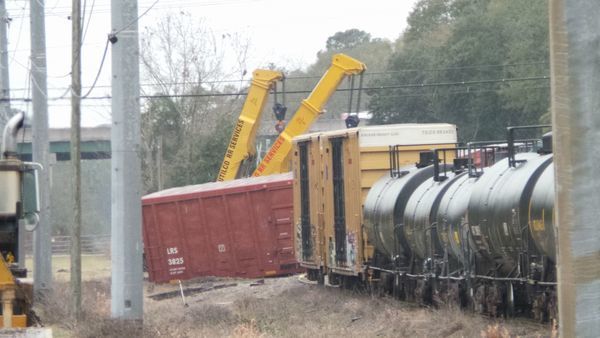 Photo: Phil Hubbard, facebook, about 9AM 2018-01-03, CSX Train derailed at Boone Dairy Road and West Savannah Av.
It's a good day to stay inside by a fire.
-jsq, John S. Quarterman, Suwannee RIVERKEEPER®
You can join this fun and work by becoming a WWALS member today!
Short Link: