A leisurely five mile paddle in about two and a half hours through a surprisingly wild section of the Withlacoochee River, much of it actually inside Valdosta, the biggest city in the Suwannee River Basin, on the Withlacoochee and Little River Water Trail (WLRWT).
When: 9 AM, Saturday, March 3, 2018
Put In: Staten Road Landing, 4556 Staten Road, Valdosta, GA 31605, Lowndes County, GA. 7.1 miles north of downtown Valdosta. Beware: it's a long rough dirt road access, then a scramble down the riverbank.
GPS: 30.9328, -83.28227
Take Out: Langdale Park Boat Ramp, 3781 N. Valdosta Rd., Valdosta, GA 31602, Lowndes County, GA.
Free: This outing is Free! And we recommend you support the work of WWALS by becoming a WWALS member today!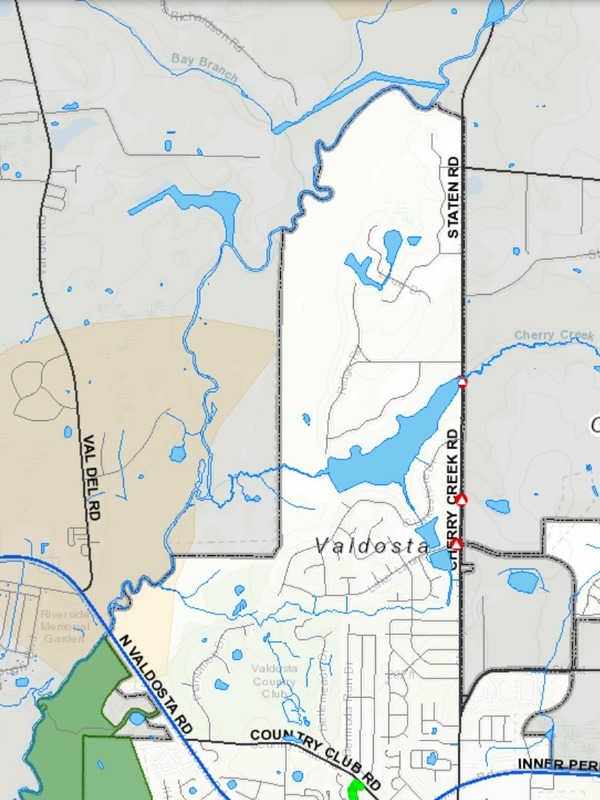 Map: VALORGIS. White is Valdosta inside grey city limits, yellow is recharge zones for the Floridan Aquifer, green is Langdale Park.
We start in Lowndes County, cross over the county's expanded sewer and water lines at Bay Branch (those lines head for Stafford-Wright Road). Then the City of Valdosta is on our left briefly before back to county both sides, and Sermons Branch (is that its real name?). Into a Floridan Aquifer recharge zone, passing on our right the Shadrick Sink, notorious for Continue reading →