Update 2018-01-19: Rescheduled again, due to low water, to become a hike to the Dead River Sink, still on January 27, 2018.
Rescheduled to late January due to cold weather and low water: a long expert paddle to start the Alapaha Quest! Along the way we will pass Rowetown Church and the Willacoochee River Confluence as we paddle down the wild and exotic Alapaha River in the south Georgia winter. There will probably be many deadfalls, and unless the water is quite high, we probably will have to drag over or around them, so bring a rope for your boat.
When: 9AM Saturday, January 27, 2018
Put In: Sheboggy Landing at US 82, east of Alapaha, Berrien County, Georgia.
Take Out: GA 135 Atkinson near Willacoochee, GA in Atkinson County.
Price: This outing is free to all WWALS members, and $10 per vessel for non-members. We recommend you support the work of WWALS by becoming a WWALS member today!

Photo by Bret Wagenhorst 2017-06-03, of improved Sheboggy Landing. Thanks to Berrien County Commission for funding the new concrete and road smoothing, and thanks to Ben Warren, Berrien County Roads Superintendent, for doing the work.
Bring: a rope for dragging your boat over deadfalls, cold weather gear, including clothes that will stay warm if wet, and a change of dry clothes in a waterproof container. That's in addition to the usual personal flotation device, boat paddles, food, drinking water, warm clothes, and first aid kit. Also trash pickers and trash bags: every WWALS outing is also a cleanup. The new outing date is after deer hunting season, so that's a relief. Hunting will still be on for small game. That's much less of a worry, but it wouldn't hurt to wear hunting orange if you've got it.
Shuttle Distance: 15 miles one way
Shuttle duration: 35 minutes
Paddle Distance: 18.8 miles
Paddle Duration: 9 hours (possibly shorter depending on river flow)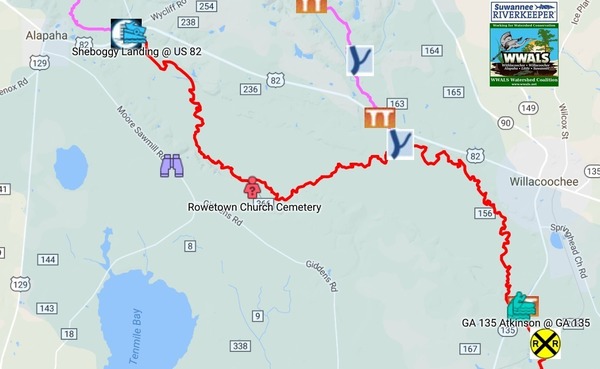 Gauge: US 82 near Alapaha, Georgia: low stage 1.4′ (209 NAVD), recommended low 9′ (216.6′ NAVD), high 10.6′ (218.2′ NAVD).
We've only paddled downstream from Sheboggy once before, January 17, 2015, when the water level was 9.3 feet (216.9′ NAVD88), six feet higher than today's 3.3 feet (210.9′ NAVD88). Flow was about 900 cubic feet per second (cfps), about 16 times the 54.9 cfps today. Two years ago it took 2 hours and 40 minutes to get to Rowetown Church, which for 9.4 miles comes to almost 4 miles per hour. But with the water six feet or more lower, there probably will be deadfalls (fallen trees) and portages around them.
For comparision, Phil Hubbard and John S. Quarterman did the six miles of the Little River from Cook County Landing to GA 122 in 4.5 hours (of which 4 miles were walking, dragging a kayak on a rope), for 1.3 miles per hour, because the water was very low and there were deadfalls.
So worst case for Sheboggy as far as Rowetown Church: 9.4 miles / 1.3 mph = 7 hours 15 minutes. If the water is still that low we will probably take out at Rowetown Church instead of at GA 135.
Given a weather report of no rain expected before this Saturday and predicted temperatures of low 26° and high 44°, you can see why the Outings Committee rescheduled this outing to Saturday, January 27, 2018, when it probably won't be that cold, and there are three more weeks for some rain to fall.
Host: Phil Hubbard
Contact: Phil Hubbard
Backup: in case of high or low water is the next doable segment downstream.
More: For more outings and events as they are posted, see the WWALS calendar.
-jsq, John S. Quarterman, Suwannee RIVERKEEPER®
You can join this fun and work by becoming a WWALS member today!
Short Link: