Every few years Banks Lake gets drained is an effort to stymie unwanted aquatic vegetation.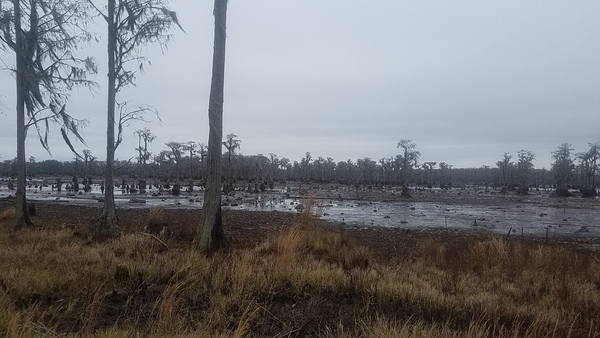 About the usual problem species, Georgia Invasive Species Task Force
says
:
Hydrilla verticillata forms dense mats at the surface of the water. The dense mats can restrict native vegetation, irrigation practices, recreation, hydroelectric production, and water flow. It can invade most slow-moving or still water systems. This plant is believed to be native to Asia or Africa, although it is widely spread across the globe. It was first introduced into North America as an aquarium plant in the 1950s.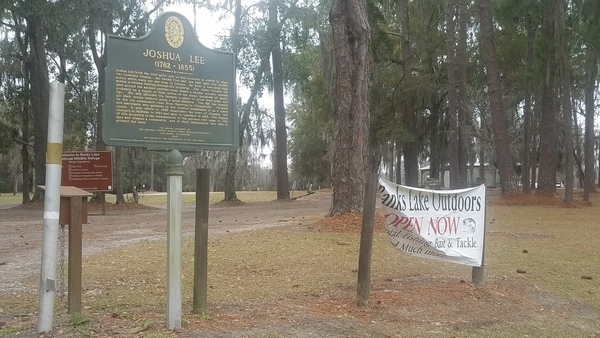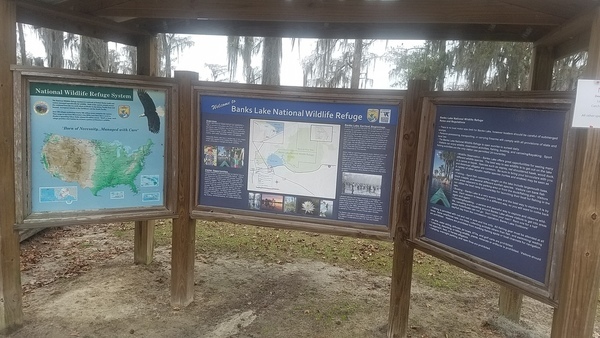 U.S. Fish & Wildlife Service (FWS), News Release, 11 December 2017, Banks Lake Drawdown Update,
Lakeland, GA… Personnel at Banks Lake National Wildlife Refuge are drawing down water levels in Banks Lake this winter as a means to control aquatic vegetation. The drawdown began in November, with staff gradually reducing the water levels with the goal of lowering the water level by 7-8 feet to maximize the amount of vegetation exposed to cold temperatures. At its lowest level, 1/3 of the 900-acre lake will remain under water, allowing fish to survive and re-populate the lake once water levels are raised.
Back to FWS:

Banks Lake Outdoors Open Now, Entrance

While water levels may still be suitable for fishing, the refuge requires all largemouth bass to be catch and release ONLY until May 1, 2018. All other fish species will continue to follow state limits. No fishing tournaments permits will be issued until after May 2018. Banks Lake Outdoors concession operation is currently open on Saturday and Sunday from 7:00 a.m. — 4:00 p.m. To contact Banks Lake Outdoors, please call 229-569-0147.
Banks Lake Outdoors also sells fishing equipment, and has a picture of the lake down on its facebook page. (Not the picture below; I took all the pictures in this blog post. -jsq)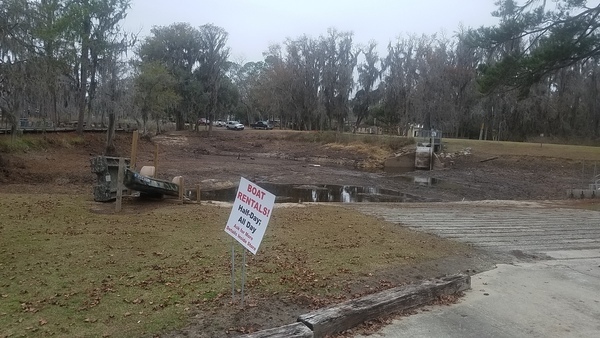 Back to FWS:
Conducting drawdowns of Banks Lake was determined to be the most effective way to control aquatic vegetation after consultation with the Georgia Department of Natural Resources. Full pool in Banks Lake is 191.00 ft. above mean sea level (amsl). Water levels are currently 5ft. below full pool and a half a foot above the lowest level during the 2015 drawdown. Once levels reach 7 ft. below full pool, we will monitor the release of water closely, lowering the water levels gradually toward our target of 183.00. Levels between 184.00 and 183.00 ft. amsl will be maintained through mid-February in hopes of having several cold spells to kill the exposed plants.

For questions, please contact Susan Heisey, Supervisory Refuge Ranger, Okefenokee National Wildlife Refuge at 912-496-7366 ex 233 or via email at susan_heisey@fws.gov.

-fws-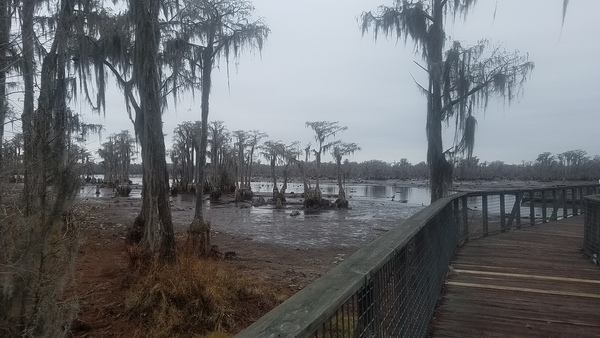 For those unfamiliar with Banks Lake, it's just west of Lakeland, Georgia, on GA 122. Georgia On My Mind (Official Georgia Tourism Site), unknown date, , Banks Lake National Wildlife Refuge,
Established in 1985, Banks Lake has more than 4,000 acres of freshwater wetland made up of open water, marsh, hardwood swamp and uplands. Visitors may enjoy sport fishing for largemouth bass, wildlife observation and nature photography. Join us for the Annual Youth Fishing Derby and CastingKids Contest held the first Saturday in June. Facilities include restrooms, bait and food store, boat ramp, short walking trail, and accessible fishing dock. Free entrance.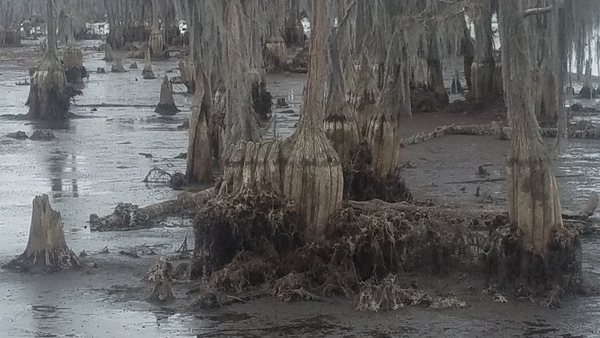 Banks Lake drains into Grand Bay Creek, then into the Alapahoochee River, then the Alapaha River, the Suwannee River, and the Gulf of Mexico, so it is on the Alapaha River Water Trail (ARWT).
Those particular people said they'd never seen Banks Lake drawn down, even though one of them had been stationed at Moody AFB. If he was only there two years, he could easily have missed it, since they only do this every three years or so.
-jsq, John S. Quarterman, Suwannee RIVERKEEPER®
You can join this fun and work by becoming a WWALS member today!
Short Link: