Desperately seeking loopholes, at 4:58 PM today on a Friday, Sabal Trail claimed "Applicants would face irreparable financial harm," which is pretty rich for the company that stuck the Bell Brothers with $47,000 in Sabal Trail legal fees for fighting eminent domain from that same FERC certificate the DC Circuit Court is likely to void next week.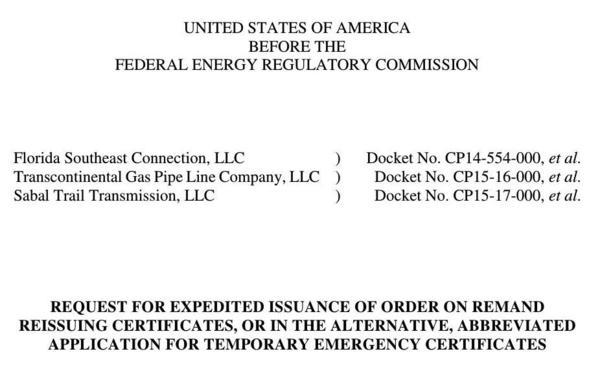 It wants to "avoid the irreparable impacts of a system shutdown," says the company that destroyed world-record-holding soybean farmer Randy Dowdy's soybean fields. As Randy Dowdy said last May, and Sabal Trail's own reports then say they have done nothing to correct:
"We've got loss of production for the future that will take not my lifetime, not my kids' lifetime, but my kids' kids' lifetime to recover from."
Even better:
"the Applicants will be forced to shut off all gas supplies flowing through their respective facilities certificated in the captioned dockets. To avoid irreparable harm to the public"
Sabal Trail's gas already has been shut down for most of the past six weeks, according to its own FERC-required information postings!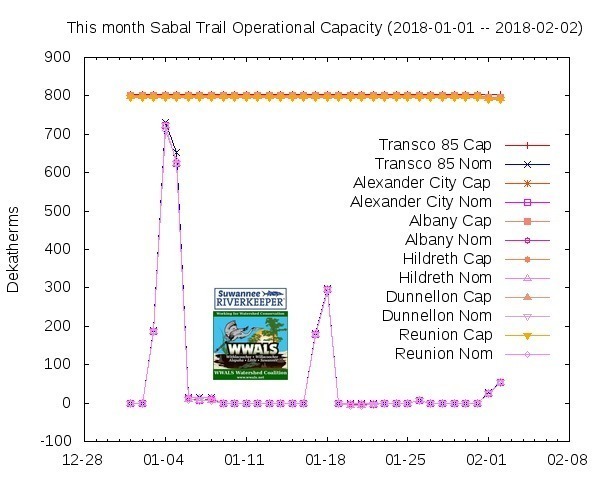 Sabal Trail is only shipping 53 MDTH today, which is less than 7% of its supposed operational capacity.
Meanwhile, Sabal Trail's footnote 5 says in part:
Pursuant to the Federal Rules of Appellate Procedure, the Court's mandate is scheduled to issue on February 7, 2018, one week following the D.C. Circuit's January 31 Order that denied petitions for rehearing.
Naturally, Sabal Trail wants these Emergency certificates the day before. So break out the popcorn for this Tuesday, February 6, and Wednesday, February 7, 2018!
I'm not going to include the text of Sabal Trail's cry of wolf here, because it does not address any of the substantial points raised in the many objections to the DSEIS, including the WWALS motion to reject the DSEIS, shut down Sabal Trail, and revoke its permit, sach as the part about the DSEIS saying nothing about greenhouse gas (GHG) from LNG export.
I will post some of the more comical sections of Sabal Trail's screed later, such as it's an Emergency because Duke Energy Florida (DEF) allegedly has Sabal Trail as its only gas source for its not-yet-built Crystal River plant, while it's an Emergency because FPL has Sabal Trail as one of several gas sources. Which is the Emergency, Sabal Trail? DEF allegedly not having the foresight to have multiple gas sources (despite what it told FPSC)? Or FPL having multiple sources?
You can read it yourself, as FERC Accession Number 20180202-5205, 4:58 PM, February 2, 2018, "Emergency Request for Reissuance and Application for Temporary Certificates of Sabal Trail Transmission, LLC, Florida Southeast Connection, LLC, and Transcontinental Gas Pipe Line Company, LLC under Docket Nos. CP15-17-000, CP15-16-000, CP14-554-000 et al."
Maybe you'll get as many belly laughs out of it as I did.
Shut it down! Do what even DEF is doing: build solar power in Florida, and let the sun rise.
And thanks to eagle-eye WWALS member Janet Barrow for spotting this Sabal Trail posting within minutes.
-jsq, John S. Quarterman, Suwannee RIVERKEEPER®
You can join this fun and work by becoming a WWALS member today!
Short Link: