Join veteran environmentalist Maya van Rossum at the Working Food Community Center in Gainesville as she discusses her new book, The Green Amendment: Securing our Right to a Healthy Environment, followed by Q&A and signing. Come out and meet Maya, pick up a copy of the book, and learn about the future of environmental advocacy.
When: 6-8 PM, Monday, March 26, 2018 (doors open 5:30 PM)
Where: Working Food Community Center
219 NW 10th Avenue
Gainesville, FL 32601
Event: facebook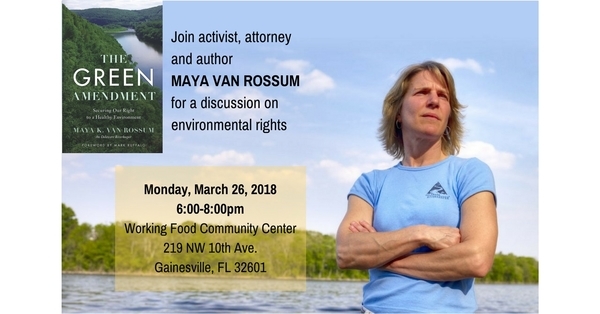 See also:
Kirkus Review,

An engrossing personal and professional account of fighting for ecological justice and establishing a pro-environment constitutional framework.

Donna Morelli, Bay Journal, February 18, 2018, PA's Environmental Rights Amendment grows some teeth: After decades of irrelevance, two court decisions uphold people's right to 'clean air, pure water,' hearten activists to push for more
WWALS blog, 20 June 2017, Clean water is a fundamental right —Delaware Riverkeeper Network vindicated in court
-jsq, John S. Quarterman, Suwannee RIVERKEEPER®
You can join this fun and work by becoming a WWALS member today!
Short Link: