The HPS II proponents don't want to pay for consultant work on future effects of their phosphate mine. Why should the county (the taxpayers) be stuck with all or part of $53,265.00 to consultants about a for-profit mine that would adversely affect the waters on which the whole county depends, not to mention downstream on the New, Santa Fe, and Suwannee Rivers and perhaps beyond in the Floridan Aquifer? Mine proponents also complained that one subconsultant had "articulated a position of opposition to the HPS application". If the consultants were uniformly in favor of the mine, what would be the point of hiring them at all?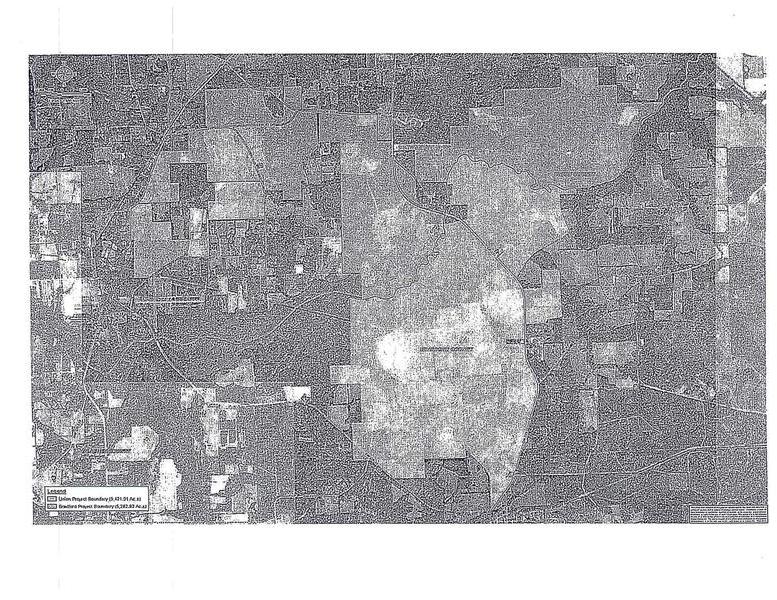 A map as clear as mining mud. Legend: Union Project Boundary (5,421.91 Acres); Bradford Project Boundary (5,262.92 Acres)
I sent Chairman Ross Chandler the the Resolution Against Phosphate Mines in Florida by several Waterkeepers across Florida.
In the agenda sheet for agenda item 4.B. Direction to staff regarding scope-of-work/subconsultants for Onsite Environmental Consultants (OEC) — Review of application for Special Permit for Mining (Section 14.6, LDR):
ASSOCIATED COSTS: The total estimated cost previously provided by OEC was $53,265.00. A portion of that cost may be reduced or eliminated depending upon the direction provided by the Board in response to this agenda item.


HPS Enterprises II, LLC has agreed in concept to pay the cost(s) associated with OEC's assistance with the technical review of their 146 application. HPS has indicated, however, that they may not be willing to pay for costs associated with matters beyond the scope of their existing application (future-oriented review of LDRs).

BUDGET LINE (G/L #) There does not currently exist a budget line (G/L #) for this project.
In the agenda sheet for agenda item 4. C. Information Updated Application for Special Permit for Mining — submitted by HPS Enterprises II, LLC.:
Specifically, the representatives of HPS expressed some concern that:

The portion of OEC's proposed scope of work related to land use and regional planning was beyond the scope of providing technical assistance related specifically to the application submitted by HPS and therefore was unnecessary; and
The proposed subconsultant selected by OEC has articulated a position of opposition to the HPS application, as evidenced by a number of statements contained in his letter to OEC dated August 26, 2017,
County Manager Brad Carter expressed some concern about needing a land use planner to address the land user and regional planning and he noted their point about subconsultant Peter Schreuder. However, he did not agree with HPS II on their item (2):
I have however, in my several meetings with representatives of OEC, found that Mr. Hoyles and his firm genuinely desire to provide Bradford County with truly fair and unbiased assistance with our review of the HPS application. My impression is that OEC would not knowingly expand the scope of their review beyond what they believe to be necessary, nor would they knowingly engage a subconsultant who would not provide the level of review that OEC knows that Bradford County expects.
Bradford County could still accept Alachua County's offer of financial and technical assistance. Or institute a mining moratorium like Union County did, while revising the LDR and Comprehensvie Plan. Or simply reject the mining application.
BOARD OF COUNTY COMMISSIONERS OF BRADFORD COUNTY, FLORIDA

MAY 7, 2018
9:30 AM

BRADFORD COUNTY COURTHOUSE
945 North Temple Avenue
Starke, Florida 32091

---

AGENDA

---


Meeting Called to Order by Chairman Ross Chandler

Consent Agenda:

Consider retroactive approval (approved by the Chairman on 4/23/18) of a Tourist Development Council (TDC) Grant Application made by the Bradford County School District for the 3rd Annual Concert on the Green, in the amount of $3,000.00 – TDC approved 5/0 on 4/19/18 — Pam Whittle, President/CEO of North Florida Regional Chamber of Commerce.
Consider retroactive approval (approved by the Chairman on 4/26/18) of a letter supporting the United States Department of Agriculture Rural Development North Florida Economic Development Partnership (NFEDP) grant application to enhance the existing NFEDP website to market small and emerging businesses withing the NFEDP both nationally and internationally.

Notice: Any person desiring to appeal any decision made by the Board with respect to any matter considered at this meeting will need a record of the proceedings. For such purpose, said person may need to insure that a verbatim record of the proceedings is made, which includes the testimony and evidence upon which the appeal is to be base. FS 286.0105.
-jsq, John S. Quarterman, Suwannee RIVERKEEPER®
You can join this fun and work by becoming a WWALS member today!
Short Link: