A leisurely two-mile morning paddle from the recently reopened Langdale Park on the largest river through the biggest city in the Suwannee River Basin, arriving at the recently rediscovered Sugar Creek Landing, well in time for the Suwannee Riverkeeper Songwriting Contest in the afternoon.
When: 9AM, Saturday, June 23, 2018
Put In: Langdale Park Boat Ramp, 3781 N. Valdosta Rd., Valdosta, GA 31602.
GPS: 30.88747, -83.32395
Take Out: Sugar Creek Landing, 2410 Gornto Rd, Valdosta, GA 31602, recently rediscovered next to the YMCA, and just across the railroad tracks from The Salty Snapper, venue of the Suwannee Riverkeeper Songwriting Contest.
Bring: the usual personal flotation device, boat paddles, food, drinking water, clothes, and first aid kit. Also trash pickers and trash bags: every WWALS outing is also a cleanup. If you don't have a boat, let us know; we may able to loan you one.
Free: This outing is free to WWALS members, and $10 (ten dollars) for non-members. We recommend you support the work of WWALS by becoming a WWALS member today!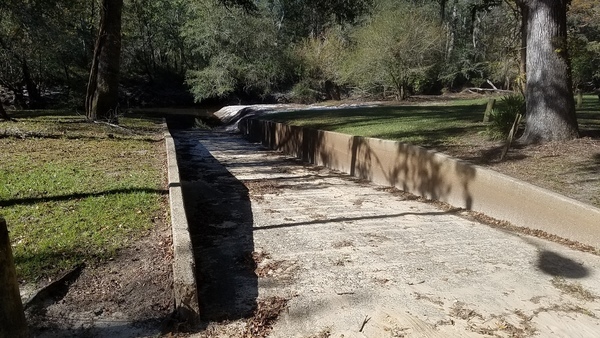 Langdale Park Boat Ramp, 1 November 2017, when the water was much lower.
Duration: 2 Hours
Paddle distance: 2 Miles
Paddle duration: 1.25 hours
Shuttle distance: 4.5 Miles one way
Shuttle duration: 30 Minutes
This outing includes the traditional WWALS shuttle. Everybody takes their boats to the put-in, most people drive to the take-out, and the drivers pile into one or two vehicles and go back to the put-in.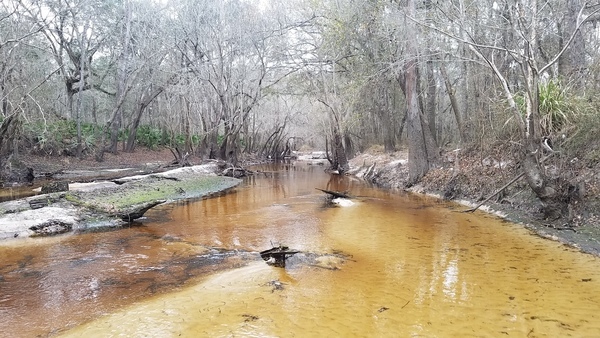 Withlacoochee River above Sugar Creek Landing, 24 January 2018.
The water will be much higher this Saturday morning.
Gauge: 02317755 US 41 Valdosta, want 113.8 – 123′. At 8PM June 19, 2018, it was 120′, which is an excellent level.
Host: Bobby McKenzie. Ask him about the WWALS Boomerang.
Contact: Bobby McKenzie
Backup: in case of high or low water is: None. This outing is a lead-in to the Suwannee Riverkeeper Songwriting Contest nearby later the same day.
More: For more WWALS outings and events as they are posted, see the WWALS calendar or the WWALS outings and events web page. WWALS members also get an upcoming list in the monthly Tannin Times newsletter.
-jsq, John S. Quarterman, Suwannee RIVERKEEPER®
You can join this fun and work by becoming a WWALS member today!
Short Link: