It could use some markers to keep people on it and off private property, and maybe some loaner kayak wheels, but there is public access to the Withlacoochee River off of Gornto Road in Valdosta.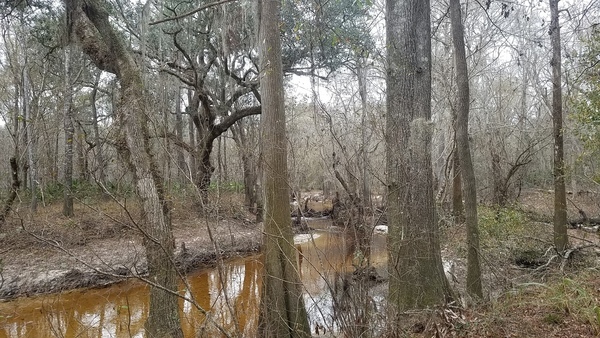 Tea-colored water, 16:22:37,, Withlacoochee River 30.8623900, -83.3224600
And a very nice blackwater river it is.
It's the very picture of a blackwater river.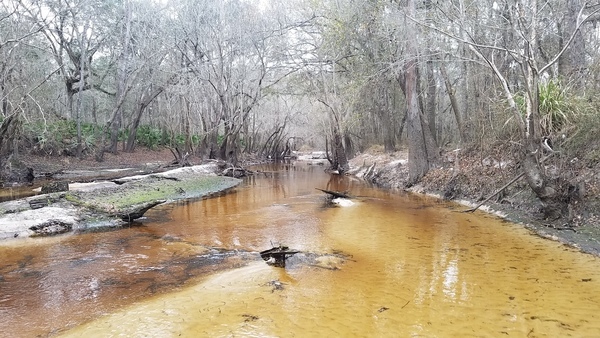 It's about 1300 feet (a quarter of a mile) from the road to the river, but you could easily wiggle back and forth a few more hundred feet to get there.
That's nothing compared to hauling kayaks up and down the loose rock embankment at US 84 or the sand bank at Mayday, but it's still a long way to drag a kayak.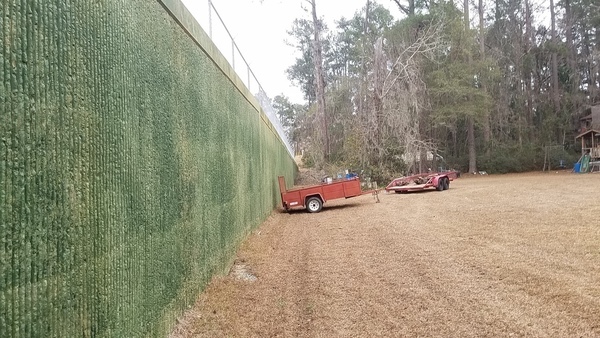 So wheels would be useful.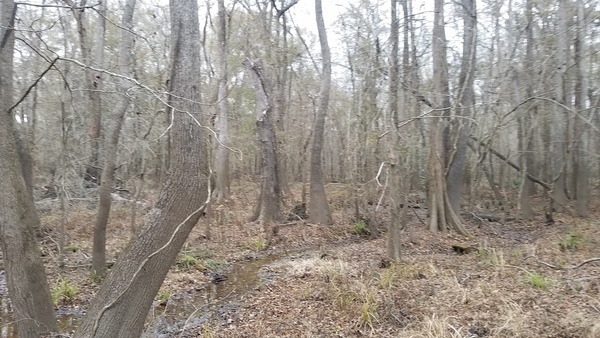 The Lowndes County Tax Assessors online database doesn't know anything about this parcel, not even a parcel number. I called their office, and they don't know who owns it.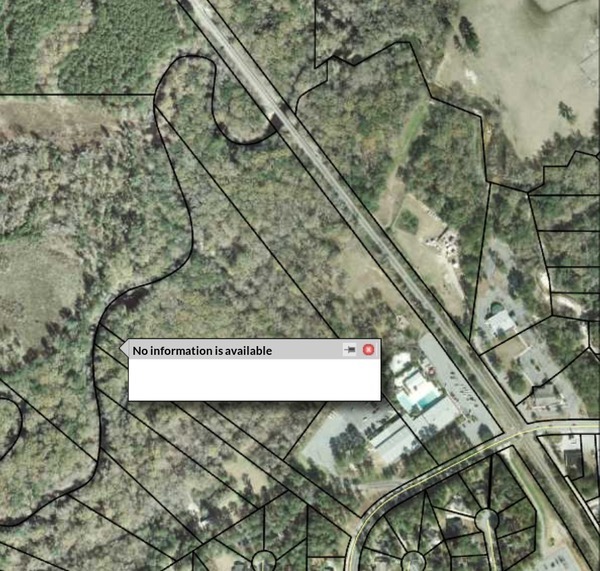 VALOR GIS doesn't know either, although it does show most of that sliver as NWI wetlands (and floodplain). Also note the grey line indicating Valdosta City Limits does not include that sliver of land.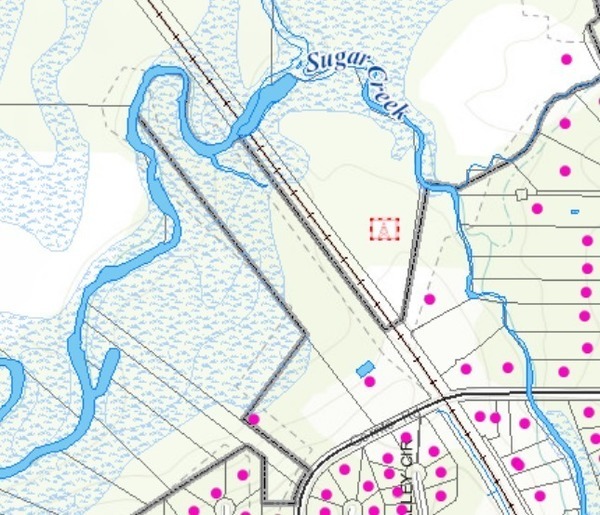 The City of Valdosta didn't know, either, when I called them. Not even Larry Hanson knew.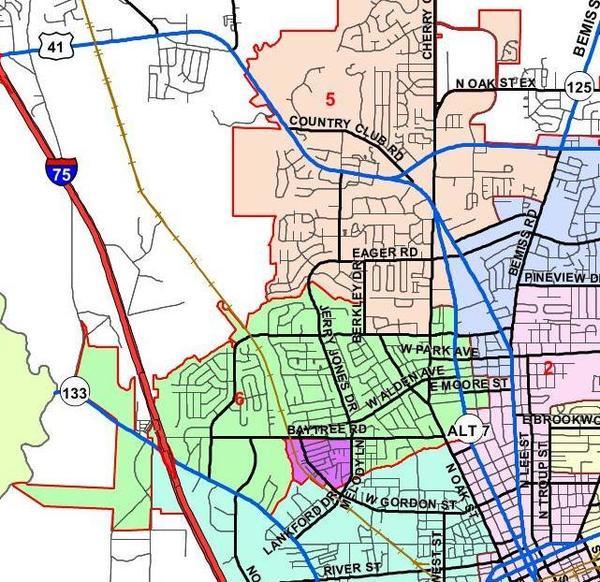 Valdosta's City Council District Map also shows a cutout right up to Gornto Road, leaving that sliver in the county. It's just outside City Council District 6, to which Andy Gibbs was just elected.
Nobody at the county knew when I called them.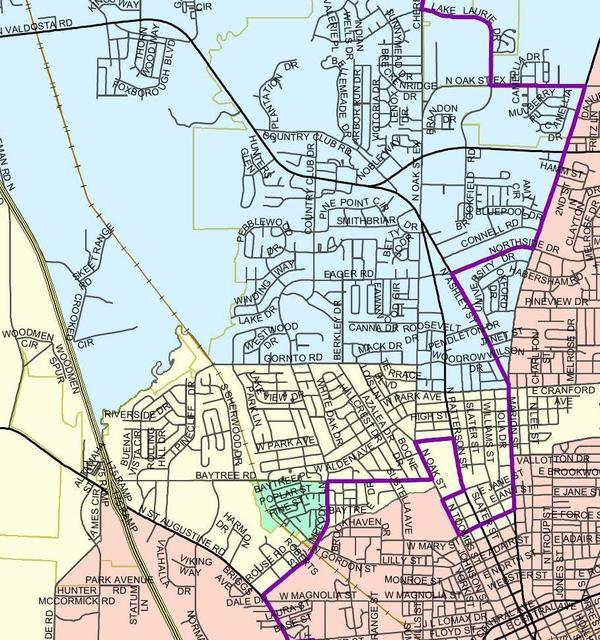 However, if nobody else owns it, presumably the county does. According to Lowndes County's Commissioner District Map, it's in District 3 (Mark Wisenbaker) and Super District 5 (Clay Griner). The jagged purple line is the boundary between Super District 5 (west) and Super District 4 (east). The green line is Valdosta City Limits. The Withlacoochee River is indicated in part as the boundary between County Commission District 3 and District 2 (Scottie Orenstein).
With google maps, 2410 Gornto Road, Valdosta, GA, gets you to the right place, which is just southwest of the entrance to the YMCA, below the fence of Valdosta's big new sewer system pump station.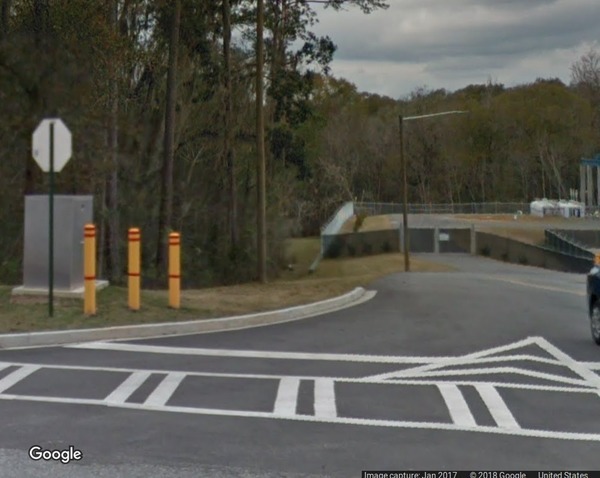 This pump station, pushing sewage uphill through a force main out of the local neighborhoods, is a key piece of Valdosta's tens of million dollar plan, mostly now completed, to fix its sewage spills.
Thanks to Valdosta-Lowndes County Family YMCA, specifically Cheryl Maddox, Programs Director, and to Sidney Rigdon, Property Manager, for discovering this public access and organizing WWALS visiting it.
There are a few impediments to paddling.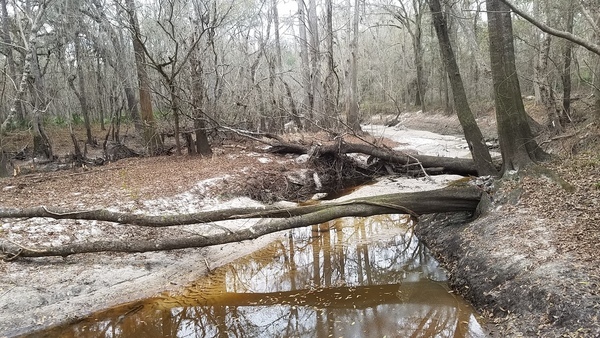 Could use some cleanups.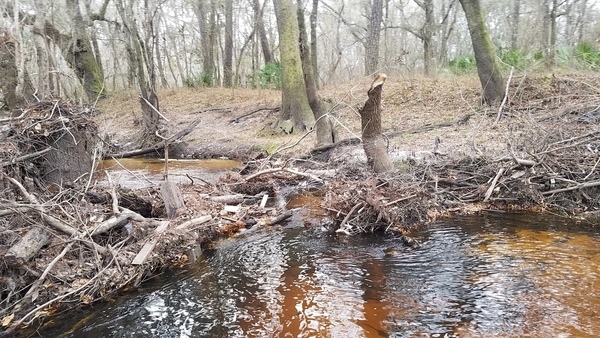 When the water's high, duck!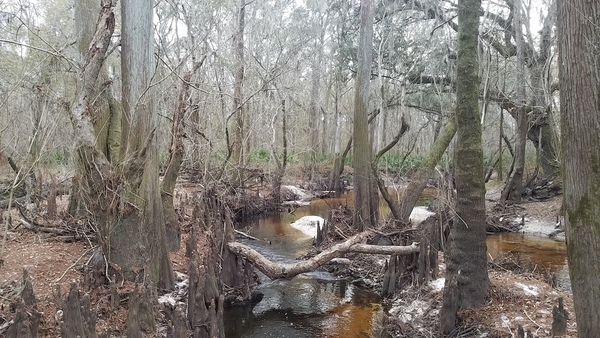 Didn't see any beaver dams, but there were other signs.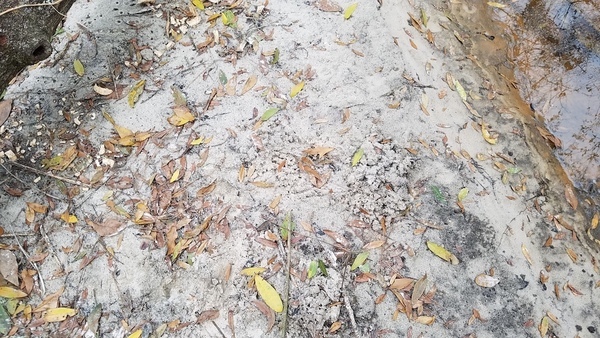 People could take their trash out with them.
Norfolk Southern Railroad Bridge.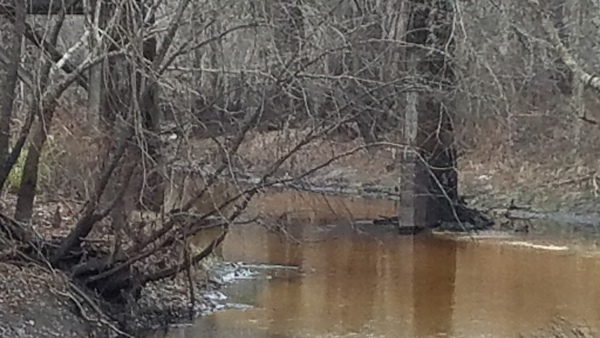 That's natural foam from tannic acid from oak leaves.
And back out the way we came. Paddlers arriving from upstream could really use some markers to find their way to the egress.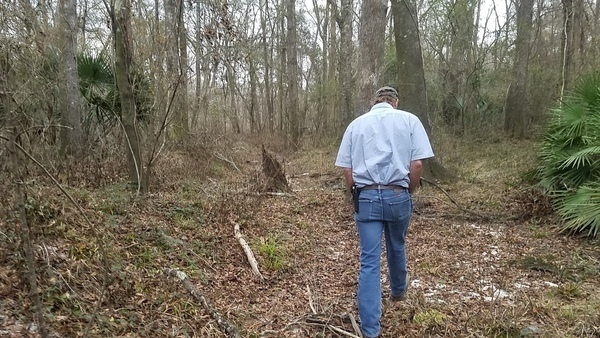 The next day, I explained the significance of this find to Valdosta's Mayor and Council:
It turns out there is public access to the Withlacoochee River off of Gornto Road. That's in Council Gibbs district, actually. There's a little sliver of land just to the left of the lift station that actually, according to a map the YMCA has, has always been public access. So I regard that as good news.


Suwannee Riverkeeper John S. Quarterman to Valdosta Mayor and Council, 2018-01-25, courtesy Lowndes Area Knowledge Exchange (LAKE).

You can put in at Langdale Park and paddle down, a nice short paddle. Or go down from there to what many people call the prison boat ramp, at Troupville Landing. There's a number of possibilities there. Recreation on the river, right in Valdosta.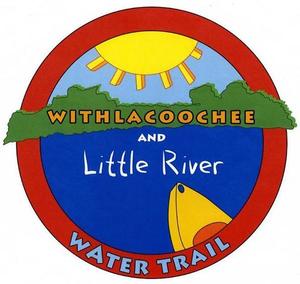 I believe Mayor John Gayle agreed that was good news.
This area is also within the project area of the U.S. Army Corps of Engineers May 2014 proposal to put a levee at Sugar Creek, on the other side of the Norfolk Southern railroad bridge. Fortunately, the Valdosta City Council rejected that Corps plan. The Corps sought funding for a larger flooding study, but no funding has materialized. At least it's pretty clear nobody will be building in that flood plain anymore.
It's a welcome addition to the Withlacoochee and Little River Water Trail.
The idea of searching for access to the Withlacoochee River from Gornto Road came from Phil Hubbard, WWALS Outings Committee Chair. He couldn't get off work for this hike to the river, but he's involved in further activities here.
-jsq, John S. Quarterman, Suwannee RIVERKEEPER®
You can join this fun and work by becoming a WWALS member today!
Short Link: