Best to test for arsenic, and maybe lead, radon, and uranium, in your well and hot water heater water. In March 2013, South Health District and the Georgia Department of Health recommended testing for arsenic. That was three years after Janet McMahan discovered the arsenic problem after her family members and pets got cancer. As we wrote a few months before the Health Departments finally made their recommendation, after Janet got Erin Brockovitch involved, you may also find lead and uranium. The problem has not gone away. Also, you may find radon.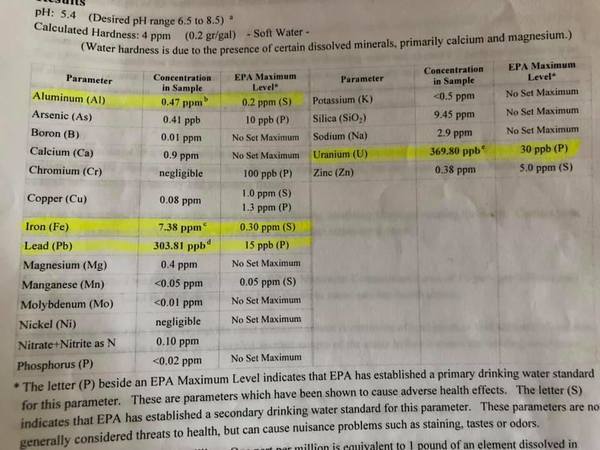 Janet wrote Monday:
This Water is from Well on private property 3 miles from Willacoochee. Sample taken from Water Heater. Lady says she uses all of the hot water when taking a shower each morning. Looking for her Radon Level now.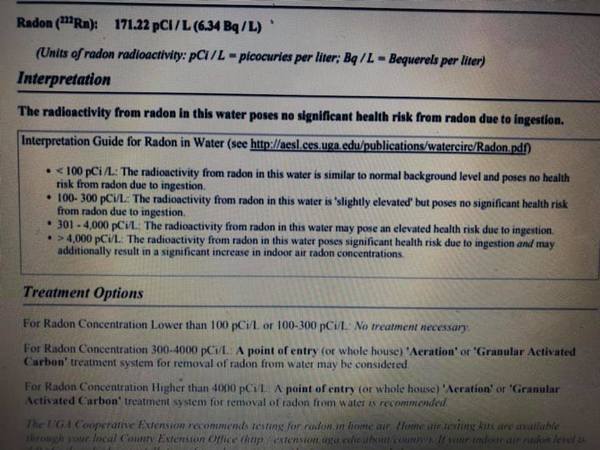 Janet added:
Radon sample collected at Same Well.
Where is all this contamination coming from? Arsenic (fortunately not found in this specific sample) could come from a variety of sources, including old fence posts and old cattle dips.
Arsenic, lead, and aluminum could also come from coal ash, according to Physicians for Social Responsibility, Coal Ash: The toxic threat to our health and environment, By Barbara Gottlieb with Steven G. Gilbert, PhD, DABT and Lisa Gollin Evans, 15 September 2010, their emphasis:
In short, coal ash toxics have the potential to injure all of the major organ systems, damage physical health and development, and even contribute to mortality.
There are no coal-burning power plants near Willacoochee, Georgia. However, mercury from Plant Scherer, north of Macon, the country's dirtiest coal plant, still gets into our Alapaha River through the air, according to the EPA.
For our Withlacoochee River (and New River and Little River), the EPA in 2002 established a mercury Total Maximum Daily Load (TMDL) from its headwaters on down. The EPA was less specific about the source of the mercury in the Withlacoochee River, naming multiple National Pollutant Discharge Elimination System (NPDES) permit holders. But that EPA Withlacoochee TMDL does say:
Based on a review of the Mercury Study Report to Congress, significant potential point sources of airborne mercury include coal-fired power plants, waste incinerators, cement and limekilns, smelters, pulp and paper mills, and chlor-alkali factories (USEPA, 1997).

Atmospheric deposition is a major source of mercury in many parts of the country. In a study of trace metal contamination in reservoirs in New Mexico, it was found that 80 percent of mercury found in surface waters was coming from atmospheric deposition (Popp et al., 1996). In other remote areas (Wisconsin, Sweden, and Canada) atmospheric deposition has 10 Total Maximum Daily Load for Total Mercury in the Withlacoochee Watershed, GA February 28, 2002 been identified as the primary (or possibly only) contributor of mercury to the waterbodies (Watras et al., 1994; Burke et al., 1995; Keeler et al., 1994).
Radon also goes up into the air from coal burning, according to USGS Fact Sheet FS-163-97, October, 1997, Radioactive Elements in Coal and Fly Ash: Abundance, Forms, and Environmental Significance,
Virtually 100 percent of the radon gas present in feed coal is transferred to the gas phase and is lost in stack emissions.
That USGS report does not say whether the airborne radon can be redeposited in rivers or ground water, although it stands to reason it won't stay in the air forever.
But can something as heavy as uranium travel through the air? Apparently not, according to the same USGS report:
In contrast, less volatile elements such as thorium, uranium, and the majority of their decay products are almost entirely retained in the solid combustion wastes. Modern power plants can recover greater than 99.5 percent of the solid combustion wastes. The average ash yield of coal burned in the United States is approximately 10 weight percent. Therefore, the concentration of most radioactive elements in solid combustion wastes will be approximately 10 times the concentration in the original coal.
The USGS report reminds us that uranium does occur naturally:
Figure 2 illustrates that the uranium concentration of most fly ash (10 to 30 ppm) is still in the range found in some granitic rocks, phosphate rocks, and shales. For example, the Chattanooga Shale that occurs in a large portion of the Southeastern United States contains between 10 and 85 ppm U.
The Chattanooga Shale in the Appalachians is nowhere near Willacoochee, Georgia, but the point still remains that it is possible to get uranium contamination out of the local ground. However, we don't find uranium in most wells around here, so there is still a strong possibility that it is coming from somewhere else.
We know there is coal ash in the active landfill in Lowndes County, Georgia, so some of it might have gone to landfills closer to Willacoochee in Atkinson County, Georgia.
We also know Georgia Power has said coal ash is used in fertilizer. Candice Bell, Newnan Times-Herald, 11 February 2018, Georgia Power's closure of Yates ash ponds draws criticism,
[Aaron] Mitchell[, general manager of environmental affairs for Georgia Power,] said coal ash by-products could potentially go to an ash marketer or be stored in a landfill. The ash is used as an ingredient in concrete, drywall and fertilizer, but no ash has been marketed at Plant Yates since Units 6 and 7 were converted to gas and units 1 through 5 were retired.
Maybe not at Plant Yates, but how about at other Georgia Power coal plants, or at coal plants elsewhere, with the fertilizer being shipped to Georgia?
There is also the historical case of Sogreen Corp. of Tifton, Georgia, reported in 1997 as using coal ash in fertilizer, causing peanut crop failure. Not long afterwards, the EPA designated the So Green Pile Superfund Site on Maple Street in Tifton. A nearby warehouse caught fire and burned in 2015. Nearby are the Parramore Fertilizer Superfund Site on Highland Avenue and the Marzone Inc Chevron Chemical Co Superfund Site on Golden Road.
SoGreen may have distributed lead originating from another source. EPA Region IV, CERCLA Docket No. 93-40-C, 16 September 1993, ADMINISTRATIVE ORDER ON CONSENT FOR REMOVAL ACTION, IN THE MATTER OF: 9th Street Dump Site Tifton, Tift County, Georgia; Atlantic Steel Industries, Inc. and Florida Steel Corporation Respondents,
For the purposes of this Order, EPA finds that:

The Ninth Street Dump Site is located on a parcel of property that is approximately five (5) acres of vacant land located between U.S. Highway 82, Tift Highway, and East 9th Street in Tifton, Tift County, Georgia, in an industrial and commercial area. A drainage ditch near the Site flows southwest from Highway 82 to the intersection of Tift Avenue and East 9th Street.
The SoGreen Corporation ("SoGreen") operated a fertilizer manufacturing and distribution facility on Highland Avenue in Tifton, Georgia. Atlantic Steel Industries, Inc. and Florida Steel Corporation, among others, shipped emission control dust from electric arc furnaces or wet scrubber fly ash from iron foundry furnaces (collectively, "EC Dust") to the SoGreen facility for recycling as commercial waste-derived fertilizer.
EC Dust from electric arc furnaces is a listed hazardous waste under the Resource Conservation and Recovery Act, 42 u.s.c. S 6901 et seq. ("RCRA"), at 40 CFR S261.32, containing chromium, cadmium and lead and is identified by EPA as K061. Wet scrubber fly ash from iron foundry furnaces is a characteristic hazardous waste under RCRA assigned EPA hazardous waste numbers D006 (cadmium), D007 (chromium) and D008 (lead) at 40 CFR S261.24.
Rather than recycling all the EC Dust sent to the SoGreen facility, Herman Parramore, SoGreen's owner, disposed of large quantities of EC Dust in various locations throughout Tift County as_fill material. EC Dust from the SoGreen facility was disposed of at the Ninth Street Dump.
The Respondents conducted a preliminary assessment of the Site in June of 1993. Soil samples taken at the Site on behalf of the Respondents revealed the presence of lead in concentrations up to 39,000 ppm, chromium concentrations up to 1600 ppm, and cadmium levels up to 1100 ppm.
The EPA ordered a cleanup of this "EC Dust". But how could anyone retrieve it all? How do we know it was only disposed of in Tift County, and not in nearby counties? Even if just in Tift County, the Alapaha River is that county's northeast border, upstream from Willacoochee.

And what about So Green's "commercial waste-derived fertilizer"? How much of that, some of which, according to the 1997 story also was derived from coal ash, was spread as fertilizer on fields?
Any of these materials could have leached into the ground water and gotten into that well in Willacoochee. Regardless of the source, some testing seems prudent.
Meanwhile, that EPA order mentioned that about the Ninth Street Dump Site,
A drainage ditch near the Site flows southwest from Highway 82 to the intersection of Tift Avenue and East 9th Street.
That ditch then drains into creeks that run into the Little River, upstream of Reed Bingham State Park and the Little Confluence with the Withlacoochee River at Troupville, just west of Valdosta.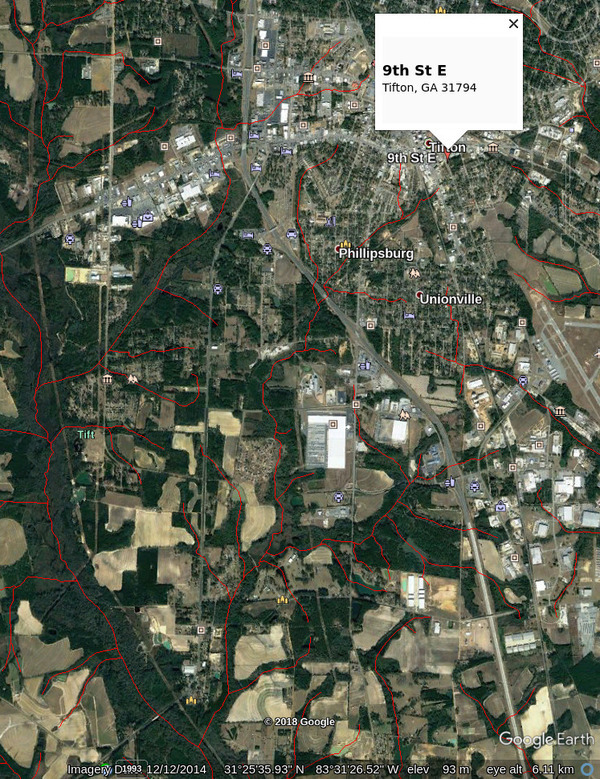 I wonder if that Ninth Street Dump Site has anything to do with lead in the Little and Withlacoochee Rivers?
It would be good to prevent more direct contamination by not accepting coal ash from coal power plants. There's an election going on. Ask all the statewide candidates what they're going to do about that.
And if you want to get your water tested for arsenic and other things that should not be in it, here's how.
-jsq, John S. Quarterman, Suwannee RIVERKEEPER®
You can join this fun and work by becoming a WWALS member today!
Short Link: