Update 2021-09-11: New URL for GA-EPD Sewage Spills Report:
https://epd.georgia.gov/watershed-protection-branch/sewage-spills-report
Well, this is a welcome Christmas present, GA-EPD! Online posting of the statewide Georgia spreadsheet of sewage spills:
https://epd.georgia.gov/sewage-spills-report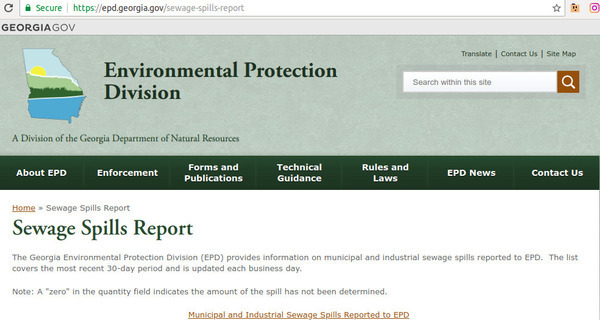 Sewage Spills Report

The Georgia Environmental Protection Division (EPD) provides information on municipal and industrial sewage spills reported to EPD. The list covers the most recent 30-day period and is updated each business day.

Note: A "zero" in the quantity field indicates the amount of the spill has not been determined.
Thank you, Richard Dunn, Director, Georgia Environmental Protection Division (GA-EPD), Marzieh Shahbazaz, who has patiently sent me previous spreadsheets, and everyone else at GA-EPD who has made this happen.
Thank you to the 31 organizations who signed the Resolution and the individuals who signed the petition. Thanks to Georgia Water Coalition (GWC) and Georgia River Netowrk (GRN) for helping get organizations signed up, especially to Flint Riverkeeper Gordon Rogers, to Dana Skelton of GRN, to Satilla Riverkeeper Laura Early, to Matanzas Riverkeeper Jen Lomberk, to Collier County Waterkeeper Harrison Langley, to Aquiferious Founder Margaret Tolbert, to Our Santa Fe River President Michael Roth, to SSJG Sierra Club Chair Whitey Markle, to Paddle Florida Executive Director Bill Richards, to April Lipscomb of SELC, to Jennette Gayer of Environment Georgia, and to Mike Worley of Georgia Wildlife Federation for mentioning the idea to Dick Dunn before we even sent him the resolution.
The actual spreadsheet doesn't seem to have been updated yet since it first appeared yesterday, Thursday, December 20, 2018. That may be because it's still early in the day; we shall see. It is sorted by date, newest first, which is good.
Yesterday's spreadsheet reveals that yet again Valdosta had more spills than they told the public about (more on that later):


Screenshot: John S. Quarterman of the first few spreadsheet rows; I've narrowed some fields to fit in a screenshot, and right-aligned the gallons.
GA-EPD omitted many fields from the spreadsheets I've been getting via open records request. As you can see, many of them were internal notations not of much external interest, although some, such as SPILL_PRIMARY_CAUSE and INCIDENT_REPORTED_DATE could be of interest. I suppose you could still file a Georgia Open Records Act (GORA) request and get the rest of the fields.
END_DATE, usually the same as BEGIN_DATE or absent, but sometimes several days later
NOTES, usually things like which manhole or when notification was received, but was usually blank
DISTRICT, one of Wastewater Regulatory Program (including Valdosta, Lowndes County, and Tifton), Southwest District (including Quitman), Mountain District – Cartersville, Northeast District – Athens
SPILL_RECV_WATERBODY_TYPE, Stream, Storm Drain, Ground, Ditch, and maybe some other values
SPILL_POSTING_LOCATION, Stream or Shoreline
SPILL_PRIMARY_CAUSE, Wet weather, Grease, Roots, Equipment failure, Debris, Unknown, Hydraulic Overload, Other, etc.
INCIDENT_REPORTED_BY, usually blank
CALL_RECEIVED_BY, often blank
SPILL_ENTERED_BY, one of about half a dozen GA-EPD people
EMPLOYEE_RESPONSIBLE, usually the same as SPILL_ENTERED_BY
INCIDENT_REPORTED_DATE, and time, with the date usually the same as BEGIN_DATE, but the spreadsheet row often (in the case of Valdosta) actually appears in the spreadsheet several days after this date
POSTING_BEGIN_DATE, usually blank, sometimes same as INCIDENT_REPORTED_DATE
MONITORING_BEGIN_DATE, always blank
MONITORING_END_DATE, always blank
IS_ENTERED_WATERWAY, 0 or 1
IS_SIGN_POSTED, 0 or 1
IS_MEDIA_CONTACTED, 0 or 1
IS_DEAD_FISH_REPORTED, 0 or 1
IS_PUB_NOTICE_UND, 0 or 1
IS_WQ_VIOLATION, 0 or 1
IS_CHATTAHOOCHEE_NOTIF, 0 or 1
IS_FISHERY_NOTIF, 0 or 1
IS_OUTFALL_SPILL, 0 or 1
IS_COASTAL_NOTIF, 0 or 1
IS_DW_NOTIF, 0 or 1
IS_EMERG_NOTIF, 0 or 1
IS_MAJ_SAMPLING_UND, 0 or 1
IS_MAJOR, 0 or 1
IS_SEVEN_DAY_SAMPL_RCV, 0 or 1
FECAL_COLIFORM, blank
IS_BORDER_ST_NOTIF, 0 or 1
CAUSE_COMMENT, I/I, Grease, Debris in the mainline, etc.
CORR_ACTION_COMMENT, Debris was cleared, Pressure washed, etc.
CALL_RECV_BY_EMP_ID, usually blank
SPILL_ENTERED_BY_ID, usually blank
ENTRY_DATE, sometimes later than BEGIN_DATE
IS_DIST_ENV_NOTIF, 0 or 1
IS_HEALTH_NOTIF, 0 or 1
IS_DOWNSTREAM_USERS_NOTIF, 0 or 1
IS_THIRD_MONTH_SAMPLING_RECD, 0 or 1
IS_TWELFTH_MONTH_SAMPLING_RECD, 0 or 1
IS_IMPACTED_WATERWAY_303, 0 or 1
CONTACT_PERSON, usually blank
CONTACT_PHONE, usually blank
CONTACT_ORGANIZATION, usually blank
CONTACT_ADDRESS, usually blank
PERSON_REPORTING_SPILL, usually blank
PERSON_REPORTING_SPILL_PHONE, usually blank
PERSON_REPORTING_SPILL_ORG, usually blank
PERSON_REPORTING_SPILL_ADDRESS, usually blank
RESPONSIBLE_AUTHORITY, usually blank
RESPONSIBLE_AUTHORITY_PHONE, usually blank
RESPONSIBLE_AUTHORITY_ADDRESS, usually blank
BOD, usually blank
TSS, usually blank
DURATION_MIGRATED, usually blank
As noted on the spills page, there is a link from GA-EPD's front page: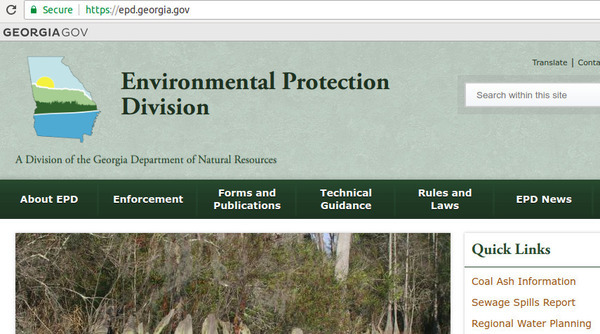 There is, of course, room for improvement. GA-EPD has done item 1 from the Resolution. We look forward to the other two items:
To publish spill reports the same day it receives them, online, on its website, in a spreadsheet, and;
To provide online email signup for receipt of alerts of spills the same day they occur, and;
To consider, without delaying 1 and 2 above, adding an online interactive map of recent spills.
-jsq, John S. Quarterman, Suwannee RIVERKEEPER®
You can join this fun and work by becoming a WWALS member today!
Short Link: