Naturally, what happened in the Georgia legislature is the most prevalent topic at the Georgia Water Coalition (GWC) Spring Partner Meeting, such as about coal ash and trust funds. I provoked extended discussion of the value of Capitol Conservation Day: even if it's hard to get to see a legislator when that many people are there, the mere fact that so many people are there affected legislation.
There are also breakout sessions on the Georgia Triennial Review of Water Quality Standards. (You can sign up to help upgrade our Suwannee River Basins.) All the Riverkeepers of Georgia are involved, and Water Trails are very relevant.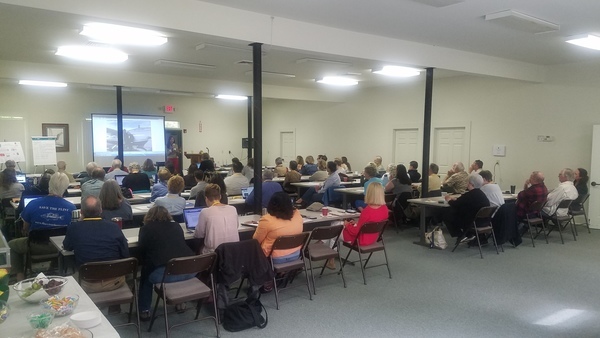 Speaking: Rena Peck Stricker, E.D., Georgia River Network
WWALS Ambassador Dave Hetzel is second row from the back, second from the right.
My Georgia Beer Co. hat is on the left (have I mentioned they are the top-level sponsor of our Suwannee Riverkeeper Songwriting Contest and a sponsor of our BIG Little River Paddle Race)), two rows in front of Gordon Rogers' Save the Flint shirt.
After new Georgia River Network Executive Director Rena Peck Stricker spoke, I chatted with her in the hall. She says GRN will be focusing even more on water trails, now that they have successfully gotten water organizations going for most of the rivers of Georgia.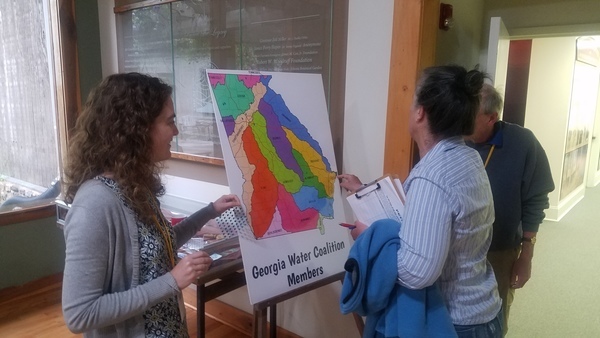 Satilla Riverkeeper Laura Early gave each attendee a raindrop to put on a map for where they live.
I will also bring up some aspects relevant to Georgia of the Florida Triennial Review.
The best news (from my perspective) is what April Lipscomb announced: the GWC process for deciding policies will be revamped, with a committee working on new methods that allow time for discussion, plus changes more frequently than every two years if events demand them. Yes, I volunteered for the committee, even though that is generally something I don't do.
-jsq, John S. Quarterman, Suwannee RIVERKEEPER®
You can join this fun and work by becoming a WWALS member today!
Short Link: