The same day as Jay Ricks, Paddle Georgia #PaddleGA2019, PaddleGA2019, sent an exploratory expedition, with WWALS board member Bobby McKenzie acting as local guide.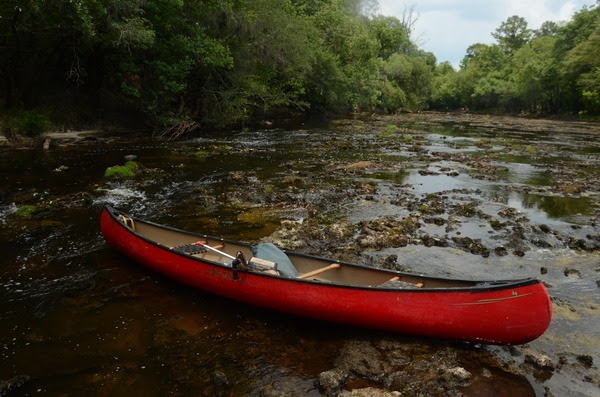 PADDLE GEORGIA 2019 LOW WATER UPDATE!!!!!

Due to low water levels on the upper Withlacoochee, the Georgia River Network staff and Paddle Georgia safety advisory committee has concluded that if water levels do not rise significantly, we will be forced to abandon our original Paddle Georgia route entirely.

This will mean all paddlers will travel on our "alternate route" which will involve repeating our original Day 4 and Day 5 routes during the week and paddling only a portion of our Day 3 route.

We have made this decision in an effort to provide you with as safe and positive a paddling experience as we can provide.

While this decision disappoints us, we believe it is in the best interest of all participants. Below, please find additional information about this decision and specific logistical information for our alternate route. Specifically, the boat drop off location on Friday, June 14, and Saturday, June 15, will change. Everything else remains the same, including campsite locations and dates!

The good news about the alternate route is that it includes arguably the best sections of the Withlacoochee, featuring some fun shoals, beautiful scenery and numerous paradise-like blue hole springs. Our guess is you won't object to visiting these places twice!

A Report From the Withlacoochee On June 5, Paddle Georgia Coordinator Joe Cook, GRN Board Member and Lead Safety Boater Vincent Payne and Suwannee Riverkeeper volunteer Bobby McKenzie explored some 17 miles of the Withlacoochee starting from the Troupville Boat Ramp (Our Day 1 Launch Site). This encompassed all of our Day 1 route and a portion of our Day 2 route.

Along the 11-mile route that would be Day 1, we were forced to portage over shallow shoals 17 times. Some portages were very short, others involved dragging boats as much as 50 yards or more Along the 6-mile portion of what would be Day 2, we were forced to portage 7 times. The upper reaches of Day 3 also contain numerous shoals that would require portages.
For those not familar with the Paddle Georgia route:

Dates
Detail from interactive google map by WWALS of the Journey Details.
Day 1 was Troupville Boat Ramp to Spook Bridge (thanks to The Langdale Company for access to Spook Bridge)
Day 2 was Spook Bridge to Nankin Boat Ramp
Day 3 was Nankin Boat Ramp to Sullivan Launch
includes State Line Ramp, site of the WWALS Boomerang Paddle Race, October 26, 2019, downstream into Florida and back again.
Day 4 is Sullivan Launch to Madison Boat Ramp (the one downstream of Madison Blue Spring)
Here are some pictures of that stretch.
Day 5 is Madison Boat Ramp to Suwannee River State Park
Day 6 is SRSP to Dowling Park Ramp
Day 7 is Dowling Park Ramp to Hal W. Adams Bridge Ramp, between Mayo and Luraville.
Downstream from Sullivan Launch, no worries; there's plenty of water, according to Dave Pharr of Suwannee Canoe Outpost, and according to the gauges.
Back to Joe Cook's report:
Weather Forecast The hopeful news is that a Tropical Storm Barry is coming to the Southeast and may dump 1-2 inches of rain on South Georgia. A chance of rain is forecast for Valdosta each day through June 15.

If water levels rise by a half foot, or more, and stay at that level, we will paddle our original route. We expect to make a final decision by Thursday, June 13. We will notify everyone via e-mail and through our text message alert system.

Water levels need to be at about 160 cfs and 2.4 feet at the Quitman Highway gauge to make the river reasonably navigable. Currently, the river is running at about 40 cfs and sits at 1.8 feet.
For those more familiar with USGS's current NAVD88 (sea level) gauge readings, Joe wants 2.4 feet or 85.9′ NAVD88 and the US 84 gauge right now is at 85.29′. The WWALS recommended low water is 85.5′, the same as the USGS low water mark.

US 84 Quitman USGS Gauge 02318500
It is raining as I type, and river levels can jump up a foot or more in a day after a big thunderstorm. We shall see.
Here's a link to all the relevant gauges, including those upstream on the Little and Withlacoochee Rivers, which let us know when water is coming downstream. It has been raining in Tifton, but the ground has been so dry it can take days for it to get saturated, before much runs off into the rivers.
Joe's last word:
Get details of new boat drop off location at our Paddle Georgia 2019 information page: https://garivers.org/paddle-georgia/paddle-georgia-2019-information/
Spoiler: the new Paddle Georgia drop-off point is Sullivan Launch, which is an easy drive down Loch Laurel Road from Grassy Pond (where Paddle Georgia is staying the first three days), turn right on CR 150, and it's just across the river in Madison County.
(For unknown reasons, Paddle Georgia refers to this as "Bellville Road boat launch".)
All these Withlacoochee River landings are on the Withlacoochee and Little River Water Trail (WLRWT).
All the Suwannee River landings are on the Suwannee River Wilderness Trail (SRWT).
See also the WWALS composite map of all landings and boat ramps in the Suwannee River Basin.
I did warn Joe about water levels and rain when he first asked a year ago about Paddle Georgia on the Withlacoochee River. Here are pictures of numerous WWALS outings on these stretches over the years. Another one will be posted soon.
-jsq, John S. Quarterman, Suwannee RIVERKEEPER®
You can join this fun and work by becoming a WWALS member today!
Short Link: