In the Valdosta Daily Times, page 4A, July 24, 2019, and online July 21: QUARTERMAN: Swamp, Suwannee more valuable than titanium (updated here in light of recent developments, with links):
A company wants to mine on Trail Ridge, between the St. Mary's River and the Okefenokee Swamp, which is the headwaters of the Suwannee River.

Suwannee River Basin Landings
For much more about the mine application, see wwals.net/pictures/2019-07-12–tpm-usace/.
See also WWALS the interactive google map, Landings on the rivers in the Suwannee River Basin: Withlacoochee, Willacoochee, Alapaha, Little, upper and lower Suwannee River watersheds and Estuary, plus Santa Fe River, by Suwannee Riverkeeper, WWALS Watershed Coalition, Inc.
The Charlton County Commission passed a resolution in 2017 thanking Lowndes County for assistance during the big fire in that same area.

LAKE Video at Lowndes County Commission, August 8, 2017.
"Gateway to the Okefenokee" says the sign as you exit I-75 southbound into Valdosta.
Twin Pines Minerals promises jobs, taxes, and low impact. Yet just across the state line in Florida, miners made all those same promises, and nobody can name any local people employed.
The miners have told multiple organizations they want to ship the ore to Starke, Florida, for processing. That's in Bradford County, between the New River and the Santa Fe River, which flows into the Suwannee River.
During Hurricane Irma, the only pollution spills in the Suwannee River Basin in Florida (other than truck wrecks) were three from Chemours mines on Trail Ridge in Baker and Bradford Counties.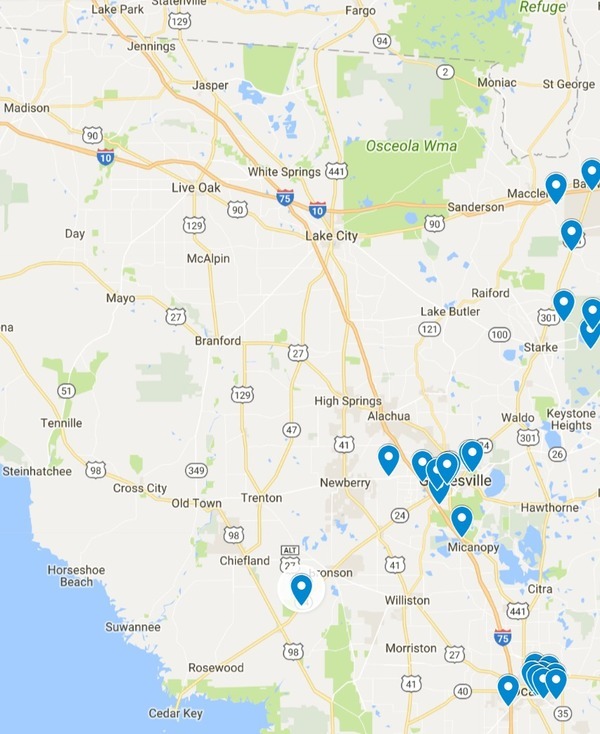 Florida Public Notice of Pollution
Do we want to risk that on Trail Ridge in Charlton County, Georgia, where downhill is either the Okefenokee National Wildlife Refuge or the St. Mary's River? That river is a favorite local recreational resort. The Refuge, directly and indirectly, supports hundreds of jobs.
We need a real Environmental Impact Statement before we let miners risk the Suwannee River headwaters in the Okefenokee Swamp, or its tributaries the New or Santa Fe Rivers.
Upcoming in August 2019 are two Public Meetings by Twin Pines Minerals (these are not public hearings; no decision-making government body is involved in organizing these miners' meetings):
5:30-8:30 PM, Tuesday, August 13, Auditorium, 68 Kingsland Drive, Folkston, GA,
Come early at 4PM. Bring pictures of people with animals and plants or bring a sign if you can.
facebook event
5:30-8:30 PM, Wednesday, August 14, Fire Station Number 2, 13063 Florida Avenue, St. George, GA.
Come early at 4PM. Bring pictures of people with animals and plants or bring a sign if you can.
facebook event
This one is a decision-making governmental body:
6PM, Thursday, August 15, Charlton County Commission, 68 Kingsland Drive, Folkston, GA.
They have already drafted a resolution in support of the mine.
Local people especially, please come say you don't want that,
or at least ask the county to insist on an Environmental Impact Statement first.
No demonstration outside, please; just come in, politely listen, and speak.
Suggestion from St. Mary's Earthkeepers, plus Suwannee:
Feel free to use the following "talking points" in your email:
The Okefenokee Swamp/National Wildlife Refuge/Wilderness is NOT a suitable location for a titanium mine. The Swamp is considered one of the "Seven Natural Wonders of Georgia", is the largest blackwater swamp in North America, and has been designated a National Natural Landmark.
The health of the St. Marys and Suwannee Rivers depends on the integrity of the Okefenokee Swamp, myriad species rely on its wellbeing, and tourism in the area is an economic boon to our region.
The Twin Pines mining project presents unnecessary and unacceptable risks, and I urge the Charlton County Commissioners to oppose this project unless and until a thorough Environmental Impact study shows that no harm will be done to the Swamp, its tributaries, rivers, and future. I am joined in my concern by the Georgia Conservancy, the Southern Environmental Law Center, the Suwannee Riverkeeper, and over 20 other regional and national environmental organizations.
From the U.S. Fish and Wildlife Service:
"We have concerns that the proposed project poses substantial risks for significant affect to the environment. Should impacts occur they may not be able to be reversed, repaired, or mitigated for."

"Titanium is a common mineral, while the Okefenokee is a very uncommon swamp."

"This will likely change its properties and the hydrology of the area."
Please email the following people and ask that your message be shared with all Commissioners.
COUNTY ADMINISTRATOR, HAMPTON RAULERSON
hraulerson@charltoncountyga.gov
County Clerk, Jennifer Nobles
jnobles@charltoncountyga.gov
Chairman James E. Everett
jevephotochristianbooks@windstream.net
The Corps is extending the public comment deadline to September 12th. It took most of a week for anyone to get copies of the 565-page complete permit application, and it turns out the miners still do not have finished a key hydrogeological report; see wwals.net/?p=49738. It would be better if the comment period did not even start until that report is distributed.
To comment, or to request a public hearing, you can write to Commander, U.S. Army Corps of Engineers, Savannah District, Attention: Ms. Holly Ross, 1104 North Westover Boulevard, Suite 9, Albany, Georgia, 31707, or by email to holly.a.ross@usace.army.mil. Please refer to the applicant's name and the application number in your comments: Twin Pines Minerals, LLC, 2100 Southbridge Parkway, Birmingham, Alabama 35209, Application Number: SAS-2018-00554.
For the requested state permit regarding Section 401 of the Clean Water Act, you can send a comment or request for public hearing to Georgia Department of Natural Resources, Environmental Protection Division, Water Protection Branch, 7 Martin Luther King, Jr. Drive, Atlanta, Georgia 30334.
John S. Quarterman is the Suwannee RIVERKEEPER®, with WWALS Watershed Coalition.
---
You can join this fun and work by becoming a WWALS member today!
Short Link: