Last year, Laura D'Alisera of Jacksonville, Florida, won both the $50 prize for best song from outside the Suwannee River Basin, and the $300 First Prize for best song. This year, she's on the committee that selected the seven finalists who will play for the three judges and you this Saturday, August 24, 2019. But first, Laura and Joe Smothers will entertain you, so come on down, 1-5 PM, to The Salty Sanpper, 1405 Gornto Road, Valdosta, GA, where radio personality Chris Beckham will be our M.C.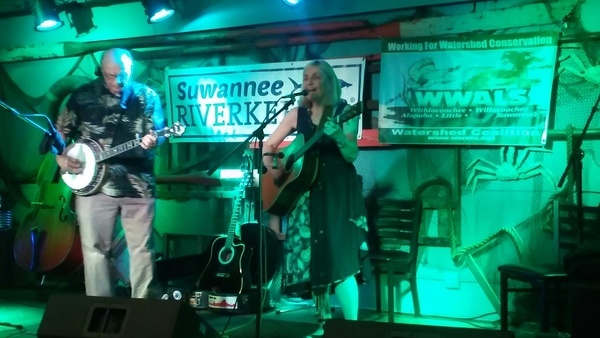 Photo: Sara Jay, of Laura D'Alisera winning the First Annual Suwannee Riverkeeper Songwriting Contest last year (2018).
Laura said her song is
This song is a reverie about Florida and its beautiful waters, with words of warning of the perils in not protecting our precious heritage. I wrote this song almost in one sitting when I was playing in the Walter Jones Park, a historic park dedicated to old Mandarin, located off the St. Johns River. It was the site of a plantation and main dock for the steamships that transported goods to Jacksonville and up and down the St. Johns River to all the towns down to Central Florida. I am concerned about our environment and what we are doing to our waters, particularly with flooding and the lack of care about what we are dumping into our rivers and streams.

This song came to me in two different phases. The last half of the song is informed by such writers as Jeff Goddrell who wrote, "The Waters Will Come," and provided a new title for the song.

Written August 18, 2016, while playing at the Walter Jones Park.
Here's a WWALS video playlist:
Last year's winner Laura D'Alisera, Suwannee Riverkeeper Songwriting Contest 2018
Videos by John S. Quarterman for WWALS Watershed Coalition (WWALS), 2018-06-23
Here are her lyrics for "The Waters Will Come":
Refrain
Land of my memories, land of my dreams,
Nothing is the way that it seems.
I remember your forests, remember your springs,
I remember the Suwanee that ran sweet and clean.

VERSE 1
But if the river goes green and the algea blooms,
What a gift to our children, the waters we ruin,
It could happen while we all stand around,
Singing about our higher ground.

We should get angry, we should do more,
Instead of dreaming of a distant shore,
And then, it all rolls to the sea,
My broken Florida dream.

V. 2
Oh Florida is a land, blessed indeed,
The Suwanee, and the Withlacoochee,
The Alapaha, the Little, and tributaries,
are gifts handed down to you and to me.

If we turn our backs, and we don't see the signs,
They may be gone in our lifetime,
And together we'll all roll to the sea,
No more my Florida dream.

V.3
Someday there'll be justice, one day we'll atone
The wind will rise and the waters will come,
We'll drink our whiskey and watch the storms,
And contemplate the end of the world.

And as we fight for that last piece of land,
On which we'll make our final stand,
A vision will come back to me,
of my beautiful Florida dream.

Refrain
Land of my memories, land of my dreams
Nothing is the way that it seems,
(slower) I remember your forests, remember your springs,
(slower) I Remember the Suwanee that ran sweet and clean.
Yes, she also has toe-tapping upbeat songs, and you'll hear some of those Saturday, too.
Here are all the winners from last year.
Tickets for this Saturday are $10 online or $12 at the door. Or $150 per eight-seat VIP table right in front of the stage (email song@suwanneeriverkeeper.org).
And you or your organization can still become a Sponsor. Thanks to our top-tier Sponsor, Georgia Beer Co., and to Battery Source.
-jsq, John S. Quarterman, Suwannee RIVERKEEPER®
You can join this fun and work by becoming a WWALS member today!
Short Link: