The president of Valdosta Disc Golf Association (VDGA) offers in-kind design services and maintenance for Troupville River Camp.

Our club members would be an important partner in helping to keep the River Camp park and grounds clean.
PDF
My name is Mark Gaither, the current president of the Valdosta Disc Golf Association (VDGA), and on behalf of the club, I would like to offer our support on the construction of the Troupville River Camp. Valdosta currently has the 5th highest ranked disc golf course in the state according to the Disc Golf Scene (www.discgolfscene.com). VDGA has about 60 members and many other locals that frequent Freedom Park, the place of our current, single course. Likewise, we have out of town visitors come to annual events at our course and even some that come to the area just to play at Freedom Park. The VDGA club members have become a family and rally together to support one another and take great pride in our facility. We would take the same kind of pride in the new establishment at the River Camp. Having two superb courses in our area would attract even more out of town visitors to enjoy quality disc golf.

VDGA's members have documented over 300 hours of volunteer labor at our current disc golf course since August of 2018. It would be safe to say we have worked many more undocumented hours. Nearly every time I go to the park, I try to make it a little nicer than it was when I got there. Our club members would be an important partner in helping to keep the River Camp park and grounds clean. Our members would gladly offer services in the design of the new course at no charge. The addition of a recreational disc golf would make the River Camp an even more attractive place for people to visit. I look forward to seeing how the VDGA can help in the construction and maintenance of the new Troupville River Camp.
Disc Golf will work well at Troupville River Camp, without interfering with wildlife viewing, hiking, biking, camping, or paddling.
Mark Gaither and I toured the Land Between the Rivers on November 15, 2019. Despite the chill and mist, he's the first to complete the entire walk around the rivers. He explained that disc golf doesn't need any major clearing; just some small brush for throwing discs. The old, now-unused, Valdosta sewer line path would also be excellent for long shots.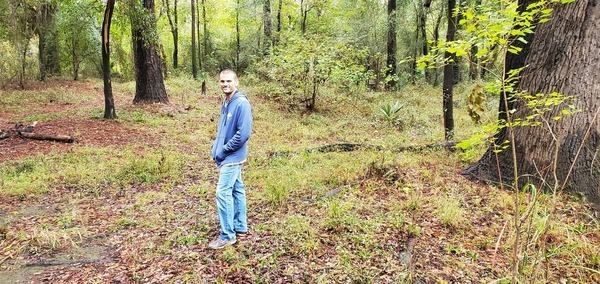 Photo: John S. Quarterman, of Mark Gaither, President, Valdosta Disc Golf Association at Land Between the Rivers, 2019-11-15.
Don't try that yourself, please. There's a hunting lease on that land, which is still private, and hunting season lasts through January 15th.
This is the last day for any other organizations that want to send in a letter of support. The letters so far are all on the WWALS website.
-jsq, John S. Quarterman, Suwannee RIVERKEEPER®
You can join this fun and work by becoming a WWALS member today!
Short Link: