Steve Nichols helped remind everyone on the radio this morning that the last chance to send in a song is tonight at midnight, through this form:
https://forms.gle/buQjC4e6oEKDoc537
We also talked about water quality testing (including a grant by Georgia Power), water trails, outings, hats, contacting Georgia Governor Kemp about that titanium mine too near the Okefenokee Swamp, and what is Suwannee Riverkeper, anyway?
You can listen to it all in the facebook video by The Morning Drive with Steve Nichols, starting at 2:34:35.
Thanks again to our top-tier sponsor of the Suwannee Riverkeeper Songwriting Contest, Georgia Beer Co.
Tickets to listen to headliner Dirty Bird and the Flu, as well as to the finalists as the three judges pick the winners, with Master of Ceremonies Scott James, are on sale now online for $10. https://www.eventbrite.com/e/third-annual-suwannee-riverkeeper-songwriting-contest-finals-tickets-110284875030
Or $12 at the door (children under 12 free). For VIP tables send email to song@suwanneeriverkeeper.org.
Yes, we will have both Georgia Beer Co. and Suwannee Riverkeeper hats available for sale at the Songwriting Contest, 7-10 PM, Saturday, August 22, 2020, at the Turner Center Art Park, 605 North Patterson Street, Valdosta, Georgia 31601. At the event there will be a silent auction and a kayak raffle and you can get food from Rico's Tacos and alcohol from The Pour House.
Hats, stickers, etc. in WWALS online store
Or you can buy Suwannee Riverkeeper hats through the WWALS online store. Steve really liked the floppy brimmed Suwannee Riverkeeper hat I wore into the studio.
Also available through the store are two baseball hats, screen print or embroidered. I wear the embroidered one much of the time. And stickers, picture notecards, and soon again kayak raffle ticket donations, plus WWALS memberships.
What is Suwannee Riverkeeper?
Like many people, Steve was confused about what is Suwannee Riverkeeper. Suwannee Riverkeeper is a project and a staff position of WWALS Watershed Coalition, Inc. (WWALS), established June 2012. I'm that staff person. Having that paid staff position is one of the requirements of Waterkeeper Alliance to become a Riverkeeper or Waterkeeper. So I'm one of about 350 Waterkeepers worldwide, since December 2016.
WWALS has other projects such as water quality testing and water trails. While I'm involved in those, my primary focus as Suwannee Riverkeeper is advocacy, such as opposing pipelines and mines and promoting solar power and clean water.
However, you say you're a member of Suwannee Riverkeeper if you join WWALS, which you can do online.
Water Quality Testing
Speaking of water quality testing, Steve wanted to know what results were lately. Good news: WWALS tester Suzy Hall got zero E. coli at State Line Boat Ramp on the Withlacoochee River this Saturday.
Even better news: Georgia Power is providing a grant to WWALS for water quality testing equipment and supplies, thanks to Joe Brownlee, their Southwest District Director. We have testers waiting for testing kits, and that grant will enable us to buy those kits and get those testers to testing.
In this pandemic time, training new testers is difficult: we can't have a bunch of people crowding around one or two kits. We need a kit per tester, and with that Georgia Power grant we can do that. So thanks, Georgia Power!
Water Trail signs
I showed Steve the new Naylor Boat Ramp signs that WWALS Trails Committee Chair Dan Phillips planted on June 13th on the Alapaha River. That's the new ramp that Lowndes County built with SPLOST penny sales tax revenues.
They go in pairs, and the second one is for the entire Alapaha River Water Trail (ARWT).
Steve noticed the sponsor logos at the bottom of the signs. Yes, you or your organization can become a sponsor by donating enough to the water trail sign fundraiser. Or, if you're a governmental entity, pass a resolution or write a letter in support.
I showed Steve the new Knights Ferry Boat Ramp sign, a copy of the one Dan Phillips replanted there on the Withlacoochee and Little River Water Trail (WLRWT). I asked the radio audience: please stop shooting up our signs! This is the third set at Knights Ferry.
Steve said that's ridiculous, and volunteered on the spot a $100 reward for anybody caught shooting up those signs. Then he raised that to $250. I thank Steve for that generous offer. Of course, we'd be even happier if people would just stop shooting up the signs.
Outings
Steve asked about outings. I told him about the Banks Lake Full Sturgeon Moon outing coming up Monday, August 3rd. We'll paddle out to see the sun set and the moon rise. Don't pet the alligators and they won't bother you. But you will probably see bats and birds.
On Saturday, August 29th, we're doing a paddle on the Suwannee River with a bicycle shuttle. During the pandemic, after people drop off their boats at the put-in and drive to the takeout, we can't cram them into a vehicle to shuttle them back to the put-in. By the way, Steve had some thoughtful comments about the pandemic on the air before I got there, at 2:20:30 in the facebook video.
But we can have everybody ride bicycles back to the put-in! That bicycle Suwannee River outing also has an option to camp overnight at Peacock Slough River Camp and finish paddling Sunday, or just paddle all the way through Saturday.
For more WWALS outings and events as they are posted, see the WWALS calendar or the WWALS outings and events web page. WWALS members also get an upcoming list in the Tannin Times newsletter.
Titanium Mine too close to the Okefenokee Swamp
Steve reminded everyone that your song for the Contest can be about any river, creek, pond, sink, or spring in the Suwannee River Basin, or a swamp, such as the Okefenokee Swamp.
So we talked about the proposed titanium mine too near that Swamp. I asked his radio listeners to call Georgia Governor Kemp and ask him to help stop that mine. Or other elected officials, or the Georgia Department of Natural Resources.
Steve volunteered that he had not only said that mine was not a good idea, he had already told Governor Kemp that.

Mine not a good idea –Steve Nichols
After we were off the air, Steve said he'd had the governor on the phone on the air and asked him then. Kemp said he needed to study the situation more. Maybe if more of you ask the governor to do something, maybe he will.
Final Deadline midnight tonight
Remember, final deadline to send in a song for the Suwannee Riverkeeper Songwriting Contest is tonight at midnight, through this form:
https://forms.gle/buQjC4e6oEKDoc537
Much more here, about the Third Annual Suwannee Riverkeeper Songwriting Contest, at 7-10 PM, Saturday, August 22, 2020, Turner Center Art Park, 605 North Patterson Street, Valdosta, Georgia 31601.
https://wwals.net/pictures/2020-08-22–songwriting/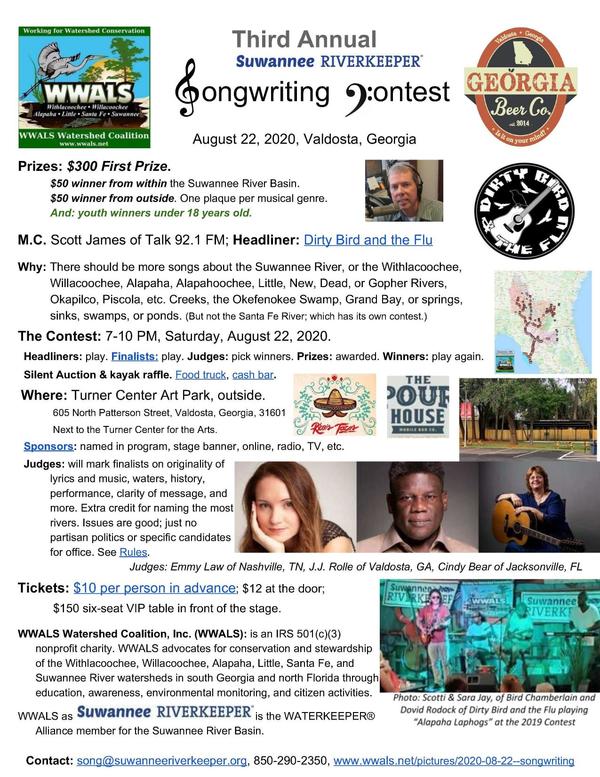 Suwannee Riverkeeper Songwriting Contest 2020
PDF
We did exchange mobile telephone numbers, so it should be easier to schedule being on the radio next month. That will probably be Tuesday morning, August 18, 2020, which is a few days before the Suwannee Riverkeeper Songwriting Contest.
-jsq, John S. Quarterman, Suwannee RIVERKEEPER®
You can join this fun and work by becoming a WWALS member today!
Short Link: