Update 2020-08-15: Moultrie rain washed E. coli down Okapilco Creek; good now 2020-08-13
WWALS testers Jacob and Michael Bachrach also got good results from their Thursday samples: 66 cfu/100 mL E. coli at State Line Boat Ramp and zero (0) at Nankin and Knights Ferry Boat Ramps. Can't get much better than that!
WWALS Testing Committee Chair Suzy Hall did remark that the Petrifilms for State Line showed quite a bit of other Fecal coliforms. But we can't quantify those with the Petrifilm method, and we go by E. coli.
Of course, something else could have gotten into the river since Thursday. All of these results are always merely advisory.
But as far as we can tell, it's a great weekend for boating on the Withlacoochee River!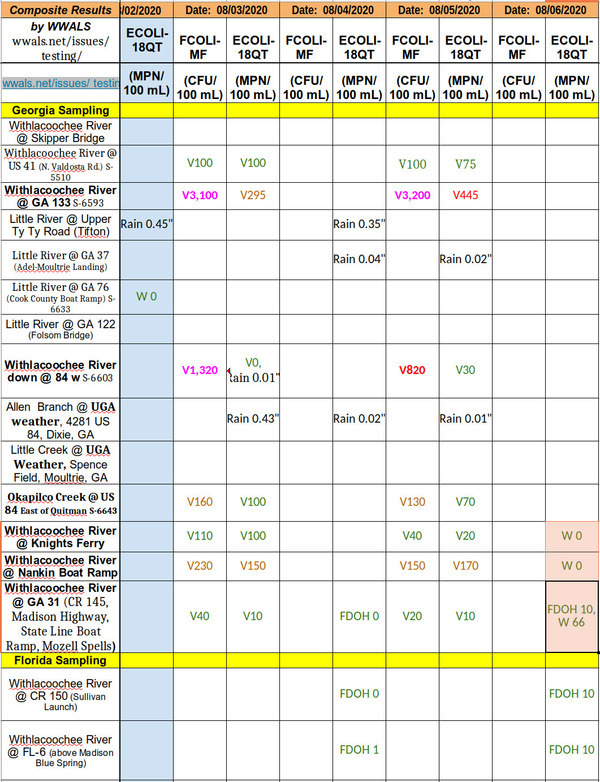 Good WWALS results, Knights Ferry, Nankin, State Line
For context and the complete WWALS composite spreadsheet of Georgia and Florida results, see: https://wwals.net/issues/testing/
As you can see, the WWALS 66 at State Line was quite similar to the Madison Health 10. The Florida agencies use laboratories with more precision in their results than WWALS can get with Petrifilms: 66 is the lowest WWALS can show before zero.
These Thursday WWALS results at Knights Ferry, Nankin, and State Line corroborate what Valdosta got Wednesday at Knights Ferry, Nankin, and State Line, shifted downstream somewhat due to water flow and a day later. Note Valdosta got slightly higher results at Nankin Wednesday, and WWALS got slightly higher at State Line, which is about what we would expect from water flow.
Until the next big rain (or dumping or, we sure hope not, sewage spill), water quality will probably remain good.
-jsq, John S. Quarterman, Suwannee RIVERKEEPER®
You can join this fun and work by becoming a WWALS member today!
Short Link: