Since there are two weekend outings in the Okefenokee Swamp 7-8 November 2020, I suggested some paddlers may also want to drive by the proposed titanium mine site southeast of the Swamp. Kim Bednarek, Executive Director of Okefenokee Swamp Park, suggested we meet first at Lacy's Kountry Store in Moniac, for lunch, talks, and discussion. She and Rena Ann Peck, Executive Director of Georgia River Network, will say a few words. Also saying a few words will be either Suwannee Riverkeeper John S. Quarterman or WWALS Executive Director Gretchen Quarterman. Possibly we will have another speaker.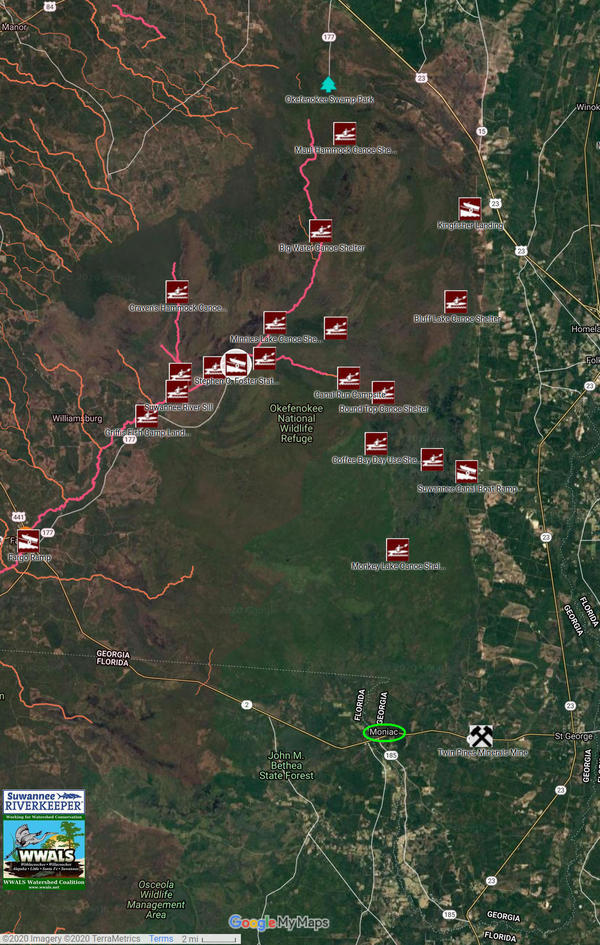 Moniac marked by green ellipse on the WWALS map of the Suwannee River Wilderness Trail and the Okefenokee Swamp.
No doubt everybody will have plenty to discuss, considering the U.S. Army Corps of Engineers just abdicated oversight of streams near the mine site and Twin Pines Minerals says it will plow ahead yet TPM still needs five Georgia permits.
This is just a small, informal, side trip. We will only be able to see the mine site from the public highway. Yes, I did ask TPM if they would hold a tour for us, but they said they were only allowing employees and contractors on their site.
When: Noon, Friday, 6 November 2020.
Please come early so we can start at noon.
Where: Lacy's Kountry Store, 389 GA-94, St George, GA 31562.
They have a wide selection of foods you can order.
Event: facebook
May I also recommend you read this book: Pinhook: Finding Wholeness in a Fragmented Land, by Janisse Ray.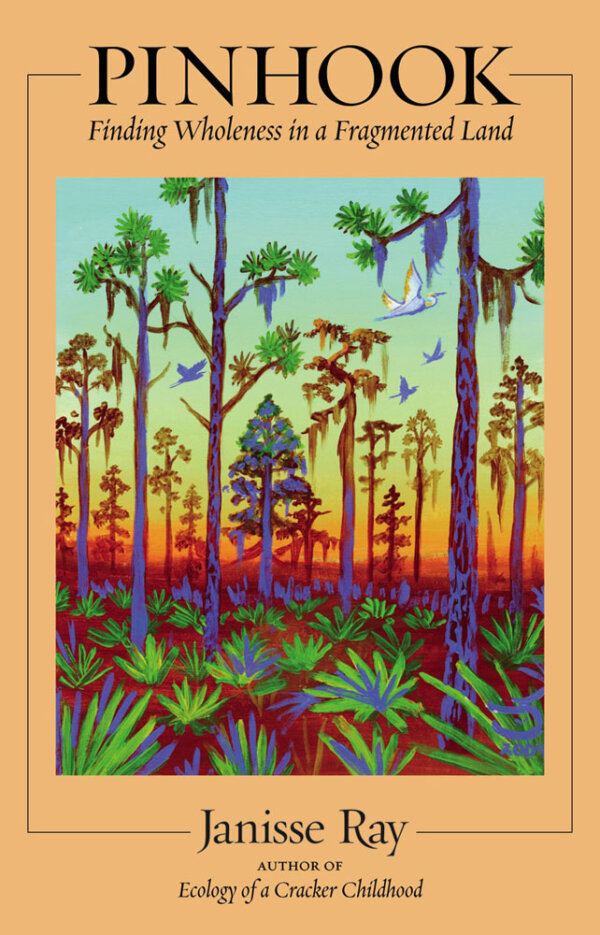 Chelsea Green Publishing says:
Janisse Ray, award-winning author of Ecology of a Cracker Childhood and Wild Card Quilt, writes an evocative paean to wildness and wilderness restoration with an extraordinary journey into southern Georgia's Pinhook Swamp.

Pinhook Swamp acts as a vital watershed and wildlife corridor, a link between the great southern wildernesses of Okefenokee Swamp and Osceola National Forest. Together Okefenokee, Osceola, and Pinhook form one of the largest expanse of protected wild land east of the Mississippi River. This is one of America's last truly wild places, and Pinhook takes us into its heart.

Ray comes to know Pinhook intimately as she joins the fight to protect it, spending the night in the swamp, tasting honey made from its flowers, tracking wildlife, and talking to others about their relationship with the swamp. Ray sees Pinhook through the eyes of the people who live there—naturalists, beekeepers, homesteaders, hunters, and locals at the country store. In lyrical, down-home prose, she draws together the swamp's need for restoration and the human desire for wholeness and wildness in our own lives and landscapes.
The two paddle outings in the Swamp are already booked up, but they are:
-jsq, John S. Quarterman, Suwannee RIVERKEEPER®
You can join this fun and work by becoming a WWALS member today!
Short Link: