A textbook case: "We present our three-minute, passionate oration about the risk to community health, but in the end, nothing we say must be taken into account by the state in issuing the permit." Common Sense: Community Rights Organizing, by CELDF; thanks to Karma Norjin Lhamo for the reminder.

Mermaid, Suwannee Riverkeeper, OSFR, Regulatory Fallacy, Charles Keith, Attorneys, Motion to Permit, unanimous SRWMD Board
About 30 speakers gave impassioned orations for denial, after which the Suwannee River Water Management District Board unanimously approved the Nestlé permit as fast as the roll could be called.

SRWMD Board: Larry Thompson, Lower Suwannee Basin; Charles Keith, At Large; Virginia H. Johns, Chair, At Large; Virginia Sanchez, At Large; Charles Schwab, Coastal Rivers Basin; Harry Smith, At Large; Larry Sessions, Upper Suwannee Basin. Notice nobody on the SRWMD Board representing the Santa Fe River Basin. Water taxation without representation.
As one prominent local activist said afterwards, "Two years out of my life I'll never get back! I don't know if I'll ever come back here."
Sure, voting in a governor who would appoint better WMD board members would help, and into the legislature, too. New legislators would help pass what is really needed: a Bill of Rights for Nature.
That is a way out of the Regulatory Fallacy Box.
Against Nestle, on the phone, here is Michael Roth, OSFR President.

OSFR President Mike Roth on the phone
The whole meeting was livestreamed on the Florida Channel, https://thefloridachannel.org/, which has archived it so you can see the whole thing. (Their video works under google-chrome for me, but not under Firefox.)
Much to my surprise, I spoke first.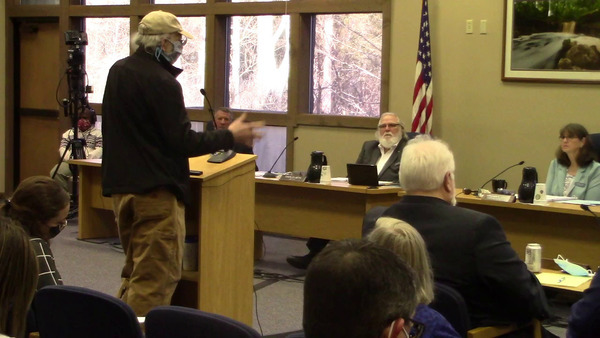 Suwannee Riverkeeper John S. Quarterman
A bit later mermaid Michelle Colson spoke.
She had already spoken outside, next to the spigot of plastic bottles. [That's actually Sarah Younger as Mother Earth.]

Mermaid Sarah Younger as Mother Earth against plastic bottle spigot
That was in the OSFR press conference.
OSFR had three people inside.

OSFR: Merrillee Malwitz-Jipson, Jim Tatum, Kristin Rubin
Merrillee Malwitz-Jipson, no shrinking violet, called the SRWMD board ineffective to their faces.

Movie: Merrillee calls them ineffective to their faces (36M)
Incoming OSFR president Kristin Rubin made her pitch.

OSFR incoming President Kristin Rubin
During SRWMD Board discussion Charles Keith tried asking OSFR's Jim Tatum for more information.
Seven Springs' attorney informed him that SRWMD was sitting as an appeals court and thus could not take into account anything that was not already in the preceding two-year legal case.
Then SRWMD's own legal team added that the board could re-open public comments, but they could not take into account anything the public said in making their decision.
A SRWMD attorney said the Recommended Order by the judge of the Division of Administrative Appeals (DOAH) isn't really a recommendation. SRWMD can't change anything the judge said was a conclusion of law.
So he drafted an order for SRWMD to pass "under protest", which reserves the possibility of appeal by SRWMD to DOAH conclusions.
However, the attorney proceeded to say the SRWMD board could not deny unless they found evidence previously introduced to contradict one of the DOAH judge's ordered points.
On the other hand, as I reminded the board this morning, they could deny. Sure, the governor could fire them, but do any of them really need this job?
Charles Keith of Lake City asked whether waters in recovery could give SRWMD sufficient power. The lawyer's answer seemed to be that's why this permit is only for five years. SRWMD could change minimum flow or recovery processes meanwhile, and could fine or revoke the permit for infractions.
Interesting: the SRWMD final order will not go back to DOAH. It can be appealed in state court.
Finally, Chair Johns called for a motion. Richard Schwab moved to approve the proposed order "under protest".

Motion to approve by Richard Schwab, Perry
Virginia Sanchez seconded.

Second by Virginia Sanchez, Old Town
Chair Johns asked for a roll call and they all voted yes.
Then Larry Thompson volunteered that he couldn't see more money being spent on an appeal.
Richard Schwab agreed with Thompson. Chair Johns appeared to agree.
Charles Keith thanked the public, and said SRWMD would best work on recovery rules, and enforcement.
Afterwards I thanked SRWMD Chair Virginia H. Johns for her hospitality, and asked why, if what their legal team said was true, why did SRWMD bother inviting the public to speak? She danced around the question, as is her wont, saying they always liked to hear from the public. I said maybe those public comments could be taken into account in the rulemaking and enforcement the legal team told them they could do. She smiled.
But we know how much SRWMD or FDEP rulemaking has protected our rivers, springs, and aquifer so far: not much, if at all. Permitted flows keep getting lowered. The famous Basin Management Action Plans (BMAPs) correctly identified fertilizer nitrates leaching through the ground as algae bloom causes, and said that has to be decreased 83 to 92% in the Suwannee River Basin, yet provided no actual mechanism to accomplish that and no teeth when it fails. Occasionally SRWMD will deny a building permit too near waterways, as long as it is for a mostly-powerless individual, not a corporation. And SRWMD hardly ever sees a water withdrawal permit it doesn't approve.
It's just Common Sense: "However, by their very definition, regulatory agencies regulate the amount of harm that takes place with the associated activity." We need a Bill of Rights for Nature.
You can watch the whole meeting on the Florida Channel Archive.
See also:
Cindy Swirko, The Gainesville Sun, February 23, 2021, Opponents bash plan, but Nestle water company gets approval to pull more water from Ginnie Springs.

Florida Defenders of the Environment and Our Santa Fe River expect to file a lawsuit that will test a novel theory of Florida water law — whether it is legal to transfer water off the property from which it is taken, as happens at the Nestle Ginnie Springs plant. and not pay the state.

"We're moving forward with it after this vote," said Merrillee Malwitz-Jipson of Our Santa Fe River.

Zachary T. Sampson, Tampa Bay Times, February 23, 2021, Water officials okay Ginnie Springs bottling plan after years-long battle: The permit will allow a company to pump nearly 1 million gallons a day from the aquifer.
April Rubin, WUFT, February 23, 2021, Water Board Approves Pumping Ginnie Springs Water To Benefit Nestle, and Miami Herald, February 23, 2021, State OKs Nestlé plan to tap 1 million gallons a day from Florida spring for bottled water.

John S. Quarterman of the Waterkeeper Alliance, told the board that if it had blocked the request for Nestlà , the board would almost certainly be sued by corporate interests and DeSantis would fire members from their political appointments. But he urged them to block the permit anyway.

"Do you really need this job?" he asked. He urged them: "At some point it's best just to stand on principle."

I speak only for Suwannee Riverkeeper and WWALS, not for Waterkeeper Alliance.

Jim Turner, News4Jax, February 23, 2021, Water Board Approves Pumping Ginnie Springs Water To Benefit Nestle.

"This is not something that will benefit in any way, shape or form this county and any other county," professional mermaid Michelle Colson said. "Nestle already bottles water in five different springs to be exact, and they don't need this water, putting our spring water in bottles that are then going to end up in the rivers and the oceans, in landfills. It's just not a good use for our spring water that as we all know is already in danger."

Staff, FirstCoast News, February 23, 2021, Controversial permit to pump millions of gallons from Ginnie Springs approved: The $115 permit will allow Nestle Waters North America to pump and bottle about a million gallons a day from Ginnie Springs.
Jamie Wachter, Lake City Reporter, February 23, 2021, Faucet stays open: Seven Springs granted renewal for Ginnie Springs withdrawal.
Camron Lunn, WCJB TV, February 23, 2021, Seven Springs and Nestle's renewal of water pumping permit for Ginnie Springs approved.
Jim Tatum, Our Santa Fe River, February 24, 2021, SRWMD Board Members Listen to Lawyers Not People.
Thanks to Lindsey Covington, SRWMD Communication & Outreach Manager, for finding me a spot in the media corral. I have posted my video from there of myself speaking, so you can believe I reminded the board that they could vote to deny.

You can deny this permit. –Suwannee Rvierkeeper John S. Quarterman @ SRWMD 2020-02-23
Everything else you can see in the Florida Channel Archive.
I also pointed out that the city of Evart, Michigan, gets about $313,000 a year from Nestle, which pays $3.50 per thousand gallons it pumps from two wells. Jim Malewitz, Bridge Michigan, 2 May 2018, Michigan isn't alone. Most states charge little for water bottlers like Nestlé That's a pittance compared to the profit Nestlé make on that 1.1 million gallons per day, But it's way more than the $70,000 Nestlé pays SRWMD for water quality monitoring related to its Madison Blue Spring bottling plant, which pumps a similar amount of water.
My point is not that it's a bad financial deal. My point is that any profit for a foreign company from Switzerland, for lowering the water level in the springs, the Santa Fe River, and the aquifer, is a bad deal.
I thanked the board and their legal team for all they did with DOAH, "in trying to deal with reasons that this is a bad deal." And I thanked them for previously tabling the permit application until Nestlé's name would be on it. Of course, that was one of the items the DOAH judge rejected.
I pointed out that there was new information since the judge ruled. Nestlé announced it is selling Nestl&e Waters North America and its bottled water brands. Turns out to a pair of New York private equity firms. Keith Matheny, Detroit Free Press, 18 February 2021, Nestlé bottled water operations in Michigan sold as part of $4.3B deal to NY private equity firm.
I urged the the board to deny the permit. Then I noted that if they grant the permit under protest they can appeal, while if they deny the permit they could be sued.
Which one is more expensive? I don't know. But at some point, it's best to just stand on principle.

Now if you vote to deny this thing, some of you might get fired by the governor. But, do any of you actually need this job? This mostly thankless public service job? [Some of them chuckled at that.] I'm one of the few people who ever comes here and thanks you for anything.

So I urge you, please, stand on principle, deny this permit. Thank you.
Here is Mermaid Michelle Colson asking SRWMD to deny. She has many TikTok and Instagram followers.

Please deny this permit –Mermaid Michelle Colson @ SRWMD 2020-02-23
All the other speakers you can see in the Florida Channel archive.
Normally I would have stayed in the media corral and videoed the entire meeting. However, I had camera power glitches, and moved up front. That freed up a media corral spot for Emma Wheeler of WCTV, who texted me as she watched on The Florida Channel, and then drove to Live Oak to report on the spot. I was googling to see where she went after she left Valdosta for a bigger market. I had just seen Tallahassee, and damn, google is good! Right then she walked in, right in front of me.
So there was a bit of amusement in an otherwise dreary day. And sitting up front allowed me to get a few pictures from a different perspective.
Let's lobby for bottle deposit laws and making water bottlers pay per gallon. But that won't be enough.
To fix the regulatory trap, we need a Bill of Rights for Nature, in both Florida and Georgia, throughout the U.S., and elsewhere.
-jsq, John S. Quarterman, Suwannee RIVERKEEPER®
You can join this fun and work by becoming a WWALS member today!
Short Link: