Update 2021-04-10: Clean week, Withlacoochee River 2021-04-08.
The rain came gently Wednesday, and the Withlacoochee River was still clean Thursday, April 1, 2021, no joke.

Clean results, Withlacoochee River down and up, Swim Guide
Thanks to WWALS testers Michael and Jacob Bachrach for testing Knights Ferry, Nankin, and State Line Boat Ramps, and to Gus Cleary for testing at Cleary Bluff below Allen Ramp. All came out zero or within one E. coli colony of zero. Can't ask for much better than that.
We have no new results from Madison Health since Thursday a week ago, and nothing new from Valdosta since Monday.
So according to the data we have, all from WWALS, happy boating, swimming, and fishing in the Withlacoochee River this weekend, at least if you don't mind a bit of chill!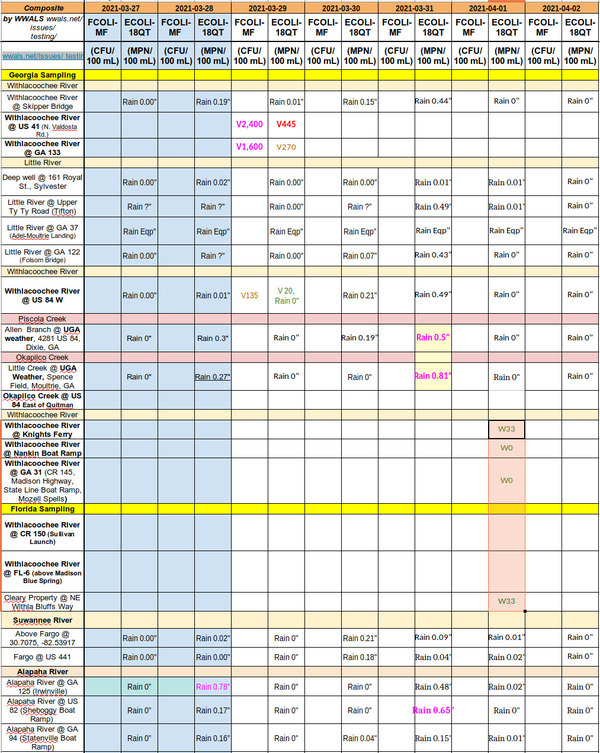 Still clean, 2021-04-01
For context and the entire WWALS composite spreadsheet of Georgia and Florida water quality results, rainfall, and spills, see:
https://wwals.net/issues/testing/
There was some rain the day before, but apparently not enough to wash anything into the river. Cattle manure out of Brooks County down Okapilco Creek should have shown up in the Knights Ferry samples for the next day, and did not.
Gus Cleary sent these pictures of the Withlacoochee River at Cleary Bluff. Above is after the floods went down.
And the second picture was very high water in February.
Valdosta did show high E. coli for US 41 Monday, so we still have Langdale Park Boat Ramp set red on Swim Guide. I'd guess it's been clean for days now, but we have no more recent data.
Similarly, I did not update Sullivan Launch, Florida Campsites, Madison Blue Springs, or Madison Boat Ramp, because we have no new data from Madison Health. Chances are they're all fine, but Swim Guide is showing them as yellow for historically there have been problems there.
We also have no new data for Cook County Boat Ramp or Troupville Boat Ramp on the Little River, but they are showing green because they almost always are. We have no new data for Gibson Park Ramp on the Suwannee River, and it is showing yellow for historical issues.
Everything else is green for go boating.
-jsq, John S. Quarterman, Suwannee RIVERKEEPER®
You can join this fun and work by becoming a WWALS member today!
Short Link: