Like me, you may be wondering what is going on at Suwannee Springs since I first reported on the debris there after the July 2020 flooding. In January 2021, the answer was SRWMD would finishing removing the debris "in a few weeks, not months."
Unfortunately, then there was repeated flooding, and in between floods the COVID-19 pandemic interfered.
So yesterday I asked again, and today Edwin McCook took this picture:

Flooding on the Suwannee River at Suwannee Springs on 9/23/2021. Suwannee; Springs gauge 53.86′. Photo: Edwin McCook, SRWMD
As you can see, the river water is close to the top of the spring wall.
Edwin says once the water recedes, the Suwannee River Water Management District (SRWMD) will continue planning to remove the debris. They had already reviewed options back in January, so they have a leg up on that planning.
More when I know more.
Meanwhile, the Suwannee Springs USGS gauge reads 53.86′.
That's well below flood stage, which is 60′. However, you can see by the picture that working inside the spring wall would be difficult with the water that high.
As a paddling level reference, SRWMD uses the White Springs USGS gauge, as does downstream outfitter Suwannee Canoe Outpost at the Spirit of the Suwannee Music Park.
The White Springs gauge is at 66.24′, also well below flood stage, which is 74′ at White Springs.
However, 66.24′ at White Springs is well above SRWMD's water level recommendations for boating and paddling:
River level below 50'

Some areas are too low to paddle and will require portaging vessels over sections of the river.
Slow moving current.

River level between 51' and 58'

Ideal paddling conditions.
River current varies from slow to moderate.

River level between 59' and 63'

Swift moving current.
River level may be up to tree line in some areas.
Inexperienced paddlers should reconsider their trip.
Experienced paddlers should use caution.

River level 64' and above

Very fast moving current.
Paddling not recommended.

When the Suwannee River water level at White Springs is above 65', boating and paddling is not advised downriver. When the river is below 51' the paddler will encounter shallow sections of the river. Power boating is not recommended above Troy Springs seven miles upriver from Branford.
The current weather prediction is ten days of sunny, mostly sunny, and partly cloudy, so probably river levels will go down. Then we will see what can be done.
Looking forward to the Suwannee River being back down to 44.43′ at Suwannee Springs, like it was on October 16, 2020. That was 56.53′ on the White Springs gauge.

Sheriff, Suwannee Riverkeeper banner, Gretchen, departing Suwannee Springs beach, 2020-10-26.
Even though the beach at Suwannee Springs was pretty clear, river water was still above the bottom of the spring wall door.
On May 20, 2017, the river was well below the spring wall door at 36.34′ on the Suwannee Springs gauge and 49.47′ on the White Springs gauge.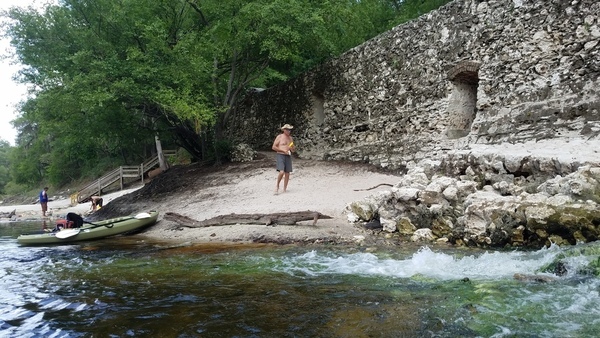 Photo: John S. Quarterman, Dan Phillips with WWALS at Suwannee Springs, 2017-05-20.
Seems like that would be plenty low for debris cleanout. And the Suwannee River may get back that low within a few weeks.
-jsq, John S. Quarterman, Suwannee RIVERKEEPER®
You can join this fun and work by becoming a WWALS member today!
Short Link: