Update 2022-06-03: Because of low water, we're shifting downstream: Florida Campsites to Allen Ramp, Withlacoochee River 2022-06-04.
Hahira, Georgia, March 30, 2022 — WWALS and Madison and Hamilton Counties, Florida, invite you to join us for a summer paddle to see springs and sinks and to clean up the Withlacoochee River, on Saturday, June 4, 2022. It's 12.5 miles from Sullivan Launch to Madison Ramp along this wooded blackwater river, with a lunch stop along the way. At lunch, Brett Hemphill of Karst Underwater Research will tell us about the many local caverns connected to the river and its creeks.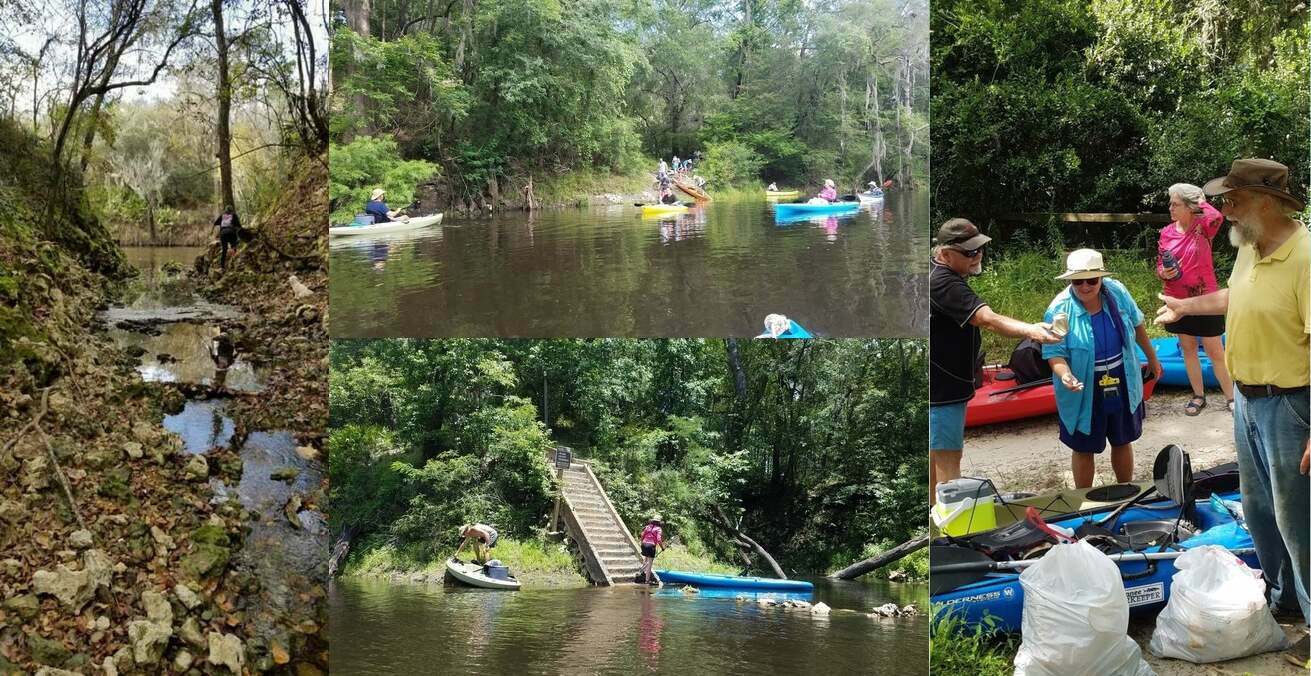 Distributary, Boats, Withlacoochee River, Hardee Spring, Trash, M, in Withlacoochee Florida Paddle and Cleanup, by John S. Quarterman, for WWALS.net, 4 June 2022
After the ruins of old Bellville Bridge, we'll pass small springs including Coffee Spring and second-magnitude Hardee (Rossetter) Spring.
Expedition leader Robert Weldon said, "There may be some small rapids, depending on water level, but we'll lead you through them."
Suwannee Riverkeeper John S. Quarterman said, "We'll see distributaries (creeks where the river flows in instead of out): Chitty Bend East Distributary, and Sullivan Slough; please look but do not paddle in."
Mia Hunt, Hamilton County Tourism Director, said, "Our lunch stop is in between the distributaries at Florida Campsites Ramp."
Brett Hemphill with Karst Underwater Research said, "At lunch, I'll talk about the many connected caverns we've found leading from Fennell's Funnel on the Withlacoochee River."
Sherilyn Pickels, Madison County Coordinator, said, "Madison Blue will probably be packed with swimmers on a summer Saturday afternoon." That's Madison Blue Spring, the only first-magnitude spring on the Withlacoochee River. 
After Madison Blue there are more springs, including second-magnitude Pot Spring.
When: Gather 10 AM, launch 11 AM, end 6 PM, sunset 8:34 PM, Saturday, June 4, 2022
Put In: Sullivan Launch. From CR 150 (NE Bellville Road) east of Pinetta, south of the road, downstream of river bridge, right (west) bank, in Madison County.
GPS: 30.595667, -83.26
Lunch Stop: Florida Campsites Ramp, 2137 NW 47th St, Jasper, FL 32052, in Hamilton County.
Take Out: Madison Boat Ramp, 1307 NE River Park Rd, Lee, FL 32059, in Madison County.
Bring: trash pickers and trash bags: every WWALS outing is also a cleanup. Plus the usual personal flotation device, boat, paddles, food, drinking water, swimming clothes, warm clothes, and first aid kit.
Outfitter: If you need a boat, contact in advance Madison Outpost Adventures, 485 Northeast Blue Springs Church Road, Lee, Florida 32059, 850-673-9069, dcrofton@madisonoutpost.com, http://paddle.today/
Other outfitters: https://wwals.net/water-trails/outfitters/
Free: This outing is free to WWALS members, and $10 (ten dollars) for non-members. You can pay the $10 at the outing, or online: https://wwals.net/outings
We recommend you support the work of WWALS by becoming a WWALS member today! https://wwals.net/donations/#join
Sponsors: Madison County and Hamilton County. This is a fundraiser for WWALS, so if your organization would like to sponsor the paddle, please contact us.
Duration: 7 hours
Paddle: 12.47 miles, 6.5 hours.
Shuttle: 15 miles, 50 minutes round trip. This outing includes the traditional WWALS shuttle. Everybody takes their boats to the put-in, most people drive to the take-out, and the drivers pile into one or two vehicles and go back to the put-in.
Gauge: Pinetta. Lowest boatable: 52.5′. Highest safe: 61.5.
Host: WWALS
Backup: in case of high or low water is: Cancel
More: For more WWALS outings and events as they are posted, see the WWALS outings web page, https://wwals.net/outings/. WWALS members also get an upcoming list in the Tannin Times newsletter.
About WWALS: Founded in June 2012, WWALS Watershed Coalition, Inc. (WWALS) advocates for conservation and stewardship of the surface waters and groundwater of the Suwannee River Basin and Estuary, in south Georgia and north Florida, among them the Withlacoochee, Willacoochee, Alapaha, Little, Santa Fe, and Suwannee River watersheds, through education, awareness, environmental monitoring, and citizen activities. John S. Quarterman is the Suwannee Riverkeeper®, which is a staff position and a project of WWALS as the member of Waterkeeper® Alliance for the Suwannee River Basin. 
Contact: John S. Quarterman, Suwannee Riverkeeper
WWALS Watershed Coalition
contact@suwanneeriverkeeper.org
850-290-2350
https://wwals.net
PO Box 88, Hahira, GA 31632

Mia Hunter, Hamilton County Tourism Director
Hamilton Tourism Development Council
386-792-0507
hamiltontdc@windstream.net
https://hamiltoncountyfl.com/tourist-development-council/
1153 NW Hwy 41, Suite 9, Jasper, FL 32052

Sherilyn Pickels, County Manager
Madison County
850-973-3179
admin@madisoncountyfl.com
https://madisoncountyfl.com/county-coordinator/
PO Box 539, Madison, FL 32341
===
Short Link: